Academic News: French Dual-Language Program Booming in New York Schools

Despite the fact that there is a significantly small population of French immigrants in New York City, the French Dual-Language Program has been booming. The program is a tie-up between the US and French governments which seeks to teach students the French language as a means of preparing them for doing global business. While most immigrants in New York are Latino or Chinese, the demand for these bilingual programs is oddly low—they attribute this to the possible redundancy of taking up a bilingual program in a language already spoken at home.
Officials say that a lot of collaborations between France and the United States are to happen in the next few years.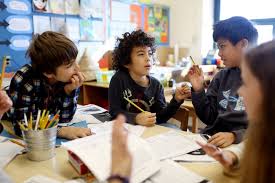 The number of families that are supportive of the said program overwhelmed even Antonin Baudry, the French embassy's cultural counselor. The program was originally started in only 4 schools in Brooklyn—now, they've expanded into different parts of Manhattan as well and are continuing to grow. By next year, they hope to raise $2.8 billion to be able to introduce the program to more schools. As of now, 200 families have signed up in advance for the programs that are coming to their neighborhoods. Several families have even relocated, moving into neighborhoods where the program is being offered so that their children can take part in the program.
They cite a number of reasons for the success of the French Dual-Language Program, thus far—they say this benefits not only those wanting to learn French but also the French children whose parents want them to learn English. The program caters to the desire of multinational families to feel at ease in the global world. They also stress the fact that a lot of business owners in New York are French and so the desire to learn the language may be correlated with the viewed affluence of French immigrants in the city. They also add that studies have show that bilingualism increases cognitive ability and has been correlated with neurological health—studies are readily available and they don't see why students wouldn't want to learn a second language.
However, Fabrice Jaumont, the head of the educational attaché of the French Embassy hopes that parents will back their enthusiasm up with cash. He presses the need for monetary support if they're to expand and maintain the program—he also says that if the program benefits the students (and thus, the parents) as well as it benefits France's tie-up with the United States, then they should have no reason not to support the program financially, in whatever way they can.
The program began in 2007 and has now expanded into most grade levels, including kindergarten class. Robin Sundick, principal of P.S. 84 says that they got hundreds of applications last year from parents begging that their children be let into the 18-seat bilingual class.
Other bilingual classes hosted by public schools in New York include Russian, Spanish, Korean, and Chinese. However, none of these have become as popular as the French program.
Looking for an exceptional company to do some custom writing for you? Look no further than ProfEssays.com! You simply place an order with the writing instructions you have been given, and before you know it, your essay or term paper, completely finished and unique, will be completed and sent back to you. At ProfEssays.com, we have over 500 highly educated, professional writers standing by waiting to help you with any writing needs you may have! We understand students have plenty on their plates, which is why we love to help them out. Let us do the work for you, so you have time to do what you want to do!