79-Year-Old Man Joins Kennedy Elementary School Band

In Dubuque, Iowa one special member of the Kennedy Elementary School Band brings a whole new kind of experience to the band. In this case, this is meant a little more literally than one would initially expect: Tony Boland is a 79-year-old flute player.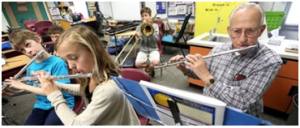 A few weeks ago, Mr. Boland asked about joining the fifth graders in the band after spending almost a decade volunteering at the school to help children with their reading. Mr. Boland's grandchildren have since graduated from the Kennedy Elementary School. Mr. Boland volunteers to help students with reading as he himself had a difficult time reading when he was younger.
Mr. Boland began playing the flute a couple of years ago, when his wife suggested cleaning out their eldest daughter's closet and tossing out the flute she herself used to play when she was in elementary school. Tony Boland decided that learning how to play the flute would be a fun hobby. However, one of the things which worried him was the rate at which he would be able to learn how to play the flute—Mr. Boland says that he knew he had to practice with people, otherwise his progress would plateau.
He explains that it isn't as quick when you're the only one determining your own pace: a band allows you to push through different levels of difficulty and gives you a meter against which you can measure your progress. Mr. Boland says that there are nothing but good things to say about his bandmates: Kennedy's fifth grade band is quick. He marvels these kids have been playing their instruments for years—he has nothing but praises for all the members and how well they're able to keep it together both in practice and during performances.
Band president Brian Enabnit says that Mr. Boland is a great addition to the band. He says that Mr. Boland brings a certain energy and zest to the band; he gives them focus because he is both intent on playing and knows how to have fun. He also says that Mr. Boland's experience and quick-pace when learning new pieces definitely gives them something to measure up to.
Mr. Brian Enabnit isn't the only one to sing the 79-year-old praises. Mr. Boland's fellow band member Courtney Less says that she's really impressed with how well Mr. Boland plays, especially when she found out that he (unlike most of the kids in the band) he started playing later in life. She also says that Mr. Boland is very focused and definitely knows more than them when it comes to practicing and being disciplined. She laughs, claiming that she and her fellow fifth graders mess up all the time—something Mr. Boland never does.
Mr. Boland joins the fifth grade band at the Kennedy Elementary School for practice every Thursday. He also joins the band's performances, which are quite regular. Mr. Bowland most recently joined them for a performance at the Dubuque Community School District's Band Festival earlier this month. As to whether he will be joining the sixth grade band next year, neither parties have stated any comments.
Looking for an exceptional company to do some custom writing for you? Look no further than ProfEssays.com! You simply place an order with the writing instructions you have been given, and before you know it, your essay or term paper, completely finished and unique, will be completed and sent back to you. At ProfEssays.com, we have over 500 highly educated, professional writers standing by waiting to help you with any writing needs you may have! We understand students have plenty on their plates, which is why we love to help them out. Let us do the work for you, so you have time to do what you want to do!