400 MBA Students in China to Lose Their Degrees Over "Widespread" Cheating
Centenary College in Hackettstown, New Jersey, is withholding MBA degrees from its 400 students in satellite business schools in China and Taiwan after finding the widespread cases of cheating among local students.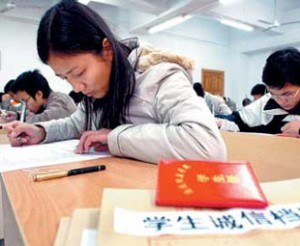 The college officials also said all master programs in Beijing, Shanghai and Taiwan would have to be suspended because of this.
Students are offered to take the comprehensive exam to earn their degree or get a tuition refund, according to Debra Albanese, the school's vice-president for strategic advancement. They have till the end of the month to decide upon it. So far, most students have opted for the refund of their $1,200-to-$1,400 tuition. Many think it's a significant downgrade, because the full course is worth more than $25,000 or 36 credits with $705 per each, according to Centenary official website.
Centenary, a 3,000-student private college, has offered its executive MBA degrees in China since 2004 for Chinese-speaking and English-speaking students who seek to work for Far East departments of Western Corporations.
Investigations of China and Taiwan school programs began in January 2009 at the request of the new president Barbara-Jayne Lewthwaite. After cheating problems were revealed, the reaction was almost instant.
The school officials refuse to give more details about the cheating case nor do they wish to comment on reasons of degrees withholding to all 400 students in three locations.
The only case-pertaining remark was those of Debra Albanese: "The college is extremely concerned with the welfare of the Chinese students involved in the program but must note that its review revealed evidence of widespread plagiarism, among other issues, at a level that ordinarily would have resulted in students' immediate dismissal from the college".
Commenting on the case, one of the students who wished to withhold his identity, confessed he had used the services of paper mills such as ProfEssays.com or HQessays.com for a couple of times. He was not caught plagiarizing, though.

"Plagiarism is not the point here, I think, because after checking my papers at Turnitin.com myself, I found they were 100% original. Moreover, I'm too jinxed, that's why I never cheat at my exams, but the thing is: I may not get my degree because of those few tech-savvy smarty-pants who got caught napping", he said.
However, before getting the tuition refund, students must sign the disclaimer binding them not to sue the school or say anything to "harm the reputation of Centenary College".
"They are pretty quick at waiving all possible responsibility from themselves", the anonymous student added.
Centenary officials declined to discuss if there were any lay-offs because of the cheating.
Problems with cheating are not new to China schools, which have a long history of cheating scandals. Earlier this month, Beijing education officials received and confirmed multiple reports of students at Beijing Open University cheating on their final exams while teachers indulged this, according to local newspaper accounts.
Dozens of people have been arrested over the last few years for selling high-tech cheating devices to help students pass the country's national college entrance exam.
Higher education is free in China which only adds to the complexity of entering a college in the world's most populated country.
While withdrawing from China and Taiwan, Centenary College will not cease its international expansion, the officials announced. They said they would concentrate on exchange programs with Asian Schools and other possibilities to study abroad instead.
"Centenary College has had many long-standing successful relationships with international institutions in Asia, Europe and Canada that date back to the mid-1980s," Albanese said. "We still continue to foster those relationships".
Stay informed on the most curious education news with ProfEssays.com!
Looking for an exceptional company to do some custom writing for you? Look no further than ProfEssays.com! You simply place an order with the writing instructions you have been given, and before you know it, your essay or term paper, completely finished and unique, will be completed and sent back to you. At ProfEssays.com, we have over 500 highly educated, professional writers standing by waiting to help you with any writing needs you may have! We understand students have plenty on their plates, which is why we love to help them out. Let us do the work for you, so you have time to do what you want to do!