16-Year-Old Girl Gets College and High School Diploma in the Same Week

This week, Grace Bush received her high school diploma—but she won't be looking forward to four years in college: this is because a few days before her high school diploma arrived, her college diploma was delivered. The same week that she graduated from high school, Grace Bush was able to attain her bachelor's degree in criminal justice. Bush is a student at Florida Atlantic University High School in Boca Raton where students are given the opportunity to dual-enroll into college courses while finishing high school.
Grace Bush enrolled into the Broward College when she was 13 and took summer classes which made it possible for her to attain her degree before four years. According to her mother, Grace has always been an overachiever: she began reading at age 2 and was already studying her older sisters' lessons (they had just started primary school at the time) way before she had to. This resulted in her getting accelerated early on, hence her early graduation date.
Grace is one of 9 siblings and so she stresses how important it is for her to do well in school and graduate early so that she can unburden her parents financially and give her siblings the resources which they need.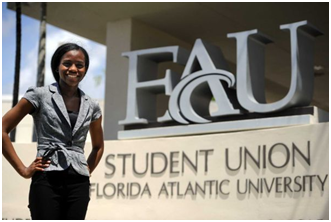 When CBS Miami asked Grace about her exemplary drive to do well, she says that it's a combination of wanting to achieve her dreams and the feeling that time is of the essence—one doesn't live forever. The Sun Sentinel asked Grace what it is she would like to do, now that she's gotten her bachelor's degree. The 16-year-old didn't hesitate before she answered, saying that she wants to go onto earn a master's degree, get into law school and eventually become the Chief Justice of the United States. She says that this dream means a lot to her, especially because she comes from a socioeconomic position that is disadvantaged: for her to achieve her dream would say a lot not just about her but about the people like herself—young kids from minority, low-income backgrounds. She stresses the importance of believing that you can do anything you put your mind and heart into and that a little goes a long way when it comes to working hard and working smart.
Her father, Bobby Bush, says that he has no doubt that his daughter can achieve her dream. He reinforces this by saying that she graduate from both college and high school in half the time that it takes to do those things—and without the help of anyone except herself.
Because of her drive, ambition and hard work, Grace's parents were able to effectively save money on her education; Grace has beat one of her older sisters who is two years her senior to her bachelor's degree whereas her eldest sister  who is three years her senior graduated early from college as well, receiving her bachelor's degree last year. Gisela Bush, Grace's mother says that she is extremely proud of all her children for their drive and for their dedication to their education, dreams and their resolve to help make each others' lives easier. She sheds a tear, saying that despite the difficulties they have faced as a family, she's confident that they can—and will—make all their dreams come true.
Looking for an exceptional company to do some custom writing for you? Look no further than ProfEssays.com! You simply place an order with the writing instructions you have been given, and before you know it, your essay or term paper, completely finished and unique, will be completed and sent back to you. At ProfEssays.com, we have over 500 highly educated, professional writers standing by waiting to help you with any writing needs you may have! We understand students have plenty on their plates, which is why we love to help them out. Let us do the work for you, so you have time to do what you want to do!