10-Year-Old Graduates From High School
Last week, a 10-year-old student completed all the academic requirements for secondary education in Northern California. Tanishq Abraham, a boy genius from Sacramento with presidential, scientific and academic ambitions was one of the youngest Americans admitted to the high-IQ society Mensa which only accepts the upper 2% of the genius-scoring population and recently completed his secondary education.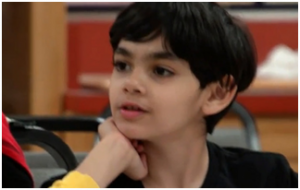 He was able to receive his high school diploma last Sunday at a ceremony held at the California Automobile Museum in Sacramento. Hailing from Sacramento, Tanishq left his local public school at age 7 and completed his early exit high school application and exam in March. He was supposed to get his diploma even earlier this year but the process was "delayed" because he hadn't had enough time to dedicate to the ceremony and the logistics of the graduation itself. This was because he'd been taking classes at a local community college—something he'd been doing for the past year, even before applying for early graduation. Tanishq was home-schooled and received his diploma from the State of California.
Taji Abraham, Tanishq's mother, says that her son is pretty much self-taught. While she and her husband did their best to teach him about biology, chemistry, calculus and trigonometry, she insists that her son's aptitude for learning and drive for understanding is all his own. Tanishq's father, Bijou works at a robotics firm while his mother Taji is a trained veterinarian.
Tanishq is currently interested in pursuing a career in science before eventually going on to become the President of the United States of America—he says it's important to begin with science because he wants to find a cure to cancer. When asked about why he wants to become President of the United States, the young genius says that he wants to help people. He also adds that he definitely thinks it's possible as one of his best strengths is that along with being extremely intelligent, he is also quite sociable—a combination one doesn't see very often. This was further reinforced by a congratulatory letter which was sent to Tanishq by the White House via post.
Currently, Tanishq is also the holder of a short course on Astronomy from the American River College, which he completed at age 7. His mother says that she took the class with him and was astounded at the fact that whereas she had to struggle to keep up, her son seemed completely at ease with the pace of the class. She goes onto say that he ended up explaining things to her, instead of the other way around.
Tanishq's next steps include completing his associate college degree at the American River College in the time between now and going off to the University of California at Davis in September. The Abraham family chose this school because it's relatively close to where they live in Sacramento. When asked about the achievements of the young boy and the possible impact that this might have on education throughout the country, the Department of Education gave no comment, citing privacy rules.
Looking for an exceptional company to do some custom writing for you? Look no further than ProfEssays.com! You simply place an order with the writing instructions you have been given, and before you know it, your essay or term paper, completely finished and unique, will be completed and sent back to you. At ProfEssays.com, we have over 500 highly educated, professional writers standing by waiting to help you with any writing needs you may have! We understand students have plenty on their plates, which is why we love to help them out. Let us do the work for you, so you have time to do what you want to do!