The Editing Process
Osgood Fielding III told Jerry "Daphne" in the end of the movie "Some like it hot" "Nobody's perfect", and he was right. Everybody makes mistakes, it's a common human trait. Taking into consideration the above mentioned, we assume you make mistakes as well. Thus proofreading and editing are simply indispensable if you want to avoid slips of the pen. The editing process is a crucial step in the writing process that takes place prior to submitting or publishing your completed essay. The best way to edit your essay is to perform one step at a time. Try to leave enough time for editing your essay as it is more effective when done slowly. Check if all sentences make sense and if the essay really comes together. You might want to reconsider its structure or style.
Check the spelling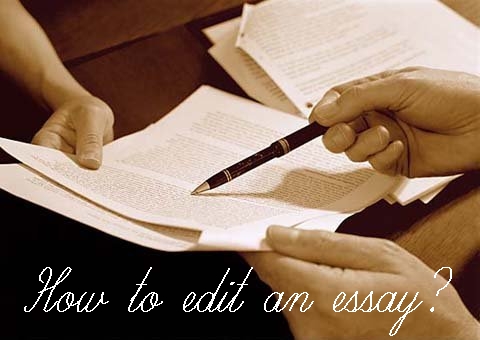 The first thing you must do in the editing process is to use your word processor to run a complete spell check of your essay. Keep in mind that a spell check will catch most typos and the majority of misspelled words, however it is designed only to check spelling. Thus, watch yourself for homophones like there/their, are/our and duplicate words which spellchecker won't catch.
Check the Grammar
The second step is to perform a grammar check which in most cases will alert you to issues with comma use, verb tense agreement, run-on sentences and fragments. Although most grammar check functions have gotten more accurate, you must use your best judgment as to whether or not to accept the corrective suggestions provided.
Look carefully for any inconsistencies in tense agreement and subject/verb agreement.
Once you have run a spell check and a grammar check of your entire essay and made any corrections needed, print out a hard copy of your essay. There are a multitude of other potential pitfalls which you will need to check manually.


Check the coherence of the essay
The manual editing of your essay involves several different techniques designed to make sure that you catch as many errors as possible before submitting your final draft.
Check the introduction of your essay to ensure that it is sufficiently built up as well as succinct. Your introduction needs to also set a tone which should be upheld throughout your essay. Reread the topic statement or thesis of your essay to make sure it is clear and that the points in the rest of your essay support your thesis.
Take out any sentences that do not support your thesis, are weak or seem unnecessary.
Each paragraph should naturally flow into the next one.
Experts also recommend reading your essay backwards, one sentence at a time to make sure that each sentence makes sense and can stand alone.
Reread your conclusion to be absolutely certain that it says what you wanted it to say. Your conclusion should also reference your initial thesis without directly restating it.
Finally step away from your essay for several hours or even a couple days if you have enough time before your submission deadline. You will be able to be much more objective with fresh eyes so reread your essay all the way through after leaving it alone for a bit.
Some other editing techniques to try if you have time are to have a friend or colleague read your essay to look for anything that you might have missed.
Finally read your essay out loud and correct anything that doesn't "sound" right.
No method can absolutely guarantee that you will submit a perfect essay however following some or all of these recommended editing steps will certainly better your chances.
Note:ProfEssays.com is an outstanding custom writing company. We have over 500 expert writers with PhD and Masters level educations who are all ready to fulfill your writing needs, regardless of the academic level or research topic. Just imagine, you place the order before you go to sleep and in the morning an excellent, 100% unique essay! or term paper, written in strict accordance with your instructions by a professional writer is already in your email box! We understand the pressure students are under to achieve high academic goals and we are ready help you because we love writing. By choosing us as your partner, you can achieve more academically and gain valuable time for your other interests. Place your order now!"
Looking for an exceptional company to do some custom writing for you? Look no further than ProfEssays.com! You simply place an order with the writing instructions you have been given, and before you know it, your essay or term paper, completely finished and unique, will be completed and sent back to you. At ProfEssays.com, we have over 500 highly educated, professional writers standing by waiting to help you with any writing needs you may have! We understand students have plenty on their plates, which is why we love to help them out. Let us do the work for you, so you have time to do what you want to do!