Plan Your Essay in Four Steps

Making lists and writing plans might be a sign of a maniacally accurate pedant, however these actions are indispensable in the writing process. But planning your essay can make the writing process easier, ensure that your essay is well structured, and save you time. A plan will help you to avoid dizziness in your head and feeling nauseous every time you think about sitting down to write your essay. We suggest you to follow these four simple steps to plan your essay before you start actually writing your essay:
Step 1: Understand the Question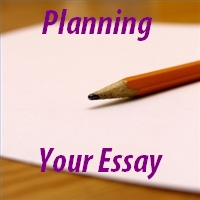 Once you receive your essay question, panicking may be your first reaction. Read and reread the essay question to be sure that you understand what you are being asked to do.
Look up any key words or terms within the question that you don't fully understand.
Determine whether the question is open-ended or closed which will give you an idea of how narrow or expand your argument.
Identify whether you are being asked to compare and contrast, synthesize, discuss, evaluate, summarize or review the subject so that you know what approach to take.
The time spent on analyzing and understanding the question makes the writing process easier and is crucial to a well structured essay.  Understanding the question will also prevent the need to rewrite the essay, if you realize in the editing process that you haven't answered the question.
Step 2: Stimulate Ideas
Once you understand the essay question, the next step in the essay planning process is to stimulate ideas for your essay by brainstorming.  Brainstorming can be done in a number of ways but one key thing to keep in mind is that you do not censor ideas during this process.  For this part of the planning process the focus should be on getting as many ideas and information on paper as possible.  Depending on comfort level, you can brainstorm using a spider diagram, mind map, chart of pros and cons, or even by writing key ideas on index cards.


Step 3: Organize Evidence
When you have all your ideas down on paper, review and organize the information in groups.  The essay structure consists of an introduction, argument and conclusion and it may help to group your ideas and evidence in this way.  For example, you may have a quote or anecdote that will work particularly well for your introduction.  It may help to list all of your quotes and other cited material on one page that you can easily refer to later.  Use a number or some other notation to indicate where you want to use each piece of information.  Make sure that you have enough evidence to support each of the main points of your argument.  If more evidence is needed, this is the time to go back and do some additional research and look specifically for the information you need to expand on your points.
Step 4: Structure Your Essay
Once you have organized your ideas and evidence into logical groups and are sure you have all the evidence you need to support your argument, you should plan the structure of your essay.  The most common way to do this is to create a formal outline.  Your outline should include the Introduction, the argument consisting of several main points with supporting evidence, and a conclusion or summary.
Once your have an outline of your future masterpiece, the actually writing of your essay begins.  If you have done the required work during the planning process, you will find that writing your essay is quicker and easier.  In addition, the final essay that you produce will be well structured and will leave your reader with a memorable impression.
Looking for an exceptional company to do some custom writing for you? Look no further than ProfEssays.com! You simply place an order with the writing instructions you have been given, and before you know it, your essay or term paper, completely finished and unique, will be completed and sent back to you. At ProfEssays.com, we have over 500 highly educated, professional writers standing by waiting to help you with any writing needs you may have! We understand students have plenty on their plates, which is why we love to help them out. Let us do the work for you, so you have time to do what you want to do!