Persuasive Essay
What is a Persuasive Essay?
Any teenager who has tried to convince their parents that they deserve a cell phone or are responsible enough to drive the family car can learn how to write a persuasive essay. In a persuasive essay the main purpose is to present a topic that is debatable and convince the reader to take the side that you choose by presenting them with unwavering evidence to support your case. Persuasive essay writing requires laying the issue out in such a way as to make it seem obvious that one way is better than the other. Your goal is to persuade the readers to think about a subject in the same way you do so that ultimately they will take the actions that you want them to take. The reasons to perfect the art of how to write a persuasive essay go beyond the academic arena where it is used to demonstrate writing skills and topic comprehension. It's easy to master the skill of writing a persuasive essay if you know where you stand, analyze your audience and follow the standard format. Persuasive essay writing style is used on a daily basis by people in a wide variety of jobs that include sales, marketing, public speaking techniques as well as for fund-raising, grassroots organizing and ad presentations. To learn how to write a truly memorable persuasive essay use our handy guide here.
Navigation Menu through the Persuasive Essay Page
How to Write a Great Persuasive Essay
Persuasive Essay Structure
The steps to writing a persuasive essay include:
1. Choosing a topic that interests you and invokes strong feeling in you and others.
2. Become very knowledgeable about your topic by planning, reading, investigating and gathering supportive evidence to support your opinion.
3. Make your essay debatable, this is the most important component in writing a great persuasive essay, your thesis has to be debatable. If you can formulate an opinion that is the exact opposite of yours, then your thesis is debatable.
(Click the image to enlarge)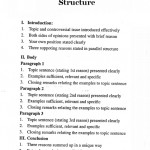 Download Free Sample of a Persuasive Essay
What are the Best Topics for a Persuasive Essay?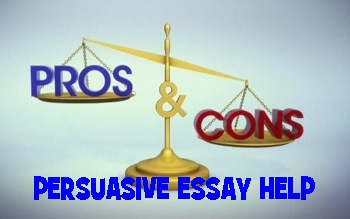 The best topics for a persuasive essay are debatable and emotion filled. It's also a good idea to choose a topic that you have some interest around and that you feel strongly about one way or the other. It's not required that you argue the way you feel but because persuasive writing is often about controversial topics, your essay writing will be more persuasive if fueled by your own emotion about the issue.
Topics can range from simple everyday choices such as "why sweet and sour sauce is better than barbecue sauce" or more serious topics such as "abortion".
Other possible persuasive essay topics are school uniforms, drinking age, smoking, stem cell research, death penalty, organ donation, global warming and whether moms should work outside the home.
How Can We Help
We understand that your daily schedule can unexpectedly become demanding. ProfEssays.com is an excellent custom writing company staffed by over 500 writing experts all standing at the ready to meet your persuasive essay writing needs. We offer 24 hour customer service via phone, chat, or email so you can place an order for your persuasive essay day or night and we will deliver it on time or return your money back.

Our service is completely anonymous and the persuasive essay you purchase will be customized to your requirements and belong to you only. We do not tolerate plagiarism in any form and your persuasive essay will be carefully reviewed for originality. By partnering with ProfEssays.com for your writing needs, you can save time and still achieve your academic goals. Contact us today to order your persuasive essay.
How do I Plan a Persuasive Essay?
To plan a persuasive essay you need to first carefully select a topic.
If you have been provided a topic then it will be important to select the side of the argument that you feel you can argue effectively.
Even before you begin writing, brainstorm on the topic, research and collect your supporting evidence and then think about how you can approach the topic.
Read everything you can about both sides of the issue and then organize your notes and thoughts into an outline. The outline for your essay structure should include the introduction, three body paragraphs and a conclusion.
The main points that support your argument make up the body paragraphs.
The conclusion restates your thesis and presents a call to action to the reader.
What Makes a Good Persuasive Essay?
A good persuasive essay begins with choosing a good persuasive essay topic that you feel strongly about and then kicking the essay off with a great hook in the introductory paragraph that draws the reader in and compels them to continue reading. A good persuasive essay includes rock solid evidence in the form of facts that can be proven, statistics, quotes and/or examples that support each point you introduce in support of your argument.
What to Avoid when Writing a Persuasive Essay?
A persuasive essay should be written in a way that is confident and authoritative. One very easy way to sound authoritative is to avoid "I" statements and to state your opinions as facts. This type of more formal writing helps you to naturally avoid a conversational tone. Do not actively discuss the other side of your argument but instead focus on the facts and opinions that support your chosen point of view.
Looking for an exceptional company to do some custom writing for you? Look no further than ProfEssays.com! You simply place an order with the writing instructions you have been given, and before you know it, your essay or term paper, completely finished and unique, will be completed and sent back to you. At ProfEssays.com, we have over 500 highly educated, professional writers standing by waiting to help you with any writing needs you may have! We understand students have plenty on their plates, which is why we love to help them out. Let us do the work for you, so you have time to do what you want to do!
Tags: Essay Help Online. Free Help With Essay. Online chat, persuasive essay writing, structure of persuasive essay, tips on persuasive essay