How to Write a Narrative Essay?
What is a narrative essay?
Writing a narrative essay can be fun, yet many writers tend to over-think the task. The first thing we need to know is what is a narrative essay? A narrative essay is a "story" about an event in your life or the life of someone you know. When beginning the narrative you will need to make sure you have chosen an interesting topic, making the reader want to finish reading the story. Once you have the idea you will then need to outline the essay. The outline will help you put your thoughts in order to ensure a well written piece of writing. While outlining the essay make sure to add as many details as possible. The more details a narrative contains the better the reader will understand the event being written about. To see what makes a good narrative essay topic read further.
Narrative Essay Outline (click image to enlarge)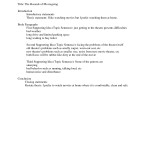 Remember you, the author, are explaining an event to your reader that is unaware of it. When writing a narrative essay you need to explain your reader what is going on through vivid word choice. If the reader is unable to understand the situation or background, they will become bored and stop reading.
When deciding on how to add the details remember to use great descriptive adjectives. Adjectives will be your best friends when describing the details. They  can turn an ordinary boring sentence into a suspense filled, fun and exciting narrative essay your reader will feel compelled to continue reading.
Navigation through Narrative Essay Page
Download Narrative Essay Sample
What Makes a Good Narrative Essay Topic?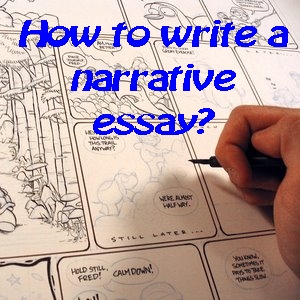 The answer is simple…the juicer the better. We all love to read those gossip columns in our favorite magazine. Why? Because we enjoy hearing about other people's life events. Remember to think long and hard about a good narrative essay topic. A good topic will make or break your narrative. Here are a few good narrative essay topics to start you out:
The most embarrassing moment in your life
The first time you kissed a boy/girl
Any funny wacky story about a childhood adventure
A time when you fooled your parents, to get out of trouble, as a child
The topic is the most important piece of a good narrative essay. When beginning to write a good narrative essay the writer must sit down and decide what to write about. If the writer is unable to find an interesting narrative essay topic the reader will be bored with the essay. Also, when planning the narrative essay topic the writer must remember there must be a point to writing about the topic.
How Can We Help
When frustrated or bogged down by too many writing pieces or deadlines you need not look any further. Our team of highly educated and well qualified professional writers are available and ready to help you with all of your essay writing needs. The ProfEssays.com team is on standby to help with research, essay questions, proofreading services, and/or a well written custom essay.



All custom essays are guaranteed to be delivered on time and tailored to the needs you specified. Let our qualified writers create your one of a kind essay, coursework, thesis, and dissertations by allowing our professionals to help with all of your writing needs. Please place your order now.
How to Plan a Narrative Essay
Once the topic has been decided it is time to create an outline containing as many details as possible. When writing a great narrative essay the writer must start with a well thought out outline. The said outline must contain many details. Remember the details are what will make the narrative essay stand out and easy to read.
How you can plan a great narrative essay topic will be to sit down and really think. Start out thinking about your audience. What are the people going to want to read?
What to Avoid When Planning a Narrative Essay?
When planning a narrative essay there are a few key points to remember.
ALL GOOD NARRATIVE ESSAYS HAVE A POINT. Do not forget to write about a topic that matters. If you choose to write about something personal remember to have a lesson behind it. No one wants to hear about you. A reader should be able to relate the story to his own life.
Also, make sure to avoid run on sentences. It is easy to get carried away with adjectives when describing the setting of the narrative essay. A good narrative writer will be able to add detail, but not use excess amounts of details that might clutter the meaning of the essay.
Writing a narrative essay presents a wonderful opportunity for you to show your literary talents and imagine yourself being a writer working on his another masterpiece.
Narrative essay writing presupposes almost no limitations – you are free to explore the given topic in any way you like, choosing to use any structure and style. In other words, everything depends entirely on you. Accept this responsibility, believe in yourself and you'll have a blast working on your essay.
Looking for an exceptional company to do some custom writing for you? Look no further than ProfEssays.com! You simply place an order with the writing instructions you have been given, and before you know it, your essay or term paper, completely finished and unique, will be completed and sent back to you. At ProfEssays.com, we have over 500 highly educated, professional writers standing by waiting to help you with any writing needs you may have! We understand students have plenty on their plates, which is why we love to help them out. Let us do the work for you, so you have time to do what you want to do!
Tags: essay outline, essay outline format, how to write narrative essay, narrative essay, narrative essay outline, outline for narrative essay