Music Essay
Music is something that is part of our lives. It is one of the most powerful media – with its ability to move us, to have influence on us, to make us feel things, sometimes even when no words are present. We are often introduced to music at a very young age. We learn to listen to music, but when asked to write about music, we see a big dilemma begin to form. We listen to music, we don't often actively analyze it. Not in the manner that we would the written word, or, of course, the sciences. Writing a music essay is a daunting task as there are so many choices and you have to discuss something that is hard to explain in qualitative terms. The first hurdle to writing a music essay is to narrow down your topic to something manageable and learn how to properly analyze and cite music theory.
Quick Navigation Through the Music Essay Page
Download Free Sample of Music Essay
What Type of Writing Should a Music Essay Utilize?
Just as there are so many different options for what to write about, there are also different ways of approaching a music essay. Depending on what your chosen topic is, you can choose from the following essay types:
Music Essay Structure (click to enlarge)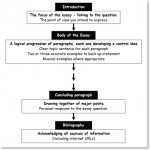 Topics for a Music Essay
For most of us, where to start is the hardest part of writing. This too, is the case with music essay writing, but it is also different because we experience music on a different level than we do most other things we are asked to pontificate on.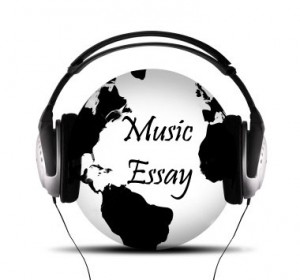 When choose a topic for your music essay, it is always best to choose a topic from an area that particularly interests you or that you have a deeper knowledge and/or understanding of. There are many things that make great topics.
One can choose to focus on the history of music, how certain styles of music, such as the blues, bore out other forms of music, like jazz.
An analysis of vocal or instrumental music from a particular region or period is another great choice in topic.
You can also choose a particular genre of music – such as rock, bluegrass, opera, etc. – and discuss how it came to be what it is in its modern form.
You can discuss a piece of music in particular – or an artist or composer in particular.
A discussion and analysis of the music industry, music in education, or even music as therapy are also great choices for topics that also have a lot of relevant sources of information available about them. You may also choose a more philosophical approach such as discussing the influence or impact of music on your life, or on a society, or you could even delve into the differences in value that people place on music to begin with. Your choices when it comes to writing a powerful music essay really are quite varied!
How We Can Help
At ProfEssays.com, we understand the difficulties of academic writing – especially when it comes to writing a music essay, as it is a very different type of beast entirely. Our well trained, highly educated, and professional staff are waiting to assist you in any and all areas of the music essay writing process. Though it is a daunting task, we are here to make the process as easy and rewarding as possible. Whether you need help getting started or you need an entire custom essay – even in a short period of time – the professional and knowledgeable writers atProfEssays.com are here, 24/7, waiting to meet your needs. There is no project too large or too small and no question that will be left unanswered. We guarantee that our custom music essay will meet, and likely exceed, the standards put forth to you, will be entirely unique, properly formatted, and returned within the promised time frame.

At ProfEssays.com, we not only pride ourselves on providing the highest quality writing staff available at all times, to help make the educational writing process easier, but we also strive to provide the highest quality customer service and experience possible. All information is kept private and we keep our rates reasonable so that all have access to the help they need, when they need it. Whether it be day or night, we are just a few clicks of your mouse away, waiting to assist you. Order your custom essay now!
How to Analyze Music
Most people simply listen to music, but when tasked to write a music essay, it requires active listening in order to be properly analyzed. In order to actively listen, you must first know what you are listening for. Then, it will take a number of times, listening to the piece for different elements, for you to be able to make sense, in a qualitative manner, how the elements fit together and why. It helps to understand a bit of music theory when attempting to analyze a piece of music. You need to understand the elements of music – such as themes and structures – so you can determine why they are being used and what mood or message is being sent by the use of said themes and structures.
In order to fully analyze and appreciate a piece of music, it also helps to learn about the composer or artists life – especially at the time the piece was written. It will give you insight into the mood of the creator at the time, and thus, what they were trying to get across with their music.
Then there are, obviously, actual things within the musical piece that you will need to listen for. What instruments are being used in the piece? What do they add to it? If that instrument were to be removed from the piece, what about it would change?
If you are choosing to analyze a more improvisational style of music such as bluegrass or jazz, it is helpful to understand what style of improvisation they use (i.e. syncopated, lyrical, or frantic) and why.
Citing Music Sources in Your Essay
Just as most people have never been tasked with analyzing a piece of music, many of us are not familiar with how to properly cite a musical piece or reference within our essay. There are several "rules of thumb" that will certainly make this much easier, and thus make this part of the music essay writing process as simple as possible. The first thing to know is that most music essays are written in Turbanian format, which is based off The Chicago Manual of Style.
Basically, citations rules are as follows:
–          when you are referring to a longer piece of music, such as an opera, the title of the piece is italicized (i.e. The Phantom of the Opera).
–          Shorter pieces of music, and much of what we commonly refer to as "songs" are punctuated with quotations, such as "Lullaby of Birdland".
–          If a more generic term is used for the title, such as Chopin's Waltz, you merely capitalize the title, but do not italicize or use quotations.
Looking for an exceptional company to do some custom writing for you? Look no further than ProfEssays.com! You simply place an order with the writing instructions you have been given, and before you know it, your essay or term paper, completely finished and unique, will be completed and sent back to you. At ProfEssays.com, we have over 500 highly educated, professional writers standing by waiting to help you with any writing needs you may have! We understand students have plenty on their plates, which is why we love to help them out. Let us do the work for you, so you have time to do what you want to do!