IELTS Essay Writing Help
An IELTS essay is a part of the written section of the International English Language Testing System tests. This type of essay is given to non-native English speakers who wish to apply for admission into schools, universities, or other institutions in English speaking countries. The test results are valid for two years. The written section of the test contains of two parts. The first part requires the taker to describe the data provided in a graphic which may be a linear graph, a bar graph, a pie chart, a diagram or a matrix. In the second part the applicant will be asked to write an argumentative essay on the given topics. To help you prepare for the IELTS written test, we collected the best advice on both parts of the written section of IELTS, and sample essays.
IELTS Essay Page Navigation
Download IELTS Essay Sample
---
IELTS Sample Essay (click to enlarge)

Learning from perfect example is not a bad method for language apprehension. If you are not confident in essay writing, you may read and practice writing essays from the samples available. Beware of the reliability of some IELTS essay samples. Make sure that what you are listening to and reading is academic grade English. At ProfEssays.com, you will find excellent training material for academic English. Check out the sample essays available in our archive of sample essays or learn more about the reasons to buy essays from ProfEssays.com.
Our essay collection showcases the best samples of all types of essays, from simple narrative essays to studious cause and effect essays. This article collection contains statistical essays that will introduce you to the vocabulary used in describing graphs and tables. These essays will also give you an idea of how to structure your sentences and logic for statistical articles.
IELTS essay samples should be only used for ideas and not be written in the exam, as this will considered to be plagiarism.
IELTS Essay Writing
IELTS essays have special requirements. Like every essay, they should be coherent. This is archived with the help of linking words and a proper essay structure with introduction, main part and conclusion.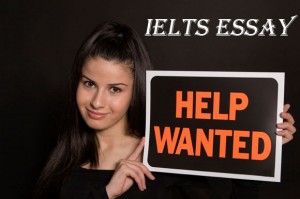 But unlike other essays, IELTS essays are (1) evaluated for the vocabulary used, so make it as rich as possible, and (2) the variety of sentence structures also influences the grade. Thus, if in a usual essay you are expected to use mostly active constructions and simple sentences, in IELTS essays you need to demonstrate your knowledge of various grammar structure.
As you know the IELTS writing test will consist of 2 essays. The first one is an analysis essay that should be  based on the graphic information, it should be written in 20 minutes and contain at least 150 words. The second is argument based essay on a topic given in the test paper. The argumentative essay should contain at least 250 words and be completed in 40 minutes. You should note, that you can gain more points for the second essay than for the first one. So, you should spend more time and attention on it.
What are they looking for in the IELTS essay describing the graphic?
The graphic information may be called differently in your home tongue and in English, so be sure to use proper names to describe what is presented in graphs, charts, and diagrams.
Be sure to include the standard parts of an essay: introduction, body and conclusion.
The flow of ideas should be established by connecting phrases.
Use varied sentence constructions and appropriate vocabulary.
Supply a clear description of the graphic and a comprehensive analysis of the data presented, including a statement about the general trend of the graphic.
Supply the correct conjunctions to convey the correct meaning, i.e.; use "but" for a contrasting idea that follows, "and" for concurrent concepts.
Have a firm grasp of your tenses.
Those are only a few of the expectations that your IELTS essay results will have to meet adequately in order to earn for you an English speaking status that is eligible for work or study abroad.
The second essay is usually on argumentative, debatable topics. One should be very clear and convincing in his writings.
We'd like to suggest you a few tips on writing the second IELTS essay .
Use a wide range of language (vocabulary, sentence types, linking words) to demonstrate your ability to communicate ideas and express opinions. Remember that what matter for the test is your communications skills, not your knowledge of the topic or opinion on it.
Be sure that to keep to the topic, and leave all irrelevant details aside.
You should understand what type of argument essay is being asked – one's opinion or for & against, cause & effect, pros & cons etc.
Then decide what you would want to argue on. Remember you should have good strong points to debate on.
Decide how you would put it in writing i.e. your essay structure and number of paragraphs. You write one paragraph for the topic and one against, or consider arguments for and against in the same paragraph and structure your essay by the aspects discussed.
Successful argumentative essays not only include the opposite argument, but also refute it.
Conclude the essay by deciding your opinion on the topic.
Ensure that your grammar and spellings are correct.
The points in the essay could start in impersonal argument e.g. (People generally say or Popular belief is that). Personal argument essay should be opinionated ("I personally feel", or "in my experience").
How Can We Help
ProfEssays.com and our team of over 500 expert writers can not only give you exact wordings in IELTS essay samples, but also prepare an IELTS essay for you, once you place your order. We have over 500 qualified writers. Visit us at ProfEssays.com and have a reading of our sample essays. While you are there have a click on our writers' page. You can see for yourself how experienced each of them is.
ProfEssays.com has established its reputation as being the top provider of custom essays which are exceptional for their quality and sourcing, as well as for the speed with which the essays are composed. ProfEssays.com also keep a constant eye on the client's preferences when writing these papers. What's more, unintentional copyright infringements are eliminated by a stringent anti-plagiarism software which is used to validate the essays.

We'd like to name just a few advantages of ordering a paper at ProfEssays.com:
No plagiarism in the work
Written by professional writers
Delivery on time
Very affordable charges, with no extra hidden costs.
All your points covered.
Our customer service team is available round the clock to assist you.
ProfEssays.com undertakes writing of all kinds of essays. With over 500 professionally qualified writers, ProfEssays.com can confidently proclaim that we would never refuse to write any order. We can deliver a work in 8 hours in emergencies. We are committed to punctuality.
Once you have placed your order, our customer service will be updating you regarding the progress of your essay or any other writing. In case you are not satisfied with the work you can get the work revised free of cost. All you have to do is fill in an order form.
Order it now from us on-line and ProfEssays.com will ensure that you leave as a satisfied customer and will come back with a new order.
IELTS Essays
IELTS stands for International English Language Testing System. It is a test on English language which is conducted in listening, reading, speaking and writing. IELTS essay writing is a very tough exam and needs the maximum training.
IELTS essays are one of the toughest, complicated and brain blowing topics in writing. One should be prepared in the pros or cons of a topic with supporting evidence. The language also should be polished and the vocabulary strong.
ProfEssays.com has got writers who can write IELTS essays.
One has to follow the following guidelines while writing IELTS essay
The wordings used should attract the readers from the start
The supporting examples should be strong
and unarguable
Grammar and phrases should be correct
Sentences even if long should be framed correctly
Points should not be repeated in the main body
Usage of headings, subheadings, bullets and numbering should be in order and similar style.
We want to improve literary awareness in everyone and this article on IELTS essays is published in that regard.
Writing TOEFL Essay
Writing TOEFL essay is a part of the writing test in the TOEFL exam.
The essay should consist of three parts:
1. Introduction: It should start with the essay topic as the first sentence. Suppose the topic is "should students be allowed to do part time jobs"? Our introduction should start as "Allowing students to do part time ……"
2. Body: Should be divided into 3 or 4 paragraphs. Each paragraph should have separate matter and justify as to what your opinion is about the topic. Suppose you had said yes to above example, your three paragraphs should give a reason for your support. In certain essays you will have to write both for & against a topic and conclude with your opinion as final answer.
3. Conclusion: This is the final paragraph, Should be a summary of our main idea and give our opinion.
ProfEssays.com can provide lots of sample essays for TOEFL.
Looking for an exceptional company to do some custom writing for you? Look no further than ProfEssays.com! You simply place an order with the writing instructions you have been given, and before you know it, your essay or term paper, completely finished and unique, will be completed and sent back to you. At ProfEssays.com, we have over 500 highly educated, professional writers standing by waiting to help you with any writing needs you may have! We understand students have plenty on their plates, which is why we love to help them out. Let us do the work for you, so you have time to do what you want to do!