How to Write a Drama Essay
Essay writing only seems easy.  In fact, when a student sits down to work he or she understands how much needs to be done in order to write a persuasive and effective essay.  Academic papers are written for professors and admission boards to evaluate students' knowledge on certain issues, as well as their writing skills.  Essay types and topics depend on students' majors.  Technical students are assigned with engineering essays, while arts and literature students write literature and drama papers.
  Writing of the drama paper can be quite difficult as a student has to penetrate in souls of literature and drama characters.
Drama Essay Page Navigation
Download Free Sample of a Drama Essay
Drama Essay Page Sample (Click the Image to Enlarge)
---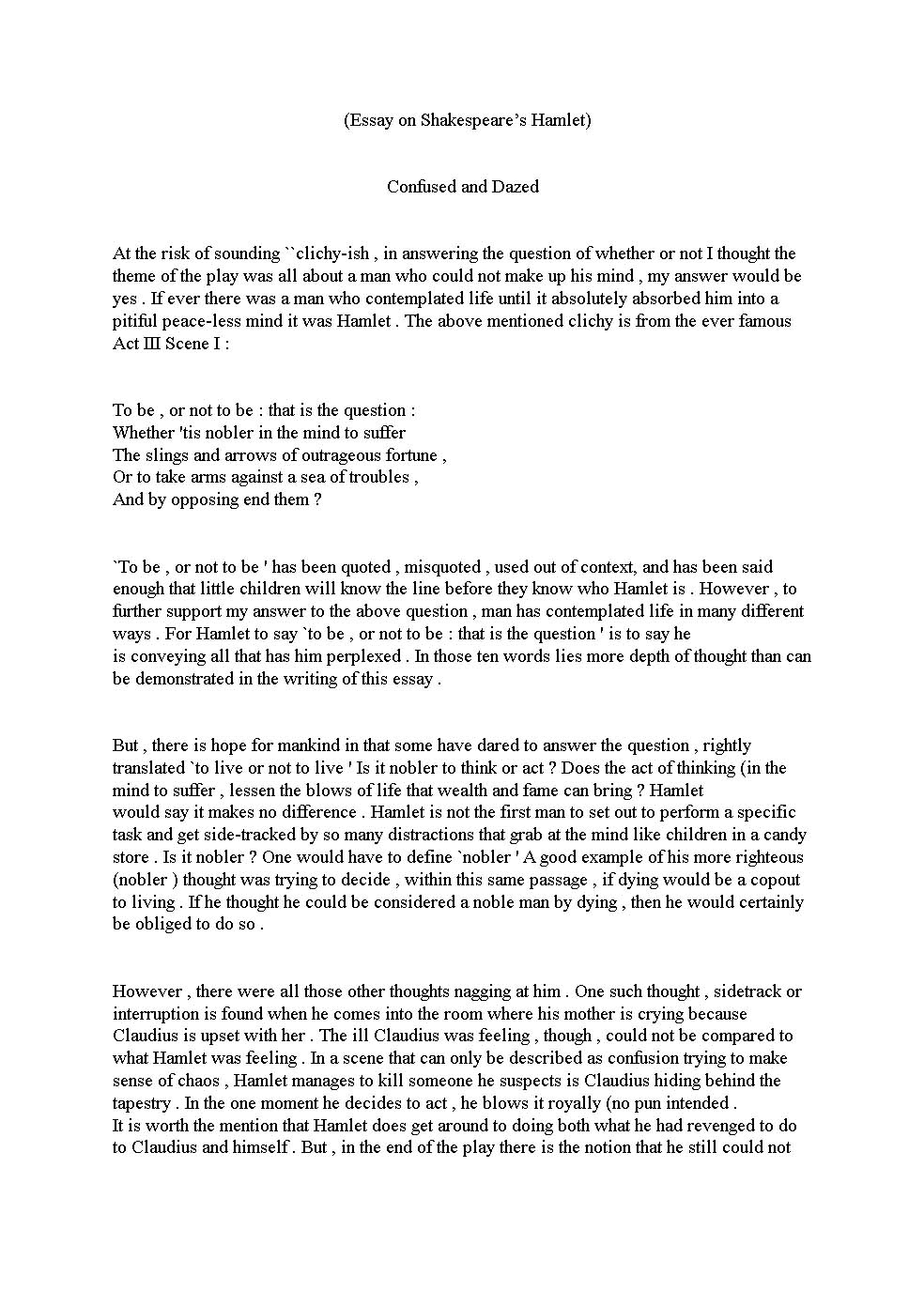 Poetry Essay
Literature students read a lot of poems.  Naturally, they are asked to write their own reviews and commentaries to poetry. Thus, a poetry essay is quite a frequent and popular task among students who study literature.  Writing of a poetry essay is not just about writing of an introduction, body and conclusion.  Your essay must be a masterpiece in itself.  It should be a literary work which is interesting to read and even to quote.  Very often, when writing reviews on poetry, students show their own poetic power.  Creativity is the number one concern.  It is very important to show your own attitude towards the style and contents of a poem.  You have to explain use of different literature speech tools, or at least try to do so.
The subject of dramatic arts provides ample topics for composing an essay. It can be about art in general, about a specific form of art or a specific work. Drama essays can be composed in any form of essay writing. Say, for example as a narrative essay or an informative essay. Drama essays are an imperative in literary courses. Literature is termed the "Art of written works". Dramas are put into writing first before they are performed in any other media. Due to the volume and variety of information available on the topic do not feel that it will be easy to compose one. In reality it may be tedious to sift through all that information. ProfEssays.com experts with intimate knowledge of the techniques of successful essay writing offer services that will help you in the construction and presentation of quality essays.
During a literature course in college or university, the number of drama essays a student required to submit will be quite high. The cramming needed to get those numbers in is imaginable. The amount of "midnight oil", sleepless nights, junk food and other personal discomforts that are associated with the presentation of literary term papers are well known. But, to achieve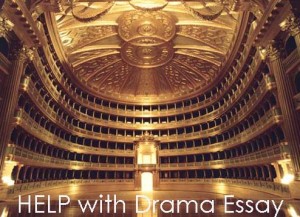 academic excellence such discomforts have to be borne. "No pain No gain" is not just a rhythmic saying but a reality in life.
Drama essays can be written in many forms. The form should match the theme of the essay. Some forms that can be used are:
Academic essays: Generally longer in composition and often discursive. The form is often used for literary reviews.
Descriptive essays: As the name suggests the form can be to describe a work or an art form with emphasis on the characteristics of the work or art form.
Compare and contrast essays. A form that can be used to discuss multiple subjects like two contemporary authors, their similarities and dissimilarities etc.
To the literarily inclined, writing about a specific work will be a gratifying exercise. Drama essays in the form of a review, helps the writer to project his personality and erudition on to paper. Care should be taken to be not too critical of famous authors or their work which may project a different picture to the readers. ProfEssays.com professionals have the requisite expertise to help you prepare an appropriate review of any work.
How Can We Help?
ProfEssays.com custom essay services can help you mitigate those discomforts to an extent. We engage the services of professionals with certified academic backgrounds who can help you compose quality essays matching the expectations of your teacher or professor. Our services are priced competitively and supported till satisfactory delivery. Plagiarism has become a real concern with educational institutions. We deliver 100% unique and original content in all work and scrupulously check and scan for any shadow of plagiarism. The content of a work once delivered is never reused either by copying portions of it or rewriting the document. Visit ProfEssays.com for services at reasonable prices that will help you in advancing your academic pursuits.

Tragedy Essay
Who hasn't read Shakespeare in school? Who doesn't know who Hamlet or Othello is? But students who study literature have to go further and analyze every event and personality of these classical tragedies.  Writing of a tragedy essay is a very popular task.  Tragedy essays are so much different from other essay types.  Although students have to possess analytical skills, they also have to feel characters.  This is something that can be achieved only after reading these dramas. A tragedy essay traditionally contains introduction, body and conclusion.  It is very important to stick to the topic.  If you're asked to analyze Hamlet's monologue you have to do so, but not just describe this drama's plot.
Drama Short Story
Professors love drama short stories.  These essay types fall into two categories: own dramas and essays on dramas by prominent writers.  Imagine that you were asked to write a drama short story.  You have to invent your own plot and characters.  It doesn't have to be a recognized masterpiece but you need to follow guidelines and recommendations to drama writing.  In case you're asked to write a short story on drama you have read, you have to select topic and focus on it.  If this is description of a character you have to merge with him or her in order to understand why he and he said or did certain things.  You can also write a review where you express personal attitude towards plot, key characters writing style etc.
Drama Article
Literature students sometimes watch theater performances, and after that they are asked to write drama articles.  A drama article is a short piece of writing that focuses on theater performances or drama in writing.  Often, students have complete freedom as to the topic.  At the same time, drama articles should comply with all those norms and requirements applicable to academic writing.  Thus, a drama article should have introduction, body and conclusion.  It goes without saying that you have to pick an interesting topic.  Some of the possible suggestions are analysis of key character's personality, drama style etc.  You can also write on why a certain performance impressed you.
Write Drama Essay
How do I write drama essay?  This is a very popular question that literature students often ask themselves.  A drama essay is a special piece of writing that dwells on plot intrigues, performance style, characters' personalities or own impressions on drama performances/texts.  For example, if you have just read Hamlet by Shakespeare, you might be asked to write drama essay.  As a rule you are given freedom to choose any topic that concerns Hamlet.  You can look for topic examples online or look for professional assistance.  We at Professays.com can suggest you a dozen of topics related to Hamlet.  Moreover, some of our writers specialize in drama essay and literature writing.
Drama Essay Paper
Traditionally, a drama essay paper is an extended essay which a student is asked to write after reading or watching drama performance.  Any drama essay paper should be written in a stylish language crammed with poetic words.  You are writing about arts, so you have to be creative in order to make your essay look persuasive.  At the same time, students are asked to meet requirements as to format, reference style and contents.  So, check of these before you are sitting down to work.
Looking for an exceptional company to do some custom writing for you? Look no further than ProfEssays.com! You simply place an order with the writing instructions you have been given, and before you know it, your essay or term paper, completely finished and unique, will be completed and sent back to you. At ProfEssays.com, we have over 500 highly educated, professional writers standing by waiting to help you with any writing needs you may have! We understand students have plenty on their plates, which is why we love to help them out. Let us do the work for you, so you have time to do what you want to do!