How to Write a College Application Essay
Why write a college application essay?
The answer to "Why write a college application essay?" is crucial to being able to select a topic that will show admission staff who you are.  The reasons you need to write a college application essay are much more important than lists of information on grades and extracurricular activities.
A college application essay is your chance to make a good first impression with the admissions staff.  It not only demonstrates that you have basic writing ability but can help you stand out from other applicants.  The competition for entrance into many colleges is fierce.  Writing a unique college essay using honesty and an innovative approach can get you in the door, especially if some other areas of your application are less than stellar.
Click here for more details on writing a successful application essay.
data-count="horizontal" data-via="professayscom">Tweet
Quick Navigation through the College Application Essay Page
Download Free Sample of a College Application Essay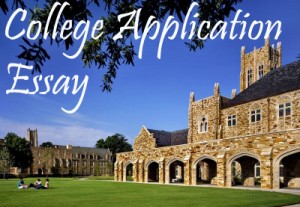 How to write a successful application essay
Learning how to write a successful application essay is a process that consists of three major steps.
Brainstorm a list of potential college application topics.
Choose a topic for your college application essay that will enable you to answer the question you've been asked and still highlight your uniqueness.
Write your college essay which should include an introduction, body and conclusion.
When writing a list, use bullet points, they are easier to read and catch people's attention.
What are colleges looking for in a college application essay?
College Application Essay (click image to enlarge)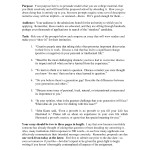 Admission staff is hired to select the best candidates from sometimes very large pools of applicants with similar test scores, grades and activities.  So what are colleges looking for in a college application essay?  The college application essay enables the staff to gauge not only the basic writing skills of a candidate but also the ability to follow directions and express complete and logical thoughts in writing.  They are looking to understand who you are as a person so they can determine if you are well rounded, mature and ready for the college experience.  All of these things help you do well in college and admission representatives have a vested interest in choosing candidates with the best chance of success.
How We Can Help
We are an outstanding custom writing company with over 500 expert writers with PhD and Masters level educations who are ready to fulfill your college essay needs regardless of the academic level or topic. Just imagine you can buy your college application essay before you go to sleep and in the morning an excellent, 100% unique college essay will arrive in your email inbox.



We understand the importance of writing a college application essay that helps you to stand out from the crowd so that you can get into the college of your dreams. We are ready to help you because we love writing and want to be your partner for success on the road to your college education. We are available 24/7. Order your custom college essay now
Steps to writing a college application essay
Brainstorm ideas prior to writing your college essay.  Start by listing your major achievements in life, reflecting on qualities or skills that you have that set you apart from others or by recalling major obstacles you've overcome.  Write some brief notes about something that happened which really opened your eyes and taught you something unexpected.  Don't think too much about college application topics in this step.
Select a topic for your college application essay.  Read some sample application essays and then review your brainstorming notes and choose a topic you are familiar with and that has personal importance to you.
Write the essay which should consist of an introduction that captures the attention of the reader, a body, and a conclusion.  College application essays do not use topic sentences like most essays.  Your introduction should keep the reader guessing about what's to come and use emotion to draw them in.
When done with your essay, don't forget to revise it. Proofread your essay for any spelling errors and grammatical correctness. It is very helpful to read your essay backwards sentence by sentence to see if each of them sounds correct and complete. The spell-checker is a good tool, but it doesn't catch all possible mistakes. So it all depends on your careful reading. Don't hesitate to spend some time onto proofreading, as it is worth of having an excellently written essay.
How to avoid writing an unsuccessful college essay
It's easy to avoid writing an unsuccessful college essay if you keep these tips in mind:
Read other sample application essays to learn how to infuse some mystery in your introduction and use emotion to capture the reader's attention.
Use specific and descriptive details, avoid clichés and don't try to be funny or use a gimmick.
Don't repeat information already listed elsewhere in your application such as GPA or standardized test scores.
Don't write about religion, politics or other controversial issues that might offend someone or turn them off.
Don't admit to weaknesses in your essay.  Don't lie or invent hardships or other incidents.  Be honest!
Looking for an exceptional company to do some custom writing for you? Look no further than ProfEssays.com! You simply place an order with the writing instructions you have been given, and before you know it, your essay or term paper, completely finished and unique, will be completed and sent back to you. At ProfEssays.com, we have over 500 highly educated, professional writers standing by waiting to help you with any writing needs you may have! We understand students have plenty on their plates, which is why we love to help them out. Let us do the work for you, so you have time to do what you want to do!