How to Write an Essay
What is an Essay?
When you have to write an essay, remember an essay is a work of non-fiction that has a beginning, middle, and an end. A good essay should have three or more paragraphs with each one backing your main idea.
A topic or main idea needs to be determined through brainstorming and outlining before you begin to write. This helps narrow the idea of the essay down into a thesis. The thesis statement is what the essay is focused on and it is usually the last sentence of your introductory paragraph.

Navigation Menu Through "How to Write an Essay" Page:
Download Essay Sample
How to Write a Grade A Essay
Essay Structure (click the image to enlarge)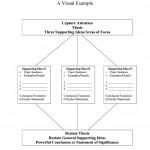 Your thoughts need to be clear and linear for a great essay. The first step in your essay writing process is to come up with a topic and then create an outline. Brainstorming will help you come up with a topic unless one has been assigned to you; even then, to write your essay you need to elaborate on the topic.
Write down as many thoughts as you can while brainstorming and once you start to get an idea for your essay begin to extrapolate on what you have written down. This is where web mapping or listing your ideas like a tree with the main idea as the top of the tree will begin to form a faint outline. Once your ideas are listed it is easier to focus on the main points you wish to make.
Let's say the topic you choose to write about is recycling. Write recycling down at the top of your paper and draw a couple lines down. At the bottom of these lines, write down the questions how to recycle and what to recycle. Draw a few more lines branching off of these questions. Keep going with this idea until you have answered all your questions or put down all your ideas about recycling. Now you have formed a very simple tree map that you can form into an outline.
Step by Step Tips on How to Write a Great Essay
Start your outline with the topic of your essay. The first bullet point is your thesis and is the premise of your essay. What you write in your body should be relevant to your thesis.
Your thesis shows the reader the direction of your thoughts and where your essay is going to be taking them:  preview your main points in the thesis statement. Don't be afraid to make the thesis controversial, but don't make it ambiguous. Be to the point.
The next bullet point is the body of the essay with each supporting point or points signifying a paragraph. These supporting points will vary on the type of essay being written but should keep to the main idea.
Once you have down all the supporting evidence, you need a conclusion to explain how your research and evidence led you to your conclusion. The conclusion restates your thesis.
How can we help
ProfEssays.com is a company that can help you research for that topic and develop an outline that gives you a unique and improved essay. We can provide you with 24 hour customer support, and our services include proofreading, research, and essay writing. Whatever we write will be exclusively yours and will not be posted online anywhere.



We are an outstanding company with over 500 expert writers with PhD and Masters level educations who are able to help you with your writing needs. Your essay or term paper will be written in strict accordance with your instructions and sent direct to your email. We know that students are under a lot of pressure to achieve high academic goals and we are ready to help you because we love writing. By choosing us as your partner, you can achieve more academically and gain valuable time for your other interests. Place your custom essay order now.
Do your best on your essay, let us help you get there!
What Type of Essay Should I Write?
The type of essay might be determined by an assignment. However, any assignment can be enjoyable if a good essay topic is chosen.  You may write your essay in one of the following styles: persuasive, comparison, descriptive, evaluation, and narrative.
A persuasive essay takes a position or makes a claim on an issue, which is backed by evidence from either statistics or a professional on the matter. If you want to explain to your readers why an opposing view is incorrect and why they should share your point – write a persuasive essay.
A comparative essay discusses similarities and differences between the issues mentioned in the topic and a descriptive essay illustrates the who, what, when, where and why of a topic.
Evaluative essays differ from descriptive because they focus on the importance and relevance of a thing or an event.
Then there is a narrative essay, not to be used as a work of fiction, that tells a sequence of events and should have a relevant point to the topic chosen.
For more essay styles please click here.
Things to Avoid When Writing an Essay
What you do not want to do is write an essay on a topic that the majority of your class is going to do or has done. Find an idea that you feel you have knowledge in, that is unique and you are passionate about. Seek help with an easy topic to narrow down the many ideas that are out there.
Do not make your thesis vague or ambiguous. You want your thesis to make a statement that the rest of your essay backs up with facts.
Make sure your voice is heard. Write what you feel about your topic along with the facts. Too many facts makes an essay difficult to read.
Looking for an exceptional company to do some custom writing for you? Look no further than ProfEssays.com! You simply place an order with the writing instructions you have been given, and before you know it, your essay or term paper, completely finished and unique, will be completed and sent back to you. At ProfEssays.com, we have over 500 highly educated, professional writers standing by waiting to help you with any writing needs you may have! We understand students have plenty on their plates, which is why we love to help them out. Let us do the work for you, so you have time to do what you want to do!
Tags: how to make an essay, how to write an essay, how to write essay, how to write essays