Five Paragraph Essay
Although not the only way to structure an essay, the 5 paragraph essay is a classic format and is easy to follow, especially for those who are new to the writing process. The structure of a five paragraph essay typically begins with an introduction, followed by three paragraphs that each deal with one main idea only. One idea per paragraph prevents too many ideas in one paragraph which can make an essay confusing to read. The last paragraph is a conclusion.
The allure of essay writing is that the control is up to you. An essay is evaluated based mainly on whether or not you adequately supported your main statement or argument. Essay structure, clarity of presentation and word choice may also factor into the evaluation equation. Read below to learn how you can conquer the five paragraph essay structure and produce a well written essay every time.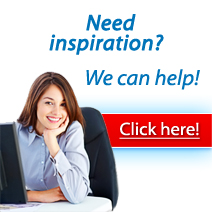 Quick Navigation through the 5 Paragraph Essay Page
Download Free Sample of How to Write Five Paragraph Essay
Five Paragraph Essay Outline
(Click the image to enlarge)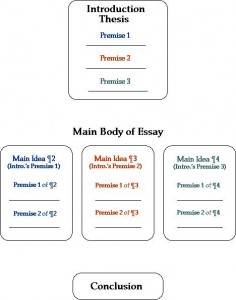 Paragraph One: Introduction
The first paragraph of your 5 paragraph essay is one of the most important because it is your first and sometimes only chance to make a good impression on the reader. The opening of your introductory paragraph needs to grab the attention of the reader and compel them to keep reading. Whether you choose to begin with a quotation, anecdote, definition or a surprising fact, focus your essay writing in this first paragraph on hooking the reader.
The type of element that you use will depend greatly on your subject matter and your own personal writing style. Once your reader is hooked, transition into your thesis statement by indicating your approach to the subject and list your main supporting points. Contrary to popular belief the thesis statement typically comes toward the end of the first paragraph and rather than simply announcing the subject of your essay, it is a solid statement of assertion or the argument you intend to support.
Body-Paragraphs Two, Three and Four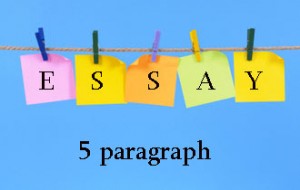 The second, third, and fourth paragraphs of your essay structure are the body of your 5 paragraph essay and should be used to support your thesis statement. When ordering these three paragraphs, it's important to present your evidence and support in order of its significance to your thesis statement. This means the second paragraph will focus on your strongest evidence, the second paragraph will present the next strongest facts and so on.
Each paragraph of your essay writing needs to focus on one main point of evidence and include a topic sentence for that paragraph. The topic sentence for each paragraph must directly relate to the thesis statement presented in the introductory paragraph. Your final sentence in each paragraph consists of a summary sentence that easily transitions to the next paragraph.
How can we help
At ProfEssays.comwe are committed to producing high quality for every essay writing order you request. In the event that you are not satisfied with the result we offer the option of free revisions. Our writers are qualified to write on any topic, are familiar with all types of essays and can produce an essay to your specifications.
We strive to produce work that is original, fresh and relevant. We know that our success depends on creating and maintaining long lasting relationships with our customers.
We value your business and will demonstrate that by providing timely customer assistance and prompt delivery of the final product.
We understand that there are times when the unexpected wreaks havoc with your schedule and therefore we offer an express delivery time as well.
Our company will always be ready to serve you with quality work at affordable prices.
Customer satisfaction is our motto and we believe in keeping our customers satisfied

Let us take the worry out of your writing workload, order your 5 paragraph essay now.
Paragraph Five: Conclusion
The final paragraph in your five paragraph essay will be a piece of cake if you are writing it with the knowledge that everything you intended to prove has been well supported. This final paragraph of the essay structure is a conclusion and is your opportunity to leave the reader with a memorable experience. The concluding paragraph includes the following:
Using words and phrasing that echoes your original thesis statement but without being an exact duplicate, restate the thesis statement from your introductory paragraph.
Summarize the supporting evidence from the second, third and fourth paragraph in a couple of concise sentences.
Leave the reader with your final statement and a memorable impression. In some essays you may even ask the reader to take action based on the position or opinion you've presented.
How is the Five-Part Essay Different from a Five Paragraph Essay?
A five paragraph essay is a simple format whereas the five part essay has additional requirements to what each body paragraph of the essay should be about. In most cases you will find that the introductory paragraph and the concluding paragraph for both types of essays are the same. The five part essay differs only in the organization of information in how it is presented:
Part 1: Introduction to the topic and presentation of the thesis statement.
Part 2: Narration follows the introductory paragraph and in the five part essay this section typically includes a review of related literature to provide the reader with background on the topic as well as an indication of essay structure.
Part 3: Affirmation is presented as facts, arguments and other evidence in support of the thesis stated in the introductory paragraph.
Part 4: Negation consists of presenting the evidence against the thesis and then refuting that evidence for the reader.
Part 5: Concluding paragraph consists of summarizing the main position and connecting it and the thesis with the bigger picture.
Looking for an exceptional company to do some custom writing for you? Look no further than ProfEssays.com! You simply place an order with the writing instructions you have been given, and before you know it, your essay or term paper, completely finished and unique, will be completed and sent back to you. At ProfEssays.com, we have over 500 highly educated, professional writers standing by waiting to help you with any writing needs you may have! We understand students have plenty on their plates, which is why we love to help them out. Let us do the work for you, so you have time to do what you want to do!
Tags: 5 paragraph essay outline, custom Five Paragraph Essay, Five Paragraph Essay example, Five Paragraph Essay help, Five Paragraph Essay sample, Five Paragraph Essay topics, Five Paragraph Essay writing