How to Write Book Essay Papers
Tips on Writing an Outstanding Book Report
A book report is an essay written to summarize, interpret, and conclude a book read for pleasure, for school, or for college. When pondering the question of how to write an outstanding book essay you must remember to ensure all three parts are written carefully and accordingly to the very specific parameters outlined. Our essay service can always guide you through examples of those parameters.
Like all good essays you will need to begin your outstanding essay by creating an outline containing a summary, an interpretation, and a conclusion.

In the summary it is very important that you state only the main points of the book. If it is a fiction book, you need to discuss  characters, plot, and meaning. If you analyze an academic book, you'll need to discuss the structure of the book, the author's sources and methodology. The summary is not the place in the book essay to take sides or argue points, remember to stick to the facts here!

In the interpretation you will need take a stand and argue a point of the book. This part of the essay is to ensure you get to speak your mind and opinion about a character, event, main idea, a concept, methodology, etc…

In the conclusion you will need to bring together both the summary and your interpretation. In order to have an outstanding book essay you will need to carefully craft a conclusion that will infuse the authors point of view, stated in the summary, and your point of view, stated in the interpretation.

Proofread. Like in all outstanding essays, a huge part is proofreading to fix any and all mistakes made.

Quick Navigation through the Book Report Page
Free Book Review Sample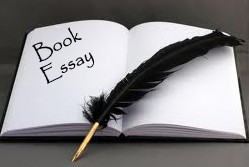 How to Choose a Book for a Book Essay
Normally a teacher in school or a professor in college will assign the book needed to create your book essay. If, by chance, you are given a choice to choose the book used to write your essay you will need to pick an interesting, versatile, and easy to understand book. If you choose book that is easy to read and interesting you will find it easier to write about the book and your interpretation of said book. When you choose a book that confuses you it might be difficult for you to write the book essay. Book reports need to be analytical and written in a strict format. If you are confused on the methodology of the author or the main ideas of the book you might wish to choose a different book for your book essay.
How Can We Help
When stressed about creating a great book essay, Understanding how to format the book essay, and/or looking to have a fresh pair of eyes proofread your essay you need not look any further for a solution. Our team of qualified writers are ready to create your one-of–a-kind essay.
All custom essays are guaranteed to be delivered on time and tailored to the needs you specified. Let our qualified writers create your one-of-a-kind book essay, thesis statement, term paper, thesis, and dissertations by allowing our professionals to help with all of your writing needs.

Our professionals are looking forward to creating a partnership with you to relieve some of the stresses caused by essay writing and research. Please contact us with all of your online essay needs including proofreading and answers to all of your "how to write…" questions. Our team of fully staffed professionals are standing by. Order your book essay now.
More Tips on Writing an Outstanding Book Report
When writing a school essay you will need to make sure it is outstanding. To do that you need to always start with an outline, including a summary, a interpretation, and a conclusion. These three parts are the essentials to an outstanding book report. When writing the summary, for an essay on a book, you will need to ensure you stick with just the facts. The summary retells the main points of the book the way the author intended. It is very important that you state just the main ideas and not the entire book. Too many details will take away from your essay. When writing the summary try to write it as if the person reading the book report has already read the book and understands what you are talking about. Next you will want to write your interpretation of the book used for your book report. This is the paragraph that you will add your own thoughts and commentaries. Finally, you will write the conclusions. The conclusion is a paragraph that infuses the summary and your interpretations of the book. It will be very important that you add quotes or paraphrases from the book to ensure you have backed up all points in your interpretation.
What is Your Teacher Looking for in Your Book Report?
Normally your teacher is looking to see if you can follow directions when he/she explains how to write an essay. A teacher is always looking to see if you can follow the format explained just as much as he/she is looking to see if your content is well written. When writing an essay on a book the teacher will also be looking to see if you can summarize the book. You will focus on the methodology of the author then state your opinion of the effectiveness in the interpretation of the book report.
It is important to a teacher that you have read the book that was assigned to the book report. If you have no idea what the main points are it is a sure sign you did not read the book or you did not read carefully enough. Finally, your teacher will be looking to see if you proofread your book report. If there are more than two typos or mistakes your grade might suffer. For proofreading services please take a look at the how can we help link.
What Makes a Bad Book Essay?
A bad essay on a book will not follow the format given for all book reports. A bad book essay will be disorganized causing the reader or the teacher to feel that the book report does not flow well. Also, if the content of the book report does not match up to the book, it was written about, the teacher or reader might deem your school essay a bad book essay. When summarizing the book, interpreting the book, and concluding the book you will need to ensure you are appropriately quoting/paraphrasing the book to back up all of your points. In a bad book report there will be no distinction between  your own points and the points of the book which is being analyzed.
Looking for an exceptional company to do some custom writing for you? Look no further than ProfEssays.com! You simply place an order with the writing instructions you have been given, and before you know it, your essay or term paper, completely finished and unique, will be completed and sent back to you. At ProfEssays.com, we have over 500 highly educated, professional writers standing by waiting to help you with any writing needs you may have! We understand students have plenty on their plates, which is why we love to help them out. Let us do the work for you, so you have time to do what you want to do!