The Economics Essay Explained
Custom Written Economics Essays
The science of Economics studies the behaviour of human beings in adjusting their demand for goods and services to the supply of these commodities. An economics essay is a type of cause and effect essay that deals with the effect that supply has on human consumption and vice versa. The area of human experience affected by Economics is as wide as the variety of products and services that people make use of. The principal problem of a writer of this type of essay will be to determine the scope of the central subject matter that he wishes to tackle. It would not be feasible to talk about wages in general, but a dissertation on why wages should or should not be increased is very possible. In similar fashion, the role of communication in Economics might be too broad, whereas, an economics essay on how language barriers affect Economics is narrow enough for a focused discussion. If you are not sure if your chosen essay topic is suitable for an economic essay, compare them with good examples of this essay type. Start at the literary archives of ProfEssays.com where you can browse through hundreds of well argued and well written economic essays. These articles can be a great help towards starting your own composition. Another quick way to learn is to have one of the expert writers there create an outline based on your topic for you. If you need more than an outline essay to get you started you could ask for a template written about your subject matter.
Download Free Sample of Economics Essay
Economics Essay Free Sample (Click the image to enlarge)
---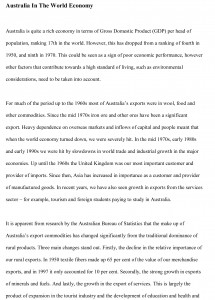 ProfEssays.com has been a leading source of excellent academic and professional custom essays and dissertations for some time now. They only release products that are high-calibre in accuracy, style and originality. They seek to promote effective communication through masterfully done articles. In line with their support for aspiring writers, these recommendations for writing economics essays is published.
You can get plenty of topics for an economics essay discussion in the newspapers and other media. Any issue concerning the availability and prices of commodities is good subject matter for this type of essay.
When you have found a topic that you feel you know something, about figure out the specific aspect of the subject matter that you want to talk about.
Research on the points you want to bring up in your discussion.
Keep a list of the references you plan to use as well the relevant pages you intend to cite.
Organize your ideas in a logical fashion by creating an outline essay.
Write your economics essay along the lines of the outline you created.
Review and assess your finished composition and make the changes you feel are needed.
It might be good to get a second opinion about your personal essay. Ask an authority to take a look and to give you their honest assessment. You could drop in at ProfEssays.com to have their providers polish your work. Their writers are all masters and bachelor degree holders, well-informed and with lots of experience. What is more, their sources are the best available on the internet or in real libraries. Your preferences will be given priority and your transaction with ProfEssays.com is a confidential matter.

Looking for an exceptional company to do some custom writing for you? Look no further than ProfEssays.com! You simply place an order with the writing instructions you have been given, and before you know it, your essay or term paper, completely finished and unique, will be completed and sent back to you. At ProfEssays.com, we have over 500 highly educated, professional writers standing by waiting to help you with any writing needs you may have! We understand students have plenty on their plates, which is why we love to help them out. Let us do the work for you, so you have time to do what you want to do!