Descriptive Essay Prompts: Improve Your Writing Skills
How to Write a Descriptive Essay
When writing a descriptive essay the main rule you need to follow is known as 'show not tell'. This might sound a little confusing at first, but try to think of your writing like an artist's blank canvas.  Instead of using paint and images to create your picture you use words which evoke an image in the mind of the reader.
Take the following example:
John was angry.  He could feel the rage bubbling up inside him.
Okay – this is to the point.  John's angry – you have told this to your reader.  However, because you are writing a descriptive essay, consider the difference between this and the following:
John gripped the edge of the table, his knuckles going white.  His blood began to surge around his body and he knew that the tell-tale vein on his forehead would be pulsating for all to see.
Do you see the difference?  We haven't mentioned the words 'anger' or 'rage.'  Instead, we've shown the reader his outrage by description. Continue reading to find out more descriptive essay prompts and college application essay prompts and review descriptive essay example for free.
Quick Navigation Еhrough Descriptive Essay Prompts Page
Download Free Descriptive Essay Example
Descriptive Essay Writing Prompts
A writing prompt is anything which gets your creative juices flowing.  It can be a single word or a phrase, question, sentence, paragraph or even a picture.  Writing prompts are great for when you need a kick-start for your descriptive essays.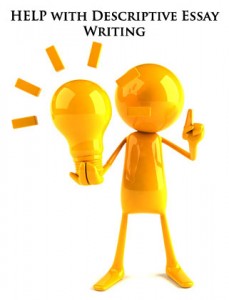 For example:
When I was a child my favorite toy was…
You're in a hurry to an urgent appointment, but got stuck in traffic jam.  How do you feel?
Describe the person you admire. Explain your feelings.
What if animals could talk?
Descriptive essays certainly take some work, but with a little planning and consideration it is possible to write the words that make the reader really feel as though they have been transported into your writing. Ask our writers for some more college application essay prompts!
How Can We Help
Our company is ready to provide you with help and advices in writing. Learn how to write a descriptive essay, review descriptive essay example and get college application essay prompts by delegating those questions to our writers.
We understand that sometimes there are just not enough hours in the day.  Perhaps you find descriptive essays writing particularly challenging or something has come up and you just can't get your work completed in time.  This is where ProfEssays.com come in and can arrange to have your essay custom written for you.

We have professional writers waiting to complete a unique essay which you can hand in to ensure you get a great grade.  It will be written to your specification and is guaranteed to be one of a kind.  So if you're in need of a helping hand with descriptive essays, just drop us a line to order your essay now.
What Can You Describe in Your Essay?
There are some key points on how to write a descriptive essay: although it might seem a little difficult at first, it's possible to describe many things using the 'show versus tell' rule.  A descriptive essay could concentrate on one or a selection of the following:
These are things that many people fail to describe.  Think about how emotions make you feel, and try to put that down in words.  For instance, happiness makes you smile, sadness can feel like a weight is pressing down on you and jealousy could be like a monster snapping away inside.
Perhaps a childhood memory – such as a favorite toy or a day out.  Maybe the toy could bring comfort through its familiarity, and a day out could have either good or bad memories.
Anywhere that evokes sight, sound and smell – beaches, cities or a fairground, for example.  All of these would be wonderful to write about in a descriptive essay.
Perhaps someone you know, such as your father or a friend, or a stranger that you see on the street.  Here you could talk about the curve of someone's face, describe their clothing or their countenance.
This might seem a little tricky at first, but it is possible to describe an object.  For instance, a table that is made from wood could have rich hues, be warm to the touch or have gnarly knots in the surface.
Descriptive Essay Writing Tips
Writing a descriptive essay certainly takes a bit of practice.  The following descriptive essay prompts are designed to steer you away from the most common mistakes the novice writer makes:
Don't overdo it. One regular error which is seen in descriptive writing is to use too many descriptive words.  You don't need a long list to describe something when very often one word will do the job.  For instance, it's not necessary to write 'jolly, round and red' when describing a person's face.  Here the single word 'jovial' would suffice.
Don't forget the senses.  This is one of the strongest tools in a writer's armory.  How does something look, smell, feel, taste or hear.
Evoke emotion.  Draw on your real life experience to describe how you felt in situations.  Use these feelings to create the same sense of reality to your readers.  Well written emotional scenes are one of the most powerful use of words in a descriptive essay.
Choose your words with care.  Try to pick words which are well-known but perhaps not quite so common.  For example, use gargantuan instead of huge, or desolate instead of upset.
Brainstorm! If you're struggling to describe something, spend a few minutes brainstorming for words that you'd use when trying to explain it to others.  For example, a drinking glass could be cold, transparent, opaque, heavy, weighty, elegant, cheap, classy, etc.
Looking for an exceptional company to do some custom writing for you? Look no further than ProfEssays.com! You simply place an order with the writing instructions you have been given, and before you know it, your essay or term paper, completely finished and unique, will be completed and sent back to you. At ProfEssays.com, we have over 500 highly educated, professional writers standing by waiting to help you with any writing needs you may have! We understand students have plenty on their plates, which is why we love to help them out. Let us do the work for you, so you have time to do what you want to do!