Autobiographical Essay Writing Help
Autobiographical essay is considered to be quite an easy task. Well, this is a common myth. At a first glance it seems that nothing can be easier than writing about yourself, your life, work experience, hobbies and aspirations. But in fact, writing of a persuasive autobiographical essay can be a daunting task. Just think of this. You have 1 or 2 (sometimes more) A4 pages to describe your entire life. You have to mention all important facts in your career and education. Moreover, autobiographical essay should give admission committee or evaluator a feeling of what that essay author's personality is. There are no unimportant things in autobiographical essay. You have to tell everything about yourself, and yet you have to be laconic and precise.
Quick Navigation through the Autobiographical Essay Page:
Autobiographical Essay Example
As a rule, autobiography has a strict format (unless otherwise is specified). It usually starts with the words "My name is", i.e. introduction. In order to make sure that your autobiography complies with requirements you should certainly look for autobiographical essay example which you can find online. Use information only from trusted web sites or essay writing companies, like Professays.com. Follow all standards and requirements to autobiographical essays in order to produce a quality text.
We Know How to Write Autobiographical Essays
Autobiography is usually required by admission committees at colleges and universities, as well as student foreign exchange programs and grant committees. With an autobiographical essay you have to tell readers as much about yourself as you can. At the same time this hasn't to be a 100 page novel. There are many pitfalls and obstacles in writing of this essay type.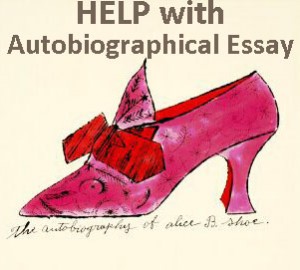 Some students omit important things while writing about something that doesn't really matter. It is not so important what what nursery school you attended, but it is really important who your parents are and in what community you grew up. Your high school or college education is something that matter most of all. You also have to describe your work experience if any.
Most admission committees are eager to read about your hobbies or volunteer experience. They want to know about your personality. So, devote part of your autobiographical essay to description of your hobbies and likings.
It is also important to state your career goals and aspirations, as well as dreams in life. Your autobiographical essay needs to have a personal touch. And as experience shows, this is the most difficult task to complete.
Autobiography is a literary composition about own life written by the person. Autobiographical essay is a short composition on the life of the author. The essay should be a short statement about the author's life with the author's attitude to life as central theme. A reader should be able to a glimpse of the author's life and major influences that shaped the attitude to life. The introductory paragraph should be a short statement on the author's beliefs, achievements and outlook on life.
The second paragraph of an Autobiographical essay should state the course of your life including your family background, society that nurtured you, your childhood, education; significant events that influenced you and helped you to form your values. Reflect the ideas and principles you believe in and the events that made you realize the importance of those ideas and principles. Writing a personal essay should help you in word your thoughts in a lucid form. A proper narrative essay will also enable to state your life and attitudes in a fluid style to gain attention of the reader.
The Autobiographical essay should state your philosophy of life. The statement should express the reasons for forming such values and how those values have helped in achieving your goals. It should also state your views in relation to family, how you would prefer other's to behave, how you would reciprocate and your reasons for such expectations or behavior. Writing about the persons of import in your life and how they influenced or motivated you will lend credence to your essay. Draw a picture of that of an ordinary human being with good values and principles. An impressive essay cover page will also help in gaining proper attention.
How Can We Help
We at ProfEssays.com have the appropriate expertise in composing custom essays and can provide support in composing appealing essays. Our fees are reasonable and we provide unlimited support till full satisfaction. Client information is treated as extremely confidential and all personal information is secured with proper systems and controls. We also provide fast turnaround for urgent requirements. ProfEssays.com has required expertise to help you in creating an impressive statement with the important issues highlighted.

ProfEssays.com can help segregate your thoughts and events in life to choose appropriate themes to compose any essay that will help you attain good results. Read more about critical analysis essays and essay rubric.
University Entrance Autobiographical Essay
Applying for admission to a college or university is a very important period in everybody's life. Indeed, you have to persuade admission committee that you deserve studying that a particular university. That's why your university entrance autobiographical essay has to be perfect. You have to tell about your education, social background, family, work or volunteer experience if any, likings and hobbies, career goals and prospects for the future. Admission committee has to understand that you're a committed, intelligent an optimistic student who really needs education to reach goals in life.
Autobiographical Essay Outline
Before you start writing your autobiography you have to make sure it will be well structured. Thus, autobiographical essay outline matters a lot. You have to start from the earliest years of your life, social background, gives some details about your family and where you were born. Then it comes school experience, your hobbies, work and volunteer experience etc. Do not start telling about your social background and then jump to your volunteer activity. Your autobiographical essay must be easy to read, otherwise admission committee will not understand anything about you.
Autobiographical Narrative
Autobiographical narrative is synonymous to autobiographical essay. In this type of academic writing you have to tell much about yourself and your life. You should also tell something about your personality. Very often university entrance autobiographical essay plays a very important role in whether or not a student will be accepted. So, it is possible to say that autobiographical narrative submitted to admission committee is the most important essay in your life so far. This is not a joke.
Autobiographical Essay Format
Unlike other essay types, autobiography has its own outline. Autobiographical essay format is simple. You start writing about your early years of life, social background, family, education, work experience, career goals etc. So, all facts about your life and personality should be written in a consecutive order. This is a key requirement that has to be observed. If you started telling about one thing, do not jump to a completely different issue. This will break the order of your thoughts.
An autobiographical essay can be structured as:
1. A statement on yourself, your beliefs and outlook on life.
2. The background and course of life and important influences.
3. The achievements and highlights.
4. Your philosophy and values.
5. Your general attitude to the society.
Autobiography
Every person needs to write autobiography at least several times in his life. Autobiography is usually required when applying for admission to a college or university, when submitting resume for a job etc. In autobiography you have to state some key facts of your life, your social background, education, work experience, family details, major information on your hobbies and dreams. It is very important to be laconic but still be able to tell everything about yourself.
Looking for an exceptional company to do some custom writing for you? Look no further than ProfEssays.com! You simply place an order with the writing instructions you have been given, and before you know it, your essay or term paper, completely finished and unique, will be completed and sent back to you. At ProfEssays.com, we have over 500 highly educated, professional writers standing by waiting to help you with any writing needs you may have! We understand students have plenty on their plates, which is why we love to help them out. Let us do the work for you, so you have time to do what you want to do!