Essay Paper on Regional Policy of the European Union
European Union is becoming more integrated and many key economic vari¬ables are moving closer together, there are still discrepancies in the economic performance of Member States. This will increasingly be an issue which will have to be tackled as the area becomes more and more integrated.
Whilst macroeconomic policy is controlled domestically it is inevitable that differences will exist as some countries' economic policies will be more successful than others. But even if we see fully integrated macroeconomic poli¬cies some time in the future there will still be differences, much as there are regional differences in particular countries: whatever the path of development of the EU the central importance of regional policy will therefore continue.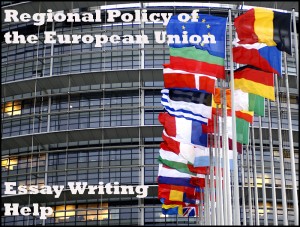 Differences are bound to exist, due simply to the physical characteristics of the country, such as size, population and natural resources as well as cultural diversity. But during the 1980s disparities actually grew, particularly with the entry of the less developed countries of Spain, Portugal and Greece into the European Community. In 1995, when Finland, Austria and Sweden joined, their relative wealth also changed the balance between Member States. The central issue when considering these discrepancies is that some peo¬ple fear that unless discrepancies can be reduced, Europe will end up having a core of economic activity and a periphery which is continually less developed.
It is important for businesses to be aware of the environments in which they do business and in particular to have information on economies in which they are based, or with which they have trading links. The establishment of a business in an economy where there are unsuitable productive resources, or where there is little market for the product or service would be unwise. Even within the EU the significant differences between the economies of the Member States makes the location decision vital to the success of a firm.
The EU's response to regional disparities was the establishment of a new set of Structural Funds in 1994. Approximately 80 per cent of the Structural Funds are allocated to the Objective areas such as Economic adjustment of regions whose development is lagging.
Most regional policies have operated on the principle of subsidies and grants. Although, in the EU, direct subsidies to labour are prohibited, indirect labour subsidies via training and capital subsidies via grants are operated widely. There is also considerable interest in devel¬oping infrastructures which will be of direct benefit to firms operating in the more depressed areas of the EU, and since subsidies for infrastructure do not offer direct differential assis¬tance to individual industries, they do not conflict with the aims of EU Competition Policy…

This is just a free sample of the research paper, or part of the research paper on the given topic you have found at ProfEssays.com. If you feel you need professional writing assistance contact us! We will help you to create perfect research paper on any topic. ProfEssays.com – Leading custom essay and dissertation writing company and we are 24/7 open to serve you writing needs!
Don't hesitate! ORDER NOW!
Looking for an exceptional company to do some custom writing for you? Look no further than ProfEssays.com! You simply place an order with the writing instructions you have been given, and before you know it, your essay or term paper, completely finished and unique, will be completed and sent back to you. At ProfEssays.com, we have over 500 highly educated, professional writers standing by waiting to help you with any writing needs you may have! We understand students have plenty on their plates, which is why we love to help them out. Let us do the work for you, so you have time to do what you want to do!