Essay Paper on Abu Mazen's Political Career
Mahmoud Abbas, well-known by the kunya or nom de guerre Abu Mazen was elected President of the Palestinian National Authority (PNA) on January 9, 2005, and took office on January 15, 2005. Generally speaking, Abu Mazen is a leading politician in Fatah. As the first Prime Minister of the Palestinian Authority he served from March to October 2003 when he resigned as a result of not enough support from Israel and the United States as well as internal incitement against his government. Since November 11, 2004 he has served as Chairman of the Palestine Liberation Organization (PLO) Executive Committee, after Yasser Arafat's death. Nowadays, Hamas being in control of the Palestinian Authority, Abbas is often seen as the face of Palestinian moderation.
Mazen's political career started in the mid-1950s, when he became heavily involved in underground Palestinian politics, joining a number of exiled Palestinians in Qatar being Director of Personnel in the emirate's Civil Service. While being there, Mazen recruited a number of people who would become significant figures in the Palestine Liberation Organization, and was one of the founding members of Fatah in 1957. In particular, Yasser Arafat was among other important members.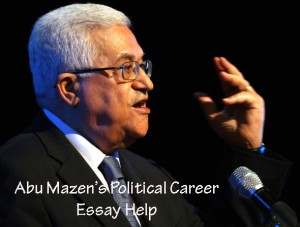 During the 1960s, 70s, and 80s, Abbas traveled with Arafat and the rest of the PLO leadership in exile to Jordan, Lebanon and Tunisia. Although he gained little attention, particularly in the Western media, Abbas is said to have had a powerful behind-the-scenes impact on the PLO. Some commentators view him as an intellectual pragmatist. One of his main accomplishments is initiating secretive contacts with left-wing and pacifist Jewish groups during the 1970s and 80s, which is considered by many to be a key architect of the 1993 Oslo peace accords (the fact that he traveled with Arafat to the White House to sign the accords is the main evidence of this claim).
When both Israel and the United States had indicated their refusal to negotiate with Yasser Arafat by early 2003, Abbas started to serve as a candidate for a more visible leadership role. Being one of the few remaining founding members of Fatah, he had some degree of credibility within the Palestinian cause, and his candidacy was supported by the fact that other high-profile Palestinians were for various reasons not suitable (for instance, the most notable, Marwan Bargouti, was under arrest in an Israeli jail). Abbas's reputation as a pragmatist gained favor for him in the West and certain aspects of the Palestinian legislature, and pressure was soon brought on Arafat to appoint him Prime Minister. Arafat did so on March 19, 2003. In fact, Arafat's plan was to undermine the post of Prime Minister, yet eventually he was forced to give Abbas some degree of power.
At the same time, the rest of Abbas's term as Prime Minister was often characterized by several conflicts between him and Arafat over the distribution of power between the two. Abbas had often hinted he would resign if not given more control over the PA's administration. In early September 2003 he confronted the PA parliament over this issue. The United States and Israel accused Arafat of constantly undermining Abbas and his government.
After Yasser Arafat's death Mahmoud Abbas was considered, by Fatah for example, to be his natural successor. Abbas was approved by Fatah's Revolutionary Council as its preferred candidate for the Palestinian presidential election on November 25. The election was scheduled for January 9, 2005. Mahmoud Abbas warned Hamas on October 8, 2006 that he would call new legislative elections if it does not accept a coalition government. In order to recognize Israel is a condition he has presented for a coalition. At the same time, it is not clear whether Abbas has the power to call new elections. On December 16 Abbas called for new legislative elections in hopes of bringing an end to the parliamentary stalemate between Fatah and Hamas and forming a national unity government…

This is just a free sample of the research paper, or part of the research paper on the given topic you have found at ProfEssays.com. If you feel you need professional writing assistance contact us! We will help you to create perfect research paper on any topic. ProfEssays.com – Leading custom essay and dissertation writing company and we are 24/7 open to serve you writing needs!
Don't hesitate! ORDER NOW!
Looking for an exceptional company to do some custom writing for you? Look no further than ProfEssays.com! You simply place an order with the writing instructions you have been given, and before you know it, your essay or term paper, completely finished and unique, will be completed and sent back to you. At ProfEssays.com, we have over 500 highly educated, professional writers standing by waiting to help you with any writing needs you may have! We understand students have plenty on their plates, which is why we love to help them out. Let us do the work for you, so you have time to do what you want to do!