Essay Paper on Modernity
Modernity – just what does it mean and when exactly did it happen ? The more publications one refers to in order to help clarify an answer to this question, the more confusing it all becomes. With each newly found authority discovered, comes the realization that even the historians and cultural theorists seem to disagree widely over exact dates, cultural 'Movements', and the significant events which contribute to the definition and discourse of the concept Modernity. Might one argue that Modernity came to encapsulate what ever was 'modern' for the period in which it emerged, or was created, but this seems too easy an explanation.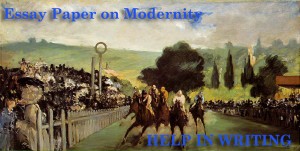 Perhaps we should refer to the art historian Charles Harrison for some guidance. Harrison seems in little doubt about such definitions, claiming that "Convention distinguishes three related moments in the dynamics of the modern : modernization, modernity and Modernism". He argues that the first term refers to scientific and technological advance, the process and outcome of which resulted in such rapid and social change and conditions for which there seems to be no historical precedent. By technological advance, he must be referring to the machine in particular, which allowed industrialization to flourish.
The machine, rather than becoming the 'slave' of 'man' – thus alleviating the human workforce from the most brutal and laborious conditions was, by contrast, unfortunately used by industrialists for excessive mass production and the accumulation of even greater wealth. The transition for so many inhabitants who had originally came from a rural-agricultural past, to become part of the concentration of human life in the industrialized cities – all seeking the same thing, a 'living' – resulted in a pessimistic fear of a population explosion. For many cultural practitioners it must have seemed that human life was becoming ever regulated and imprisoned by the demands of the machine. 'Man', or rather the working masses became little more than a mere 'cog' in the wheel of mechanization.
In a Capitalist society, it is no surprise that any positive changes in workers 'rights' of employment were tremendously slow when compared with the acceleration in growth of the industrialist's wealth. One could argue that the backlash to such capitalism was the growing tendency towards socialism. The emergence of Marxism elsewhere had its effects on Britain – the rise in class consciousness was just one of the many contemporary narratives to be heard.
First whispered, then shouted, this narrative was finally assimilated into a class consciousness which not only gave hope to its followers, but eventually brought about social changes sympathetic to their needs rather than the whims of the wealthy. Modernity, according to Harrison, refers to the "social and cultural condition of those objective changes : the character of life under changed circumstances".

Disclaimer: This is just a free sample of the research paper, or part of the research paper on the given topic you have found at ProfEssays.com. If you feel you need professional writing assistance contact us! We will help you to create perfect research paper on any topic. ProfEssays.com – Leading custom essay and dissertation writing company and we are 24/7 open to serve you writing needs!
Don't hesitate! ORDER NOW!
Looking for an exceptional company to do some custom writing for you? Look no further than ProfEssays.com! You simply place an order with the writing instructions you have been given, and before you know it, your essay or term paper, completely finished and unique, will be completed and sent back to you. At ProfEssays.com, we have over 500 highly educated, professional writers standing by waiting to help you with any writing needs you may have! We understand students have plenty on their plates, which is why we love to help them out. Let us do the work for you, so you have time to do what you want to do!