Essay Paper on Freedom
It literally means being free and independent, which is what everyone wants. Many people have worked their whole lives for independence, such as Gandhi or Mandela. However, there is more to freedom than just physical freedom. In society today, we all have political and physical freedom, but do we really have mental freedom? Are our minds totally free from restriction?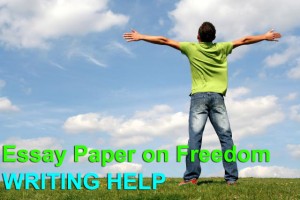 Our minds are not fully free from repression. We all have to do something that we might not agree with, or will not want to do. This, in effect, is enslavement of the mind. All of us do not enjoy the idea of working and having an occupation, but it MUST be done, or we will not be able to survive. If we were able to do what we wanted fully, then we could call ourselves free. But the question is that do we really need to be free fully?
If we are free mentally as well as physically, than we would make our own rules, and we would not have to follow any other rules. But this is a bad thing because everyone thinks differently, so what may be freedom for one person, might not be for another. So different people within a society will clash, which is bad. So, it is a good thing that we all have to follow a certain rule, known as the law. These rules are fair and just, and these enable us to become free to a certain extent. But what about the other extent-the political and physical side of freedom?
One of the more obvious interpretations of freedom is political freedom. This freedom is very important to many peoples, and nations have been fighting for it. This is when a large number of citizens are considered inferior and the law itself discriminates against these citizens. This is unfair because we are all equal. For example, in South Africa about 100 years ago, black and Asian people were not allowed to walk on the pavement without a pass, and prohibited to walk at night. So we see that there are many interpretations of freedom, and I have looked through at least two of them.
In conclusion, freedom is a very precious virtue, but if one has too much freedom, then corruption may occur amongst people. In this way, life will always have enslavements, but we cannot escape them. Students have to study until they are 16, and every single person (unless they have a disability) has to work in order to obtain a living. Life always has enslavement, and we have to learn to live with it.

Disclaimer: This is just a free sample of the research paper, or part of the research paper on the given topic you have found at ProfEssays.com. If you feel you need professional writing assistance contact us! We will help you to create perfect research paper on any topic. ProfEssays.com – Leading custom essay and dissertation writing company and we are 24/7 open to serve you writing needs!
Don't hesitate! ORDER NOW!
Looking for an exceptional company to do some custom writing for you? Look no further than ProfEssays.com! You simply place an order with the writing instructions you have been given, and before you know it, your essay or term paper, completely finished and unique, will be completed and sent back to you. At ProfEssays.com, we have over 500 highly educated, professional writers standing by waiting to help you with any writing needs you may have! We understand students have plenty on their plates, which is why we love to help them out. Let us do the work for you, so you have time to do what you want to do!