Essay Paper on Synoptic Philosophy
In one of the editor reviews I found information that Philosophy, An Introduction to the Art of Wondering, by J.L.Christian is the book for those who prefer synoptic philosophy. Hence, I began to wonder, is philosophy not the science that needs all the approaches taken together? First, I made sure that I understand the word "synoptic" correctly.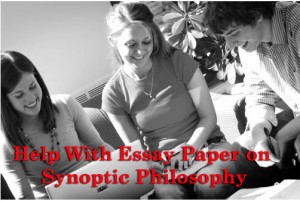 The word "synoptic" comes to us from the Greek "sunoprikos", which means "seeing the whole together". Is it the matter of preferances to see all parts of something in relationship to one another? Do tastes differ regarding different approaches in philosophy?
Like other synoptic philosophers, J.L.Christian has a very wide range of interests, and therefore includes in his introductory book many illustrations from the social and physical sciences. Otherwise the book would lose a great deal of its appealing to the reader. No wonder, since many consider this sphere of human science to be boring. The quotations and biographies of the great thinkers make the book more readable and the study of philosophy more individual. The reader starts to feel there is something very human in it. Even the title of the book, An Introduction to the Art of Wondering, was designed with the purpose to avoid the dull terms of science, and articulate the object of the philosophical science from the most intelligible viewpoint possible.
The main virtue of the book is its enthusiasm that the objective of this sphere of science is not something unattainable. The synoptic approach is crucial in this respect. You are granted the results in your philosophical search only if you try to use the synoptic approach. The writer puts it in a simpler way: you have to see the "Big Picture." And you have to learn to think critically. James Christian provides a variety of analysis techniques for such wisdom seekers. The reader begins to understand that the thinkers of the old have contributed to how we think today. He realises how the object of philosophy was getting less and less focused.
The biggest problem in philosophical worldview is not being able to view reality outside of our own perceptions. This is what philosophers call egocentric predicament. Coined by Ralph Barton Perry, this term is used to describe some immature, biased mind. The definition of "egocentric predicament" in the dictionary has become devoid of negative tinge in recent years and reads as follows: viewing or perceiving something from one's own mind as a center taking one's own self as the starting point in a philosophical system.
On the other hand, direct contact with reality cannot be made outside of our own minds. This means that any philosophical work must contain its own form of mental representations, and it inevitably is viewed or perceived from one's own mind as a center. Moreover, claiming the philosophical work is based on egocentric predicament the critics may fail to appreciate the richness of the philosophy of a certain period. There is unjustified prejudice that Buddhist thought is "mysticism". Thus, philosophers labeling their predecessors as "egocentric" are viewing them from their own self-centered mind.
Medicine does not study the question of the Creator. It is not within its boundaries. Like many of his predecessors, James Christian tries to search for the Invisible. He thus addresses the concerns that most people are interested in: Does life have meaning? Does God exist? You can't possibly study these issues. Simply it is not the theme for philosophers. No kind of synoptic approach, no matter how universal it might be, can help to study the matters that are beyond what the brain can perceive and analyze. We can't even study the brain itself. Otherwise philosophy would long ago have answered the question: how do you know that you are right or wrong?
As is it clear from the above-mentioned, understanding the egocentric predicament does not make any difference. Anything can be traced as self-centered, because nobody can isolate his thinking from his being, though some loud claims have been made…

Disclaimer: This is just a free sample of the research paper, or part of the research paper on the given topic you have found at ProfEssays.com. If you feel you need professional writing assistance contact us! We will help you to create perfect research paper on any topic. ProfEssays.com – Leading custom essay and dissertation writing company and we are 24/7 open to serve you writing needs!
Don't hesitate! ORDER NOW!
Looking for an exceptional company to do some custom writing for you? Look no further than ProfEssays.com! You simply place an order with the writing instructions you have been given, and before you know it, your essay or term paper, completely finished and unique, will be completed and sent back to you. At ProfEssays.com, we have over 500 highly educated, professional writers standing by waiting to help you with any writing needs you may have! We understand students have plenty on their plates, which is why we love to help them out. Let us do the work for you, so you have time to do what you want to do!