Essay Paper on Comparison of Buddha and Socrates
It is difficult to dispute that the Buddha and Socrates, the undeniably illustrious representatives of the two philosophies which are assumed to be contradictory – Eastern and Western accordingly, have exerted such a powerful intellectual and spiritual influence on the human minds that their invaluable contribution is manifestly tangible even nowadays.
Despite the fact that the two philosophers were of divergent origin, lived in different epochs, led contrasting lives, they seem to have been united in their seeking for the Universal Truth. Correspondingly, both of them may be assumed fictional for the lack of recorded evidence. Information concerning Socrates is drawn from works of other philosophers as he left no literary legacy of his own.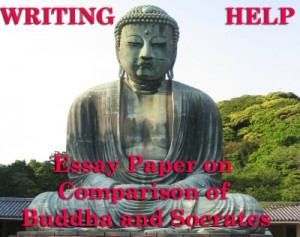 As for the Buddha (literally 'Enlightened One'), this title is widely referred to Siddhartha Gautama, the historical founder of Buddhism, and naturally his name articulates countless myths. The accounts from antiquity suggest that Socrates was born to a family of a sculptor, took part in the Peloponnesian war, was married to a shrew, and had marginal financial independence. Conversely, the historical Buddha was a noble prince, who wallowed in luxury with his wife and concubines in the congenial palaces which kept ignorant of the misery of the world. Once having discovered the stark reality, he took the path of a hermit and by trial-and-error method, from practicing extreme austerities to meditation, he reached his goal and attained enlightenment.
Since then he had discovered the meaning of his life in teaching people of his doctrine, though realizing it would be a true challenge because of their sentient nature. Buddha seems to have presented himself not as a god or a savior, rather as a teacher that guided people because of his love for them. Similarly, the Greek philosopher never referred himself to deities questioning everything, including gods. By contrast with Buddha, this is sincere love of philosophy that made Socrates a teacher who showed his pupils the way to wisdom through critical reasoning. He only showed the way as he was convinced that no one could teach wisdom, likewise Buddha claimed that no one could teach the Highest Truth. He made free-wheeling philosophical discussions the meaning of his life, therefore having chosen to live to his heart's content.
He enjoyed, indeed, the process of undermining popular views held by his collocutors through practicing his own method of inquiry. Both of them are remarkable for having led a simple life with a few material possessions, but with hardened body and a strong spirit. In Apology Socrates appealed to his compatriots to 'first and chiefly care about the greatest improvement of the soul', that is developing virtues rather than collecting properties. Equally Buddha called upon leading 'the Holy Life in all its perfection, in all its purity'. Both of the outstanding philosophers remained faithful to their beliefs even in face of death. Being accused of impiety and corrupting the youth of Athens, Socrates considered it hypocrisy to escape prison as no one could ever be justified in disrespecting the laws of the state…

Disclaimer: This is just a free sample of the research paper, or part of the research paper on the given topic you have found at ProfEssays.com. If you feel you need professional writing assistance contact us! We will help you to create perfect research paper on any topic. ProfEssays.com – Leading custom essay and dissertation writing company and we are 24/7 open to serve you writing needs!
Don't hesitate! ORDER NOW!
Looking for an exceptional company to do some custom writing for you? Look no further than ProfEssays.com! You simply place an order with the writing instructions you have been given, and before you know it, your essay or term paper, completely finished and unique, will be completed and sent back to you. At ProfEssays.com, we have over 500 highly educated, professional writers standing by waiting to help you with any writing needs you may have! We understand students have plenty on their plates, which is why we love to help them out. Let us do the work for you, so you have time to do what you want to do!