Essay Paper on Philip Glass Music
There's no doubt that Philip Glass is the world's best known living composer. One of the creators of minimalism, his swirling, propulsive style has had a tangible influence on almost all elements of the modern musical vocabulary, from academic composition to the music heard in TV commercials. Glass's far-reaching influence can be heard in the rock music of "such seminal artists as David Bowie, Brian Eno, Tangerine Dream, King Crimson and the Talking Heads." Moreover, Philip Glass's operas have permanently altered the direction of musical theater, and with their nonlinear structure and multimedia breadth. In fact, they even challenge the concept of opera itself.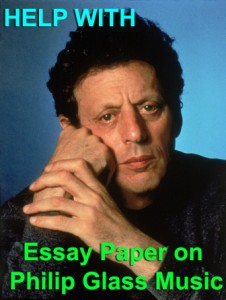 Because of this some enthusiastic critics have compared Glass to Wagner. His influence has been profoundly felt by such composers as John Adams, Michael Nyman, Louis Andriessen, Henryk Gorécki, Gavin Bryars, and Arvo Pärt, and his film scores have backed projects starting from Godfrey Reggio's avant garde masterpiece Koyaanasqatsi to Martin Scorsese's Kundun. Due to such success, Glass is considered to be a controversial composer, drawing the grudge of Modernist critics who feel his accessible, repetitive, and unabashedly tonal works please the masses, setting classical music back by generations.
Philip Glass (born January 31, 1937) is an Academy Award-nominated American composer. Often his music is referred to as minimalist, even though he prefers the term theatre music. He is considered one of the most influential composers of the late-20th century and is considered to be a composer who has brought art music to the public in creating an accessibility not previously recognized by the broader market. Glass is a strong supporter of the Tibetan cause. In 1987 he co-founded the Tibet House with Columbia University professor Robert Thurman and the actor Richard Gere.
Glass's distinctive style stems from his work with Ravi Shankar and his perception of rhythm in Indian music as being entirely similar. After his trip to France he renounced all his earlier compositions which were written in a moderately modern style comparable to the music of Darius Milhaud, Aaron Copland and Samuel Barber, and began writing austere pieces based on additive rhythms and a sense of time influenced by Samuel Beckett, whose work he experienced when he was writing for experimental theater. The first of the early pieces in this minimalist idiom was the music for a production of Beckett's play Comédie, 1963, in 1965 for two soprano saxophones, a fourth was a string quartet (No.1, 1966).
The first concert of Philip Glass's new music was held at Jonas Mekas's Film-Makers Cinematheque in 1968. This concert featured Music in the shape of a square for two flutes (an homage to Erik Satie, performed by Glass and Gibson) and Strung Out for amplified solo violin (performed by the violinist Pixley-Rothschild). The musical scores were tacked on the wall, and the performers had to move while playing. Glass's new works received a very enthusiastic response by the open-minded audience which was composed mainly of visual and performance artists, who were highly sympathetic to Glass's reductive approach.
Philip Glass performed his music and worked as a cab-driver, had a moving company with Steve Reich and worked as an assistant for the sculptor Richard Serra. Despite certain differences of opinion with Steve Reich, Glass founded his own Philip Glass Ensemble (while Reich formed Steve Reich and Musicians), an amplified ensemble including keyboards, wind instruments (saxophones, flutes) and soprano voice. Initially his works were still rigorously minimalist, diatonic and repetitively structured, such as Two Pages, Contrary Motion or Music in Fifths (a kind of an homage to his composition teacher Nadia Boulanger, who spotted out "hidden fifths" in his student works). Gradually Glass's music grew less serious, becoming more complex and dramatic, and in his consideration, not minimalist at all, with pieces such as Music in Similar Motion (1969), Music with Changing Parts (1970). The series culminated in the four-hour-long Music in Twelve Parts (1971-1974), which started as a sole piece in twelve instrumental parts, yet developed into a cycle which summed up Glass's musical achievement since 1967, and even trespassed it — the last part features a twelve-tone theme, performed by the soprano voice of the ensemble…

Disclaimer: This is just a free sample of the research paper, or part of the research paper on the given topic you have found at ProfEssays.com. If you feel you need professional writing assistance contact us! We will help you to create perfect research paper on any topic. ProfEssays.com – Leading custom essay and dissertation writing company and we are 24/7 open to serve you writing needs!
Don't hesitate! ORDER NOW!
Looking for an exceptional company to do some custom writing for you? Look no further than ProfEssays.com! You simply place an order with the writing instructions you have been given, and before you know it, your essay or term paper, completely finished and unique, will be completed and sent back to you. At ProfEssays.com, we have over 500 highly educated, professional writers standing by waiting to help you with any writing needs you may have! We understand students have plenty on their plates, which is why we love to help them out. Let us do the work for you, so you have time to do what you want to do!