Essay Paper on Musical Performance
The "Stokes Mitchell shows his versatility" music review by Linda Laban, the Boston Globe correspondent, is a review of Brian Stokes Mitchell's performance on the stage of Sanders Theatre on Friday night. The San Diego-raised, Tony Award-winning baritone singer, Brian Stokes Mitchell performed one of the few remaining shows in the Bank of America Celebrity Series.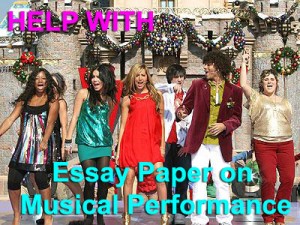 The audience was pleased as Brian Stokes Mitchell recalled Broadway and jazz standards and newer show tunes. He filled the space with personality as he poured out his considerable baritone on opening number "Some Enchanted Evening," a song that delighted the audience to no end.
His talents went beyond singing: the audience had an opportunity to see Stokes Mitchell the actor; he played comedian, too; and there was Stokes Mitchell the pop idol – he crooned directly to several female audience members during the set's final number – a medley of romantic songs from the 1930s and '40s.
Pianist Gerard D'Angelo, the jazz and classical musician, gently lapped in the background. He toyed with his master's voice and even took over with jazzy solos, excelling on "The Best Is Yet to Come," and cutting past Stokes Mitchell's tender treatment of "Wheels of a Dream" from "Ragtime," right to the song's heart.
At the end of his performance Stokes Mitchell ditched the microphone to go unplugged. Afterward he paid tribute to Sander s' beautiful acoustics. "Rooms are tuned by people. This room has been well tuned." he said. Beyond his terrific talent to interpret a song, that's Stokes Mitchell's appeal.
I find this music review to be quite intriguing in the way Linda Laban chooses the epithets to describe Brian Stokes Mitchell's performance and personality: "a smooth charmer throughout", "his terrific talent", "a simple, warm human connection", "his considerable baritone" etc.
The interesting, simple, descriptive style of Linda's review makes me want to go see Brian Stokes Mitchell perform. The first paragraph of the review gives you a good idea of what the singer is like: "There was a baby grand piano, a stool, and a small table that held a glass of water and a mug of something, perhaps a throat – soothing honeyed tea. Hardly the props of voluptuous Broadway productions".
The way the correspondent reviews the singer's behavior throughout performance is quite appealing as well. "His talents went beyond singing though. There was, of course, Stokes Mitchell the actor, lovingly pulling out the characters he has sung so many times. He played comedian, too, relaying life stories, resizing them for great comic effect. And there was Stokes Mitchell the pop idol. A smooth charmer throughout, the San Diego-raised singer flirted enough to fill Tom Jones' s lady-baiting shoes. He crooned directly to several female audience members during the set's final number even stepping off the stage to further these feigned trysts".
Although not very long, the review is informative and detailed enough to capture the overall atmosphere of the performance. Reading the review makes you feel one with the audience – as if you were there enjoying the show and watching Stokes Mitchell perform…

Disclaimer: This is just a free sample of the research paper, or part of the research paper on the given topic you have found at ProfEssays.com. If you feel you need professional writing assistance contact us! We will help you to create perfect research paper on any topic. ProfEssays.com – Leading custom essay and dissertation writing company and we are 24/7 open to serve you writing needs!
Don't hesitate! ORDER NOW!
Looking for an exceptional company to do some custom writing for you? Look no further than ProfEssays.com! You simply place an order with the writing instructions you have been given, and before you know it, your essay or term paper, completely finished and unique, will be completed and sent back to you. At ProfEssays.com, we have over 500 highly educated, professional writers standing by waiting to help you with any writing needs you may have! We understand students have plenty on their plates, which is why we love to help them out. Let us do the work for you, so you have time to do what you want to do!