Essay Paper on Music Industry
Music industry is one of the profitable industries today and, as predicted, in future.
Customers and products are the primary driving factors of this industry. It is supposed that technological innovations and Internet threatens music retail business. This report is aimed to analyze current situation in the music retail business, describes its impact on Helix marketing strategy, and provides recommendation for improvement their marketing activity.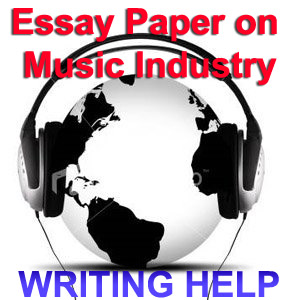 Music industry belongs to turbulent and high-velocity markets because of the products it deals with. By making music accessible and with prices set at a reasonable cost, high industry standards are being put in place. The music industry standards are coming from Sony, Napster, Amazon and PM3.com. For instance, Napster offers a free trial to get people to try the fee-based music downloading service. The nucleus of the digital music service is positioned to ensure that music fans have high-quality experiences. Nevertheless, not all music can be found in the Internet and downloaded. Many Web-sites proposes only a 7-15 sec free trial.
According to the recent report, "Physical music sales in the first half of the year, by contrast, fell by 6.3% in retail value to $US 12.4 billion, and by 6.6% in units, compared to the same period of 2004" . Helix obtains a competitive position because the range of products it proposes differ from those available on-line. Many pieces of music form the last half century, including jazz, blues, classics are unavailable on-line. Record companies discovered new artists, signed them to contracts, provided career guidance, paid the expenses associated with recording albums and creating videos, and then distributed the finished recordings through retail stores, mail-order clubs, and other outlets. Despite projections, a fundamental question facing the majors was: How much are people willing to pay for access to online music? Another challenge was devising a mechanism that would allow artists to be paid for downloaded songs. The report suggests that "changes in the retail distribution of music, and reduced retail pricing on CDs have all played significant roles in the industry's self-proclaimed woes".
Taking into account the information mentioned above, it is possible to say that there is a threat of substitution and high competition in the music industry. Nevertheless, on-line music market does not cover the market segment and it is not able to satisfy the needs of all customer groups, because many unusual pieces of music is unavailable on-line. Primarily, many customers prefer to buy CDs and DVDs instead of using on-lone services. Approximately, 30% of goods are undelivered to customers buying on-line. Many consumers are afraid of fraud and cheating, and for this very reason prefer to avoid on-line purchases. On the other hand, "if a percentage of that 1.8 billion is because people are downloading a current hit by Britney or In Sync, who's to say it really hurt their sales?"
Another reason, which reduces the risk of substitution, is that fans (especially the age group including 40-60 years old consumers) do not Internet users. Present day technology is complicated enough and many non-users are unable to find information or songs he/she needs. Another problem for all target groups is that on-line purchases are time consuming. For many of them, it takes efforts to find a company selling it. Also, the market of digital technology does not cover all age groups of music fans. IPods and PM3 players are popular among 18-30 year old customers. It should be mentioned that proposing Vinyl, related books and sheet music allows music retailers like Helix attract potential customers. Another important feature is customers' loyalty. Many fans are used to buy CDs and DVDs because it is the simplest way for them to listen to new songs. IPods and other gadgets are not cheap, and many fans cannot afford them.

Disclaimer: This is just a free sample of the research paper, or part of the research paper on the given topic you have found at ProfEssays.com. If you feel you need professional writing assistance contact us! We will help you to create perfect research paper on any topic. ProfEssays.com – Leading custom essay and dissertation writing company and we are 24/7 open to serve you writing needs!
Don't hesitate! ORDER NOW!
Looking for an exceptional company to do some custom writing for you? Look no further than ProfEssays.com! You simply place an order with the writing instructions you have been given, and before you know it, your essay or term paper, completely finished and unique, will be completed and sent back to you. At ProfEssays.com, we have over 500 highly educated, professional writers standing by waiting to help you with any writing needs you may have! We understand students have plenty on their plates, which is why we love to help them out. Let us do the work for you, so you have time to do what you want to do!