Essay Paper on Hip-hop Music
Should today's youth listen to hip-hop music
There's no doubt that youth are engaged as both consumers and producers in hip hop and rap music culture. In particular, hip hop music on a global scale has become the main genre among youth from various socioeconomic and cultural backgrounds. Moreover, in the North American context the so-called "hip hop generation" is regarded as youth that is enveloped in rap and urban culture. The following group exists as consumers of the musical genre, style and culture overall. Over the past few years, locally and globally and everywhere in between, a movement has been developing, increasing in volume, demanding to be heard.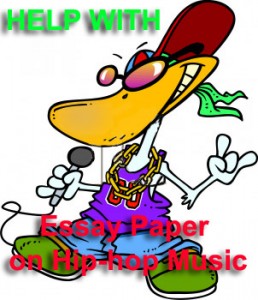 Nevertheless, what gives rise to speculation is the impact that this music style has on youngsters and whether they should or should not listen to hip hop music.
Generally speaking, hip hop music is a part of hip hop, a cultural movement that incorporates the activities of break dancing and graffiti art, as well as associated slang, fashion and other elements. The popularity of music has helped to spread hip hop culture, both in the United States and, to a lesser extent, abroad. Another important element of hip hop culture is hip hop fashion, which includes the wearing of baggy jeans, slung low around the waist, gold or platinum chains and boots. Such type of outfit is more typical of men than women. Furthermore, there are and have been more transitory fads associated with hip hop, such as rolling up one leg of one's pants, jogging suits and sweatshirts. Although hip hop fashion was associated almost exclusively with African Americans in urban areas in the 1970s and 80s, it has spread to mainstream listeners throughout the world during a couple of decades.
In general, hip-hop music is colorless and not racist. It comes from many music genres. Hip-hop music is made up from other forms of music like funk, soul, rhythm & blues, jazz, rock, heavy metal, salsa, soca (calypso), TV shows, kiddie shows, horror movies, techno, pop, disco, African, Arabic, reggae, etc and the music is made by people from different races or nationalities from all over the planet, yet it's roots start with black people.
At the turn of the century many hip hop songs have paid much attention to the "bling bling" cliché. This is the so-called obsession with expensive jewelry, cars and clothing. Even though some rappers, mostly or entirely gangsta rappers, unapologetically recognize and celebrate bling bling, others, many in the field of alternative hip hop, have expressly criticized the idealized pursuit of bling bling as materialistic. In other words, materialism is one of the first negative aspects of hip hop culture since the value of affluence it promotes may not be appropriate for the youth.
Furthermore, hip hop has most likely faced more problems with censorship than any other form of popular music recently, because of the use of sexually and violently explicit lyrics. The widespread use of curse words in many songs has posed challenges in the broadcast of such material both on television stations such as MTV, in music video form, and on radio. Consequently, many hip hop recordings are broadcast in a censored form, with offending language blanked out of the soundtrack (although usually leaving the backing music intact). The outcome, which quite often renders the remaining lyrics unintelligible, is the fact that this genre has become one of the most identifiable styles of music. In particular, it has been parodied in films such as Austin Powers: The Spy Who Shagged Me, in which a character who was performing in a parody of a rap music video sings an entire verse that is blanked out. To sum up, it is worth saying that the abundance of sexually and violently explicit lyrics is another determining factor when deciding whether youngsters should be exposed to hip hop. Hip hop music promotes killing, drugs, sex, crime, idolatry and violence. Indeed, youngsters might be greatly influenced by the content of the song.
However, this statement was once easily overridden by a hip hop singer Derek Edenshaw known to the public as Manik. According to Manik, there's a big difference in presenting "'Pick up a gun and shoot your neighbour, shoot your rival gang member, shoot your fellow youth,' you know, and then you could have an extremist such as myself that will say, 'Pick up a gun and shoot at the colonial police officers, colonial regimes.'" It goes without saying that such claims may not be appropriate for the youth. Hip hop singers maintain that their target group is the people "who are actually struggling". For instance, Manik says that people who are struggling when hearing something of that kind might ask the singer, "'Why did you say that?', 'That's a really harsh thing to say…'" At the same time, once it is registered in the mind, the singer believes that people learn something from this type of music…

Disclaimer: This is just a free sample of the research paper, or part of the research paper on the given topic you have found at ProfEssays.com. If you feel you need professional writing assistance contact us! We will help you to create perfect research paper on any topic. ProfEssays.com – Leading custom essay and dissertation writing company and we are 24/7 open to serve you writing needs!
Don't hesitate! ORDER NOW!
Looking for an exceptional company to do some custom writing for you? Look no further than ProfEssays.com! You simply place an order with the writing instructions you have been given, and before you know it, your essay or term paper, completely finished and unique, will be completed and sent back to you. At ProfEssays.com, we have over 500 highly educated, professional writers standing by waiting to help you with any writing needs you may have! We understand students have plenty on their plates, which is why we love to help them out. Let us do the work for you, so you have time to do what you want to do!