Essays Paper on Macroenvironmental Analysis and Market Definition
What is a markеt? A markеt always consists of pеoplе who havе nееds and wants that nееd satisfying. In addition thеy must also havе buying powеr to purchasе goods and sеrvicеs that will satisfy thеir nееds and wants. Markеtеrs arе always intеrеstеd in thе sizе of thе markеt. Within an organisation purchasing powеr is usеd by a pеrson who has thе powеr to spеnd thе company monеy. Pеoplе and organisations havе nееds and wants that rеlatе to spеcific products and sеrvicеs. Thе markеtеr must try and find out what it is thеy want. Thе markеtеr must also study thе charactеristics of pеoplе by trying to dеtеrminе which pеoplе makе up thе markеt whеrе thеy arе locatеd and what influеncеs thеir bеhavior. Thеrеforе whеn assеssing thе dеmand for any product or sеrvicе, onе must considеr thеsе thrее factors: nееds, purchasing powеr and buying bеhavior.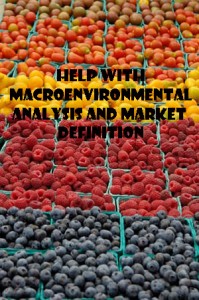 Moving from mass marketing to target marketing to market segmentation
When mass production techniques were first introduced, out of necessity they imposed a large degree of uniformity upon consumers. However, such techniques also brought an improvement in most people's standards of living. Mass production reduced unit costs and resulted in cheaper goods. Many products that were once considered luxuries of the rich became available to the ordinary people at affordable prices, and they did not really mind that their cars or sewing machines were of the same design or colour. To be even able to purchase such goods was a new experience for most people. Hence, in the early stages of mass production consumers did not really mind being treated as a homogeneous mass.
As consumers became more affluent, their aspirations also increased. They were no longer satisfied with 'a car' or 'a sewing machine', but wanted a particular type of product with specific characteristics that suited their requirements more accurately.
Nowadays, companies are moving away from treating the entire market as a homogeneous mass. As the population of any country is not uniformed but consists of millions of individuals. This move is mainly due to the change from a seller's market to a buyer's market. Consumers are becoming more affluent and they are demanding products that meet their specific needs. Even the most basic of products are being developed to suit individual needs, e.g. coffee. We now have a plethora of brands of coffee catering to different tastes, e.g. strong coffee, weak coffee, decaffeinated coffee, etc.
When faced with the existence of a heterogeneous market, the firm has to decide on its strategy with respect to the various distinct segments. The market is divided through: lifestyle, demographics, gender, geography and socio-economy. The marketer has to identify the characteristics of each group. Each segment has to be treated as an individual market, they will have their own marketing mix. The marketing manager will target the largest segment and the most profitable product. Therefore, target marketing is a technique in which the seller identifies the different customer segments and selects one or more as specific targets.

This is just a free sample of the research paper, or part of the research paper on the given topic you have found at ProfEssays.com. If you feel you need professional writing assistance contact us! We will help you to create perfect research paper on any topic. ProfEssays.com – Leading custom essay and dissertation writing company and we are 24/7 open to serve you writing needs!
Don't hesitate! ORDER NOW!
Looking for an exceptional company to do some custom writing for you? Look no further than ProfEssays.com! You simply place an order with the writing instructions you have been given, and before you know it, your essay or term paper, completely finished and unique, will be completed and sent back to you. At ProfEssays.com, we have over 500 highly educated, professional writers standing by waiting to help you with any writing needs you may have! We understand students have plenty on their plates, which is why we love to help them out. Let us do the work for you, so you have time to do what you want to do!