Essay Paper on The Five Forces Model of Porter
The Five Forces Model of Porter is a unit strategy tool in order to make analyses of the industry's structure attractiveness and value. Porter defines five forces that have impact on ability of a company to serve its customers and make a profit:
the entry of competitors (determines the barriers new firms faced entering the existing market);
the threat of substitutes ( determines how easy the product or service could be substituted on the market);
the power of buyers (determines the impact that customers have on a producing industry);
the power of suppliers (determines the impact of suppliers on a company such as price of purchased raw materials, presence of substitute inputs, concentrated purchasers, product standardization);
the rivalry among the existing players (determines the level of competition between the companies that is defined by the number of competitors, rate of industry growth, intermittent industry overcapacity, exit barriers, diversity of competitors, informational complexity and asymmetry, fixed cost allocation per value added , level of advertising expense).
The diagram of Porters Five Forces is represented below (picture).
Nokia Ecosystem Model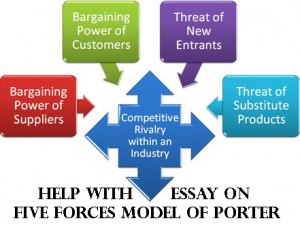 Any mobile ecosystem introduces three main areas: networks, handsets and services which help people to communicate mobile ideas, and build better, clearer, more effective concepts.
Nokia's ecosystem model goal is to enable creation of applications that deliver new functionality by integrating heterogeneous components. The integration may be performed by programmers writing software, by users who compose services, or by applications as they discover new services. The integration can: indicate which services are compatible with one another; substitute one service for another; and transform inputs or outputs in order to make them compatible.
Below there are three examples of functionality that Nokia's research helps to achieve:
For programmers: Suppose that a new information source or sink becomes available. Existing documentation is not necessarily adequate for the programmer's purpose. Nokia's tools will enable the programmer to explore the semantics of the feed in order to more quickly build applications that properly use it.
For end users: Often, a mobile device user discovers two services that could work together in a way not foreseen by any programmer. Suppose that the two services were created without knowledge of one another and do not adhere to a common standard. Nokia' tools will enable the user to create a new application on the fly by connecting them, perhaps via a graphical interface. A composition wizard permits the user to make sensible connections between them, rejects nonsensical ones, and converts the representation of those with compatible semantics but incompatible formats.
For applications: Applications should react appropriately to the changing environment around them, in order to continue providing functionality to users. For example, suppose that a blogger posts a local weather report from an amateur (home) meteorological station. A weather application could notice this new information source and determine that it is (imperfectly) correlated with other weather data, perhaps after transformations. If the primary weather service becomes unavailable, the application automatically converts the blogger's information into a form compatible with the application and uses it to approximate the missing information.
Among the current projects that Nokia have launched to develop its ecosystem efficiently are…

This is just a free sample of the research paper, or part of the research paper on the given topic you have found at ProfEssays.com. If you feel you need professional writing assistance contact us! We will help you to create perfect research paper on any topic. ProfEssays.com – Leading custom essay and dissertation writing company and we are 24/7 open to serve you writing needs!
Don't hesitate! ORDER NOW!
Looking for an exceptional company to do some custom writing for you? Look no further than ProfEssays.com! You simply place an order with the writing instructions you have been given, and before you know it, your essay or term paper, completely finished and unique, will be completed and sent back to you. At ProfEssays.com, we have over 500 highly educated, professional writers standing by waiting to help you with any writing needs you may have! We understand students have plenty on their plates, which is why we love to help them out. Let us do the work for you, so you have time to do what you want to do!