Dell Inc Business Analysis
Introduction
Computer industry is one of the profitable industries today and, as predicted, in future. Dell Inc. operates on the computer market for many years gaining trustworthy reputation and customers loyalty. An industry with this kind of rapid change presents several challenges for personal computer and notebooks, namely production costs, intellectual property owners, and monopolies. Customers and technology are the primary driving factors of this industry.
"Company revenue for the past year totaled $43.5 billion. Dell, through its direct business model, designs, manufactures and customizes products and services to customer requirements, and offers an extensive selection of software and peripherals" (Case Study: Dell, 2005).
For every company its organizational; structure plays a crucial role in development and market performance. In general, structure is the pattern of relationships among positions in the organisation and among members of the organisation. The purpose of structure is the divi¬sion of work among members of the organisation, and the co-ordination of their activities so they are directed towards achieving the goals and objectives of the organisation. The structure defines tasks and responsibilities, work roles and relationships, and channels of communication. Structure makes possible the application of the process of management and creates a framework of order and command through which the activities of the organisation can be planned, organised, directed and controlled.
Levels of Dell Corporation
Technical Level
Dell Corporation is a layered organization which consists of technical, management and community levels (Boone, Kurtz, 1992). The technical level is very important for Dell Corporation because of the nature of tasks it performs. Technology is the primary driving factor in this arena. It is concerned with specific operations and discrete tasks, with the actual job or tasks to be done, and with performance of the technical function. Within Dell Corporation technical level includes the physical production of goods. Accept computer technologies, accessories for these types of products are the next major market in the electronics industry. Along with accessories, the demand for "smart" appliances for the home and office will also grow. More and more consumers will want their everyday appliances to be Internet-ready and able to think for themselves. These areas are where PC and notebooks can find and exploit opportunities. As any company Dell Corporation must look for new trends in business development. Dell has 4,000 engineers and spends $600m each year on R&D (Dell Inc. Company profile, 2005).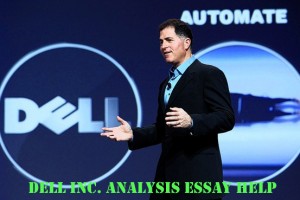 Administrative Level
Another level of organizational structure is the Administrative level. In Dell Corporation it is concerned with the co-ordination and integration of work at the technical level. Decisions at the administrative level relate to the resources necessary for performance of the technical function, and to the beneficiaries of the products or services provided. Administrative level is concerned with those activities involved in recruiting of professional staff, training, and development within the organization and infrastructure, namely the systems of technology planning, finance, quality control, etc. which are crucially important to an organization's strategic capability in all primary activities (Dell Inc. Company profile, 2005; Dell Inc. Home Page, 2005).
Decisions is concerned with medi¬ating between the organisation and its external environment, such as the users of the organisation's products or services, and the procurement of resources; and the 'administration' of the internal affairs of the organisation includ¬ing the control of the operations of the technical function.
Institutional level
Institutional level is concerned with broad objectives and the work of Dell Corporation as a whole. Decisions at this level is concerned with the selec¬tion of operations, and the development of the organisation in relation to external agencies and the wider social environment. It provides a mediating link between the administrative level and technical level (Dell Inc. Company profile, 2005; Dell Inc. Home Page, 2005)..
It should be mentioned that in Dell Corporation there is not a clear division between determination of policy and decision making, co-ordination of activities and the actual execution of work. Most decisions are taken with reference to the execution of wider decisions, and most execution of work involves decision. Decisions taken at the institu¬tional level determine objectives for the managerial level, and decisions at the managerial level set objectives for the technical level. Dell Corporation performs effectively having clear objectives and good communication.
Formal relationships in Dell Corporation
The overall effectiveness of Dell Corporaiton is affected by structural design and by the individuals filling the various positions within the structure. Management acknowledges the existence of the informal organisation which arises from the interac¬tions of people working in the organization.
Line relationships
In line relationships, authority flows vertically down through the structure, for example from the managing director to managers, section leaders, supervisors and other staff. In Dell Corporation there is a direct relationship between superior and subordi¬nate, with each subordinate responsible to only one person. Line relationships are associated with functional or departmental division of work and organisa¬tional control. Line managers have authority and responsibility for all matters and activities within their own department (appendix 1).
Staff relationships
In Dell Corporation staff relationships arise from the appointment of personal assistants to senior members of staff. Persons in a staff position have no direct authority in their own right but act as an extension of their superior and exercise only 'representative' authority. Normally there is no direct relationship between the personal assistant and other staff except where delegated authority and responsibility has been given for some specific activity. In practice, personal assistants often do have some influence over other staff, especially those in the same departments or grouping. This may be partially because of the close relationship between the personal assistant and the superior, and partially dependent upon the knowledge and experience of the assistant, and the strength of the assistant's own personality (Appendix 2).
Functional relationships
Functional relationships apply to the relationship between people in specialist or advisory positions, and line managers and their subordinates. In Dell, the specialists offers a common service throughout all departments of the organisation, but has no direct authority over those who make use of the service. For example, in Dell the personnel manager has no authority over staff in other departments – this is the responsibility of the line manager. But as the position and role of the personnel manager would have been sanctioned by top management other staff might be expected to accept the advice which is given (Dell Inc. Home Page. 2005). The personnel manager, however, could be assigned some direct, executive authority for certain specified responsibilities (Appendix 2).
Lateral relationships
Lateral relationships exist between individuals in different departments or sections, especially individuals on the same level. These lateral relationships are based on contact and consultation and are necessary to maintain co¬ordination and effective organisational performance. Lateral relationships may be specified formally but in practice they depend upon the co-operation of staff and in effect are a type of informal relationship. "Our structure is pretty conventional. There is one big difference. Our primary organisation is by customer type, not product. A lot of companies in our industry are organised by product, resulting in different sales teams forces crawling over the same accounts, creating conflicts"(Bell, 2002). The determination of policy and decision-making, the execution of work, and the exercise of authority and responsibility are car¬ried out by different people at varying levels of seniority throughout the organisation structure. It is possible to look at Dell Corporation in terms of inter¬related levels in the hierarchical structure.
Groups Organization In Dell
General Overview
In Dell Corporation, groups are formed as a consequence of the pattern of organisation structure and arrangements for the division of work, for example the grouping together of common activities into sections. Groups result from the nature of tech¬nology employed and the way in which work is carried out, for example the bringing together of a number of people to carry out a sequence of operations on an assembly line. Groups also develop when a number of people of the same level or status within the organisation see themselves as a group, for example departmental heads of an industrial organisation, or chief officers of a local authority.
At the beginning of 1990s, the need was to improve customer service in a company that had been a traditional functional hierarchy, with poor communication across the business and little control over sourcing and supply of materials for its large range of products. A new approach has been implemented (Dell, 1994). Cross-Functional Teams include people representing various functional areas that are required to achieve an agreed upon, specific objective. They are needed because problems do not completely reside within one department, nor do solutions. Cross-functional teams are required to provide solutions where all elements are considered. In Dell Corporation teams are cross-functionally organized in order to bring together the proper knowledge and skills to effectively achieve process change and improvement.
In Dell Corporation groups are planned and created by management as part of the formal organisation structure. But groups will also arise from social processes and the informal organisation. The informal organisation arises from the interaction of people working within the organisation and the development of groups with their own relationships and norms of behaviour, irrespective of those defined within the formal structure. This leads to a major distinction between formal and informal groups.
Groups plays an important role in development and marketing strategies of Dell Corporation. For instance, in 2001, industry experts expected growth to be under 6 %. Dell Computer is aggres¬sively cutting prices in a bid to boost share. With profit margins collapsing, competi¬tors are struggling to adjust. The price war has claimed one victim already; in mid-2001, key rival Compaq agreed to be acquired by Hewlett-Packard. Dell is legendary for its lean operating philosophy. With a build-to-order strategy at the heart of its business model, Dell's sales staff maintains close ties with the company's customers. This gives Dell a great deal of flexibility when making pricing decisions (McWilliams, 2001).
This example shows that Dell is strongly influenced by resources outside the organisation which are an integral part of the chain of activities between the product or service design, through production and marketing to the use of the product or ser¬vice by consumers. In this case, detailed resource planning and deployment are important ingredients in the successful implementation of projects.
According to theoretical concepts (Boone, Kurtz, 1992), the administrative level unable to plan and supervise the execution of work of the technical function without the knowledge, exper¬tise, practical know-how and enthusiasm of people who are closest to the actual tasks to be undertaken. For this reason, people operating at the technical level make known to higher levels the practical difficulties and opera¬tional problems concerning their work. It is the duty of the managerial level to take appropriate action on this information, and to consult with people at the community or institutional level. Bradley Keup, a systems engineer at Dell says, "Company balked at the physical and personnel expansion that would be needed to meet the increasing orders. "Brick and mortar are expensive. So are added personnel. Instead of adding facilities and people, the company took a less-expensive route: it redesigned its products to make them easier and faster to assemble and to service" (Dell Builds a Framework for Success. 2005).
Main Types of Groups
According to structural pattern, it is possible to single out three main types of the working groups in Dell Corporation:
Team groups – these are fairly autonomous groups with broad terms of reference and limited supervision. The team designates the positions to be filled and the allocation of members, and instigate changes as necessary. Examples are problem-solving groups, research teams, maintenance crews.
Task groups – jobs are defined clearly and individuals assigned to specific
positions. The group has some flexibility over methods of work and the pace of work, but otherwise limited discretion. Examples could include many administrative or clerical workers.
Technological groups – members have very limited autonomy to deter¬ mine or change the operational activities. The pace of work is also likely to be controlled. Content and method of work are specified and individuals assigned to specific jobs. There is little scope for individual discretion, and often limited opportunities for interaction among members. An example is assembly-line operations (Bateman, Snell, 2004).
Groups provide security, social satisfaction for members, support individ¬ual needs and promote communication, formally or informally (e.g. through the grapevine). They also are liable to show all the problems found in our con¬sideration of committees. So it can be seen that a study of group concepts is important for studying aspects of communication, motivation and leadership (Griffith, et al, 2000). According to Michael Dell, CEO of Dell Computer Corporation, "The winners in the next few decades will be the companies with the most empowered work forces." The goal of empowerment suggests three of the larger issues that designers must now Empowered individuals and teams expect more control over how they work (Siebert, 2005).
Informal groups
Informal groups exist in Dell Corporation, but this is internal information of the company and available sources do not provide information about this sphere of employees relations. Nevertheless, it is possible to predict, according theoretical interpretation of this phenomenon (Hatch, 2004), that the membership of informal groups can cut across the formal structure. They may comprise individuals from different parts of the organisation and from different levels of the organisation, both vertically and diagonally, as well as from the same horizontal level. An informal group could also be the same as the formal group, or it might comprise a part only of the formal group
Formal structure
The functions of the formal structure and the activities and defined rela¬tionships within it, exist independently of the members of the organisation who carry out the work. However, personalities are an important part of the working of the organisation. In practice, the actual operation of Dell Corporation and success in meeting its objectives depends upon the behaviour of people who work within the structure and who give shape and personality to the framework.
The distribution of tasks, the definition of authority and responsibility, and the relationship between members of the organisation can be established on a personal and informal basis. But with increasing size there is greater need for a carefully designed and purposeful form of organisation. There is need for a formal structure. There is also need for a continual review of struc¬ture to ensure that it is the most appropriate form for the particular organisa¬tion, and in keeping with its growth and development (Appendix 1).
Within the formal structure of an organisation work is divided among its members and different jobs related to each other. The division of work and the grouping together of people should, wherever possible, be organised by reference to some common characteristic which forms a logical link between the activities involved. It is necessary to maintain a balance between an emphasis on subject matter or function at higher levels of the organisa¬tion, and specialisation and concern for staff at the operational level. Work can be divided, and activities linked together, in a variety of different ways.
The division of work among members of the organisation and the co¬ordination of their activities is at the essence of structure. According to Mintzberg (cited Bateman and Snell 2004) it is possible to single out the following layers of structure which serve as co-ordinating mechanisms for the work of the organisation: mutual adjustment; direct supervision; standardization of work processes and output; and standardisation of worker skills.
Dell Corporation makes possible the training and testing of future top management In addition to their training, future managers should be tested before they reach the top. They should be given autonomy in positions of actual manager¬ial responsibility while still young enough to benefit from the new experience. They should also have the opportunity of at least observing the operation of the business as a whole, and not be narrowed by too long an experience in the position of a functional specialist.
Staff relationships has a great influence on the decision making process. Persons in a staff position have no direct authority in their own right but act as an extension of their superior and exercise only 'representative' authority. In Manor Hotel there is no direct relationship between the personal assistant and other staff except where delegated authority and responsibility has been given for some specific activity. This may be partially because of the close relationship between the personal assistant and the superior, and partially dependent upon the knowledge and experience of the assistant, and the strength of the assistant's own personality (Boone, Kurtz, 1992).
Conclusion
Different services are provided by area or geographical boundaries according to particular needs or demands, the convenience of consumers, or for ease of administration. The improvement in communications, particularly telecommunications, tends, however, to reduce the importance of location. For example, administrative staff may no longer need to be located within the main production unit. The allocation of duties and responsibilities is according to experience, or where a particular technical skill or special qualification is required the correct design of structure which is of most significance in determining organisational performance. Good organization structure does not by itself produce good performance. But a poor organiza¬tion structure makes good performance impossible, no matter how good the individual managers may be.
References
1. Bell, P. Leaders. Available at: http://www.ebfonline.com/main_feat/view_top/view_top.asp?id=577
2. Boone, L.E., Kurtz, D.L., Management, 2nd Edition, McGraw-Hill, New York, 1992.
3. Bateman T.S, Snell S. A. Management: the New Competitive landscape. 6th edn., McGaw Hill Irwin, 2004.
4. Dell Builds a Framework for Success. 2005. Available at: http://www.dfma.com/news/dell.htm
5. Dell, M.S. Making the right choices for the new consumer
Managing Service Quality, #4, 1994, pp. 22-25.
6. Dell Inc. Home Page. 2005.
7. Dell Inc. Company profile. Available at: http://biz.yahoo.com/ic/13/13193.html
8. Dell: Case study. Available at:
9. Hatch, M.J. Organization Theory Modern, Symbolic, and Postmodern Perspectives. Oxford Univ. Press.
10. Griffith, D. A., Hu, M. Y. and Ryans, J. K. Jr. "Process standardization across
intra- and intercultural relationships". International Business Studies, 2000, 31, pp. 303-24.
11. McWilliams, G. "Lean Machine: How Dell Fine-Tunes its PC Pricing to gain Edge in a Slow Market", The Wall Street Journal. June 8, 2001. p.A1.
12. Siebert, F. Reflecting social interaction in the design of group workspaces Available at: www.steelcase.com/na/knowledgedesign.aspx?f=10251&c=10228
Appendixes
1. Division of work in Dell Incr.

2. Formal organizational relationships (Functional and Staff relationships)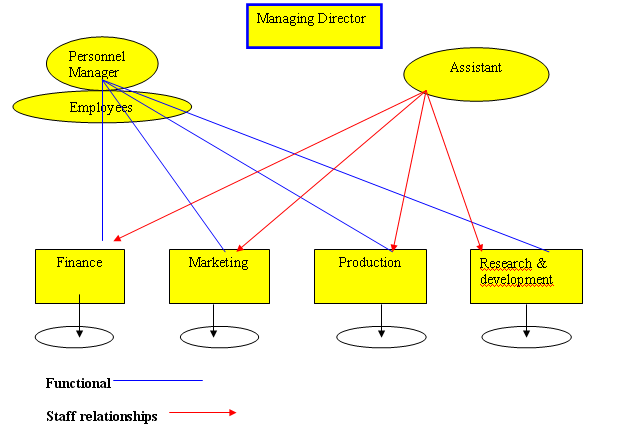 3. Line Organization of Dell Corporation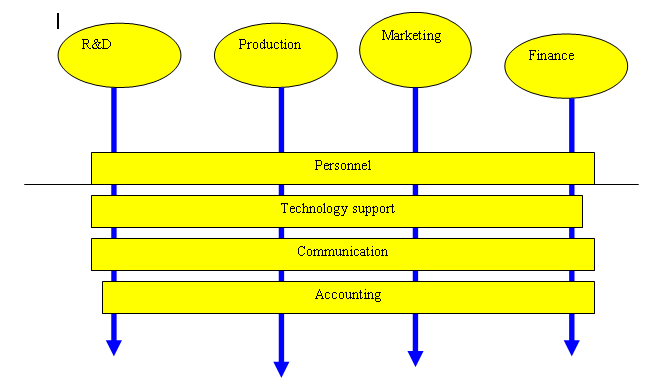 This is just a free sample of the research paper, or part of the research paper on the given topic you have found at ProfEssays.com. If you feel you need professional writing assistance contact us! We will help you to create perfect research paper on any topic. ProfEssays.com – Leading custom essay and dissertation writing company and we are 24/7 open to serve you writing needs!
Don't hesitate! ORDER NOW!
Looking for an exceptional company to do some custom writing for you? Look no further than ProfEssays.com! You simply place an order with the writing instructions you have been given, and before you know it, your essay or term paper, completely finished and unique, will be completed and sent back to you. At ProfEssays.com, we have over 500 highly educated, professional writers standing by waiting to help you with any writing needs you may have! We understand students have plenty on their plates, which is why we love to help them out. Let us do the work for you, so you have time to do what you want to do!