Essay Paper on Change Management Model
Each company uses different models of organizational change depending on its needs and circumstances for the moment of need for change. The choice of certain change model is made by change specialists. Palmer, Dunford and Akin defined three change groups that take part in the whole process, and these are: change strategists (senior management), change implementers (middle management) and change recipients.
Given models for change management are based on different approaches to changes within organization. These models differ not just in term of number of steps but whether all steps need to be followed, whether they need to be followed in sequence, and whether they need to be adapted to specific settings.
Comparing these models, we can come to the following conclusions: the authors used different approaches to the change management models, thus they offered to undertake different measures depending on their own view of change. Pendlebury, Grouard and Meston expressed each step in a form of motto or, better to say, appeal, slogan, which gives a kind of an impetus to the reader. These authors tend to be laconic and straightforward, they don't give tips, but they give a key word which stands for certain action. Nadler defines each step by giving a detailed description of what should be done. His plan is the minutest of all, it gives clear and simple ideas of how the change should be organized. Kanter, Stein and Jick give the name for their steps, they are called "Ten commandments", thereby saying that these steps are to be implied unconditionally. Their plan is a little similar to that of Nadler, although the general number of steps is less and their form of expression is different too.
And finally, the last, but not the least, is Taffinder's plan, which is called "Transformation trajectory". This model is the shortest since is consists of five steps only and is perceived with philosophical hint. There are no concrete rules or steps, there are only general guidelines which either should inspire on further actions or are designed to be implemented in any organization, regardless the type of changes implemented.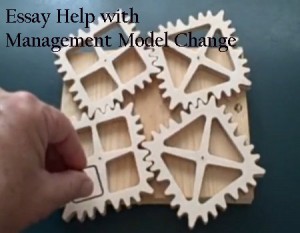 All aforementioned models of change management differ not only by their form and content, but also by the sequence of implementation of enlisted steps. For instance, the model of Pendlebury, Grouard and Meston doesn't have a strict sequence of activation of steps, they obviously should be implemented simultaneously, since this model can't be used as a step-by-step type of model, it's represented as a list of activities that must be done throughout change managing. Unlike this model, the models of Kanter, Stein and Jick, and Taffinder are more precise in terms of time. The list of activities to be done is straightly chronological, which means that the previous step is followed logically by the next one. All models, though put emphasis on the need to define the need for change, to motivate people, to overcome transitional periods and to maintain achieved success.
I'd offer the change management model which contains the following steps:
Define the need for change, ground it.
Analyze company's possibilities, previous experience connected with change, opinions of staff.
Build up the future image of company with implemented change and suggest this image to all employees.
Get support from sponsors, team leaders, managers of departments.
Draw up a plan for change, defining all possible flaws and negative issues.
Involve employees, inspire them and maintain positive atmosphere and attitude.
Create feedback, take into account complaints and enhance the process of change.
This is basically the model I'd offer in order to reach success in change implementation. I tried to take into account all problems that may arise in the process, and placed the activities in chronological order because I think it's easier to realize a plan if you know what to do next, besides, the abovementioned steps are organized logically. I've also included such factors as motivation, informational access, possible discrepancies and employees' negative attitude.

This is just a free sample of the research paper, or part of the research paper on the given topic you have found at ProfEssays.com. If you feel you need professional writing assistance contact us! We will help you to create perfect research paper on any topic. ProfEssays.com – Leading custom essay and dissertation writing company and we are 24/7 open to serve you writing needs!
Don't hesitate! ORDER NOW!
Looking for an exceptional company to do some custom writing for you? Look no further than ProfEssays.com! You simply place an order with the writing instructions you have been given, and before you know it, your essay or term paper, completely finished and unique, will be completed and sent back to you. At ProfEssays.com, we have over 500 highly educated, professional writers standing by waiting to help you with any writing needs you may have! We understand students have plenty on their plates, which is why we love to help them out. Let us do the work for you, so you have time to do what you want to do!