The Characterization of Nora in "A Doll House"
Nora Helmer is presented as a female protagonist, often portrayed like a doll in the story called A Doll House. Her husband Torvald always shows his dominance in their relationships by calling her "little lark" or "little squirrel" or his "song bird". He also makes her seem inferior by making parallels to weak diminutive birds and she. They have been married for eight years and have three children. Torvald has recently been hired as manager of the mutual bank and receives a big salary. The Helmers are wealthy. Later on in the first act, we are shown that Nora is not really as helpless as she is first revealed.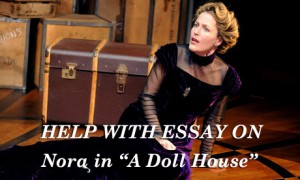 Throughout the story Nora struggles for self-realization and independence from Torvald's childlike treatment of her. Nora's gradual self-realization is depicted thoroughly in A Doll's House. The play flows well with the theme of self-realization in women. Throughout the story we are enlightened by the fact that Nora really isn't as inferior, or a "silly girl" like Torvald believes she is. In Act One through Nora's conversation with Mrs. Linde, we are revealed that she has made a loan with Krogstad, which leads the reader to the knowledge that she is more educated about business aspects, which are usually only known by men, than as portrayed.
Her pure determination shows the reader that she is not just your average woman, and foreshadows her coming of independence and her ultimate choice to be true to herself both physically and mentally. Nora is trying to discover her purpose for living. She questions many things and is developing courage. In my scene she is trying to get a letter back from Nils Krogstad. The letter explains how she borrowed the money.
Overall, Torvald treats her like a doll. Not only does he do this, but he is also very sexist towards women, thus being sexist towards Nora. "This is like a women!" "Almost everyone who has gone to the bad early life has had a deceitful mother." Torvald expects that both women and men have certain roles in marriage and in the society. He strongly believes men are more superior to women. Bad people come from misleading mothers. Society has a great influence on these alleged roles. Since these roles have great impact on everyone, every one seems to follow them. "It's shocking. This is how you would neglect your most sacred duties." Again, this shows that there are certain roles, you must abide.
Nora is not treated like an actual human being but more like a doll with duties to fulfill. Women's main duties were to be a good wife, housekeeper, and mother. Those were considered the women's most sacred roles. Nora eventually finds out that those roles are what leads to "phony" marriages, and leaves Torvald at the end of the play. Nora believes the roles that society portrays are what makes women feel trapped, much like a doll. Torvald is considered a very controlling person, therefore he denies Nora of any moral or intellectual life of her own. Nora must live up to his expectations in order to please him…

Disclaimer: This is just a free sample of the research paper, or part of the research paper on the given topic you have found at ProfEssays.com. If you feel you need professional writing assistance contact us! We will help you to create perfect research paper on any topic. ProfEssays.com – Leading custom essay and dissertation writing company and we are 24/7 open to serve you writing needs!
Don't hesitate! ORDER NOW!
Looking for an exceptional company to do some custom writing for you? Look no further than ProfEssays.com! You simply place an order with the writing instructions you have been given, and before you know it, your essay or term paper, completely finished and unique, will be completed and sent back to you. At ProfEssays.com, we have over 500 highly educated, professional writers standing by waiting to help you with any writing needs you may have! We understand students have plenty on their plates, which is why we love to help them out. Let us do the work for you, so you have time to do what you want to do!