Essay Paper on Yiddish Literature
All the postclassical Yiddish literature centres around the Holocaust and its causes, falling into two general categories, positive and cynical, depending upon the author's views and experience of the antedating and subsequent Holocaust events. The positive literature concentrates on the survival of the Jewish people, the acceptance of the occurrences whatever they were, and the barest necessity to live further. At the same time it is pierced with the theme of remembrance and grief and understanding God if possible.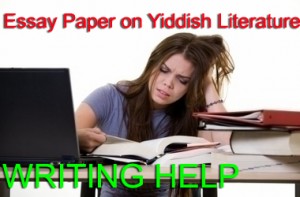 The literature of a more cynical tone focuses on the evil side of the history and traces the reasons to the following events, being deeply intertwined with the weaknesses and misfortunes, misery and inevitability. But the availability of the free will is emphasized directly and moreover indirectly. Among the authors representing the indicated categories are Jacob Glatstein and Isaac Bashevis Singer, the former being the representative of the positive trend and the latter taking a sophisticated cynical approach. Both are assumed to be among the greatest contributors in the Yiddish literature, both are recognized and famous. The first one is a poet and the second one is a writer. The examination of their works would reveal their attitude towards the events surrounding Holocaust and their judgments upon them.
Both Jacob Glatstein and Isaac Bashevis Singer were Jews of course so that one needs to understand Judaism in order to be able to perceive their works. In Jacob Glatstein's poems, God takes a special place and is mentioned almost in every poem. Thus, it is not surprising that He is connected, in Glatstein's mind, with the Holocaust and it seems to be only natural:
But when one possesses
so many planetary estates,
and sits all alone on a throne,
sometimes he turns his head away
for a split second—
then things start happening to Jews… (Glatstein, 71)
The deep reverence for God is an integral life of Jewish religious culture so that not accidentally Glatstein uses figurative turn to view the events from a different angle. The whole poem is quite long and throughout "Searching for God in the Spheres" some part of Jewish history and His might is described. Nevertheless, it does not look like Glatstein wants to point at the ignorance, nor does he mention anything about it. This very part is presented in the form of guess and tries to answer one of the most important questions in every belief: why did God let it happen? or why did it happen at all?
Glatstein, thus, associates the need of the human mind to seek the cause and effect answer to their question with the divine allegory, because mind is mostly logic it needs a kind of logical answer. So God turns his head away for a moment, because he is busy with something else, on other planets perhaps, and at this very moment when his action is not connected with the Jews, some misfortunes happen. This excerpt can be attributed to Holocaust events due to its ending, "and before one knows what's what, six million are missing"…

Disclaimer: This is just a free sample of the research paper, or part of the research paper on the given topic you have found at ProfEssays.com. If you feel you need professional writing assistance contact us! We will help you to create perfect research paper on any topic. ProfEssays.com – Leading custom essay and dissertation writing company and we are 24/7 open to serve you writing needs!
Don't hesitate! ORDER NOW!
Looking for an exceptional company to do some custom writing for you? Look no further than ProfEssays.com! You simply place an order with the writing instructions you have been given, and before you know it, your essay or term paper, completely finished and unique, will be completed and sent back to you. At ProfEssays.com, we have over 500 highly educated, professional writers standing by waiting to help you with any writing needs you may have! We understand students have plenty on their plates, which is why we love to help them out. Let us do the work for you, so you have time to do what you want to do!