Essay Paper on The Glass Menagerie
Many times in life, people are faced with troubling situations which they react to in many different ways. Some people face their problems in order to overcome them while others try to convince themselves that the problems do not really exist. When reality is ignored, people often become unable to grow and develop normally because in order to grow, internal and external problems must be confronted and dealt with. If reality is ignored, problems are ignored and therefore go unsolved and even unacknowledged.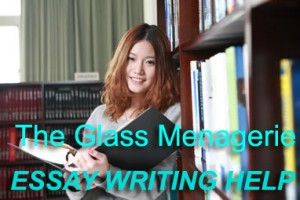 In Tennessee Williams' The Glass Menagerie, realities are ignored and in turn, illusions are created. Amanda and Laura both are faced with problematic lives that they wish to escape from. In her younger years, Amanda was in high social standing but has fallen over the years to her present state of middle class American life. She used to be very attractive to "gentleman callers" but was just recently left by her husband. Amanda has trouble accepting her fallen state and cannot escape it. She instead pretends that she is still the girl from her past and avoids confronting what plagues her (her status).
Laura, Amanda's daughter, crippled since she was a child, is severely insecure and becomes physically ill when put in a stressful situation. Although Laura knows that she is different, she still tries to separate herself from others and therefore becomes more and more out of touch with reality in order to convince herself that she is just the same as everyone else. Williams uses symbolism to convey the illusion surrounding Laura and Amanda's lives. The many symbols help to establish the great distance between Amanda and Laura and reality. Williams uses symbolism to reveal the different ways in which Amanda and Laura delude themselves and the effects of their delusion.
Williams uses the picture of Mr. Wingfield and the fire escape/landing to symbolize that Amanda deludes herself from her social and economic fall by clinging to another time and place:
TOM. I'd rather smoke. [He steps out on the landing, letting the screen door slam.]
AMANDA. [sharply] I know! That's the tragedy of it… [Alone, she turns to look at her husband's picture.]
The landing that Tom steps down on is a symbol of escape. Escape is something that Amanda wants, specifically to be able to escape her present situation of being a single mother and trying to raise a daughter to be more successful in life than she has. When Tom lets the screen door to the landing slam shut, it is made clear that Amanda is denied escape from her reality. Because she cannot escape her situation, she clings to the past and tries to forget the present. The obvious "tragedy" is that Tom would rather smoke than save the money and use it to better himself, but there is an even more important underlying meaning. Amanda speaks of this "tragedy" and "alone, she turns to look at her husband's picture." The real "tragedy" is that Amanda tries to "cling frantically to the past".
Her delusion is symbolized by the picture of her husband which represents the past and the life she used to know. Her husband's picture, with his perpetual smile, signifies the happy life which Amanda wishes she could go back to and now focuses on and lives through in order to escape the reality of her situation. The picture is always looking over the Wingfield household which displays the presentness of the past for Amanda. Although we know that after Tom goes down to the landing that Amanda is alone, Williams states it again for emphasis so it is made clear that, although Laura deludes herself as well, Amanda is the only one clinging to the past. This is significant because it reveals Amanda's way of creating an illusion of reality so she can forego dealing with the present. The picture of Mr. Wingfield symbolizes the past which Amanda clings to in order to escape the present while the landing represents the escape which she can never have.

Disclaimer: This is just a free sample of the research paper, or part of the research paper on the given topic you have found at ProfEssays.com. If you feel you need professional writing assistance contact us! We will help you to create perfect research paper on any topic. ProfEssays.com – Leading custom essay and dissertation writing company and we are 24/7 open to serve you writing needs!
Don't hesitate! ORDER NOW!
Looking for an exceptional company to do some custom writing for you? Look no further than ProfEssays.com! You simply place an order with the writing instructions you have been given, and before you know it, your essay or term paper, completely finished and unique, will be completed and sent back to you. At ProfEssays.com, we have over 500 highly educated, professional writers standing by waiting to help you with any writing needs you may have! We understand students have plenty on their plates, which is why we love to help them out. Let us do the work for you, so you have time to do what you want to do!
Tags: essay for free, essay on glass menagerie, essay sample, free essay