Essay Paper on "Pride and Prejudice"
The issue of women's role in the society, struggle for their freedoms and rights, and strive for equality with men became a popular theme of literary works in XIX and XX centuries. The novel "Pride and prejudice" by Jane Austin published in 1913 also addresses this problem by portraying the social fabric of England of the time with its faults of patriarchal system, where men possessed all economic and social powers and women were oppressed and their rights were limited.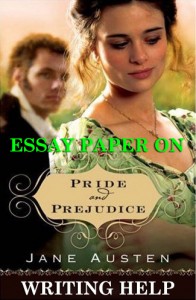 The novel focuses on the Bennets, an English family of middle class. The mother, Mrs. Bennet, is a woman of few ideas whose only concern is to secure the future of her five daughters by getting them married. She is obsessed by the idea of advantageous marriage which is quite common for the time, as the only route to welfare of a woman was a proper marriage.
Elizabeth Bennet, the main character, is the direct opposite to her narrow-minded mother. She is an educated and witty young girl of high moral values and principles. Her ideals come first. Elizabeth demonstrates it by refusing the proposal of marriage made by a foolish and pompous though rich cousin of hers, whom she neither loves nor respects. She does it despite her mother's will, proving that moral values are above pragmatic interests. Elizabeth highly condemns her best friend, Charlotte, as she gets married to a person whom she doesn't love for the sole purpose to secure her future.
Though on the one hand Elizabeth is a child of coming industrialization, on the other hand she is in the power of rules and moral restrictions set by the society she lives in. she highly disapproves the thoughtless elopement of her younger sister, Lydia, with an officer. From the feministic point of view, however, this action of young girl beaming with life and energy can also be judged as strive of women for freedom and equality with men.
"Pride and Prejudice" as a feministic novel reaches its apogee when Elizabeth rejects the proposal of marriage of Mr. Darcy, an extremely wealthy and proud man of high society. She believes Mr. Darcy to be an arrogant man, so neither his wealth nor his power and connections can tempt her. Elizabeth is not intimidated by Darcy's high status and she openly expresses her opinion to him. And only after Mr. Darcy has proved by his generous and kind actions that he is a man of high morals and merits and that he truly loves and respects Elizabeth and her family, Elizabeth marries him. She marries Darcy not only because of his virtues and advantages of such match but because she is in love with him. This is an act of free will, a demonstration of women's power, an indication of women's victory over patriarchal society.

Disclaimer: This is just a free sample of the research paper, or part of the research paper on the given topic you have found at ProfEssays.com. If you feel you need professional writing assistance contact us! We will help you to create perfect research paper on any topic. ProfEssays.com – Leading custom essay and dissertation writing company and we are 24/7 open to serve you writing needs!
Don't hesitate! ORDER NOW!
Looking for an exceptional company to do some custom writing for you? Look no further than ProfEssays.com! You simply place an order with the writing instructions you have been given, and before you know it, your essay or term paper, completely finished and unique, will be completed and sent back to you. At ProfEssays.com, we have over 500 highly educated, professional writers standing by waiting to help you with any writing needs you may have! We understand students have plenty on their plates, which is why we love to help them out. Let us do the work for you, so you have time to do what you want to do!