Essay Paper on Spenser's Anxiety Towards Women
Edmund Spenser in his epic romance, The Faerie Queene, invents and depicts a wide array of female figures. Some of these women, such as Una and Caelia, are generally shown as faithful, virtuous and overall lovely creatures. Other feminine characters, such as Errour, Pride, and Duessa are false, lecherous and evil. This might seem to be the end of Spenser's categorization of women; that they are either good or bad. Yet upon closer examination one finds that Spenser seems to be struggling to portray women more honestly, to depict the "complex reality of woman".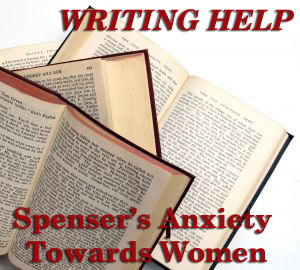 Spenser does not simply "idealize women or the feminine viewpoint" as he could easily do via characters like Una, but instead attempts to "revise and complicate the traditional male view" of women. Spenser endeavors to show various female characters, in both powerful and weak roles, and also to emphasize the importance of women in his society. Despite his intentions to give a fair representation, however, it is still obvious that Spenser was influenced by a society with a culture "whose images of woman and love, and whose institutions affecting women and love, were products of the male imagination". Throughout The Faerie Queene, Spenser reveals his anxiety about women and their power.
Una, one of the most crucial figures of the first book, is a perfect expression of Spenser's hesitance towards depicting women in a single confining manner. At times Una seems strong and confident, at other times she is shown as weak and helpless. Before their separation, and after their rapprochement, Una is the one who often rescues Redcrosse.
During Redcrosse's very first battle on their journey together Una gives instructions on how to properly fight. Upon seeing Redcrosse being strangled by Errour's vile tail, Una provides directions saying "'Now now Sir knight, shew what ye bee, / Add faith unto your force, and be not faint: / Strangle her, else she sure will strangle thee". With Una's encouragement and guidance Redcrosse is able to free himself from Errour's grasp and slay the snake creature. Again in the third canto, Spenser describes Una as a brave and powerful creature, "She of nought affrayd, / Through woods and wastnesse wide" travels alone.
note: "ProfEssays.com is an outstanding custom writing company. We have over 500 expert writers with PhD and Masters level educations who are all ready to fulfill your writing needs no matter what the academic level or research topic. Just imagine, you place the order before you go to sleep and in the morning an excellent, 100% unique essay! or term paper, written in strict accordance with your instructions by a professional writer is already in your email box! We understand the pressure students are under to achieve high academic goals and we are ready to take some of it off you because we love writing. By choosing us as your partner, you achieve more academically and gain valuable time for your other interests. Place your order now!"

Disclaimer: This is just a free sample of the research paper, or part of the research paper on the given topic you have found at ProfEssays.com. If you feel you need professional writing assistance contact us! We will help you to create perfect research paper on any topic. ProfEssays.com – Leading custom essay and dissertation writing company and we are 24/7 open to serve you writing needs!
Don't hesitate! ORDER NOW!
Looking for an exceptional company to do some custom writing for you? Look no further than ProfEssays.com! You simply place an order with the writing instructions you have been given, and before you know it, your essay or term paper, completely finished and unique, will be completed and sent back to you. At ProfEssays.com, we have over 500 highly educated, professional writers standing by waiting to help you with any writing needs you may have! We understand students have plenty on their plates, which is why we love to help them out. Let us do the work for you, so you have time to do what you want to do!