Essay Paper on Othello Characters
One important way to identify or understand Othello's characters and to recognize their complexity is to look for parallels and contrasts between various roles, behaviors, and relationships.
Othello, for example, would seem to be the central character in the play as the title suggests, but Iago's actions appear more influential as he successfully preys on other characters and draws much attention toward himself in his intimacy with the audience. By comparison, then, Othello provides the play's emotional focus as a man of stature who rises and falls from greatness, while Iago is the intellectual focus as the manipulator who convinces his victims to act and respond in certain ways.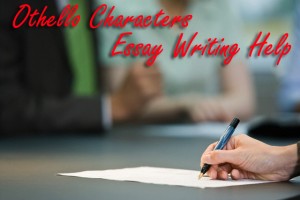 From one angle, their relationship is that of opposites, hero and villain. From another angle, the changes that Othello undergoes throughout the play turn him and Iago into partners in crime, reflecting rather than contrasting each other at certain points. Their relationship is professional and personal; it involves contradictory qualities of trust and distrust, deception and honesty, disbelief and confidence, hatred and admiration.
Othello and Desdemona's relationship is also fascinating and disturbing. Their love for each other initially seems like a force that can withstand all trials. Their response to each other, as well as their united stand against opposition, reveals a shared level of passion and commitment that seems like a mutual strength but that soon begins to expose individual weaknesses or lapses in judgment that open the way for tragic consequences. Determining what is admirable or blameworthy, whether traits of boldness and commitment are strengths or weaknesses in either character becomes more difficult as the conflict intensifies. Attempting to understand both characters requires careful examination of the way they behave toward each other.
Interaction or connection between groups of characters also contributes to character development. In particular, the number of triangular relationships illuminates individual roles and traits by drawing attention to comparisons and contrasts. While Othello, Iago, and Desdemona form the most obvious triangular connection of central characters and the source of primary conflict, other similar groups of three characters challenge the relationships of this trio. Othello, Cassio, and Desdemona, for example, begin as a compatible group, their relationship based on love and friendship. When Iago turns that positive connection into an imaginary "love triangle," the outcome exposes not only his malicious motives, but also character traits of the three people caught in his web who appear either too trusting or not trusting enough. Another "love triangle" involving Othello, Roderigo, and Desdemona allows the audience to see courtship, seeming courtship, romance, and self-delusion demonstrated in another configuration.
The many relationships between pairs of male characters invite questions about how each pair portrays the two individuals involved and what one pair reveals about another. Again, Othello and Iago form the dominant pair, and how they respond to each other says much about their own values or goals and their feelings toward each other. The combination of military rank and social status, as well as personal competition or friendship, defines their relationships and develops individual character traits.
The female connection between Desdemona and Emilia demonstrates a level of personal intimacy that is free of the professional distinctions in the male relationships, but is complicated by class distinctions and compromised by Emilia's divided loyalty as Iago's wife and Desdemona's serving lady. Three couples that represent various connections between men and women in romance or marriage include Othello and Desdemona, Emilia and Iago, and Cassio and Bianca. By portraying similarities and striking differences between these couples, Shakespeare shapes his characters, emphasizing diverse attitudes that form each relationship…

Disclaimer: This is just a free sample of the research paper, or part of the research paper on the given topic you have found at ProfEssays.com. If you feel you need professional writing assistance contact us! We will help you to create perfect research paper on any topic. ProfEssays.com – Leading custom essay and dissertation writing company and we are 24/7 open to serve you writing needs!
Don't hesitate! ORDER NOW!
Looking for an exceptional company to do some custom writing for you? Look no further than ProfEssays.com! You simply place an order with the writing instructions you have been given, and before you know it, your essay or term paper, completely finished and unique, will be completed and sent back to you. At ProfEssays.com, we have over 500 highly educated, professional writers standing by waiting to help you with any writing needs you may have! We understand students have plenty on their plates, which is why we love to help them out. Let us do the work for you, so you have time to do what you want to do!