Essay Paper on Mythology
The whole history of mankind, formation and prosperity of civilizations was the rule of myth, created by a man's imagination. People were looking for questions answers they worried about. They tried to solve the University riddle, human being and life itself. In case reality didn't answer, imagination was used to help. It was important through the whole mankind history and it remains the same nowadays. It would be better to emphasize the influence of myths on the primitive men life.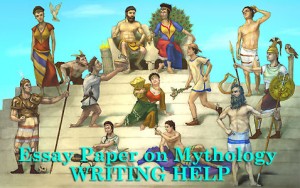 There was no doubt as for the myths' reality at that time. People perceived mythology as an objective reality and. Today we see myths as a writing work of some authors, but for a primitive it turned out to be his consciousness, his psychologic state, that at the same time represented outworld for him. After all it was a state of collective, mass culture that a primitive felt not alone but together with others. The loners could break the mythological perception; they could be painters, sculptors that retired in order to free from the collective perception impact. They tried to describe not the common but their own vision of the outworld, their own perception.
Mythology is the world of foretypes that played as a generation patrimony. Mythological thinking is a collective and generic thinking. It provides basic generic relations of people to each other and a man doesn't see himself beyond the generation. Mythology became a basic form for man's thinking, and a source of further forms of thinking, such as religion, art, philosophy and science. Myth is actually a narration, formally a tale. This term is widely used by philosophers, politicians, psychologists; nevertheless it is still covered with mystery. Myth is first of all a complex of strange, fantastic narrations, on which the sentience of ancient civilizations was based. Myths consist of religiously hued descriptions of nature phenomena and processes, embodied in human reflections.
There is a classification of myths that divides them on many groups. Most of them describe the birth and origin of gods, origin of world, world formation an evolution, creation of a man and his destiny, end of the world, man and gods. In a wider sense myth is considered to be a description of metaphysic relation between a nature and a human life. Myths appeared as a necessity of people to explain the origin of world, mankind, to predict people's destiny. The method itself differs from a scientific way of world analysis and explanations. In myth a man and a society do not distinguish themselves from the nature environment; man and society are all of a peace. There are no abstract notions; it is completely concrete, personified and animate. Myth is created by characters, it lives through emotions, it is free of sense arguments, and it explains the world being not by knowledge but by faith. Myths are built to establish the harmony between the world and a man.
People used mythology in order to connect the past, present and future in a very specific form, as it was a generation patrimony, myths were handed down to leave an experience, knowledge stored, values adhered and cultural heritage for future generations.
Certainly, it is worth mentioning the role of myths in the XX century, when a particular value was given to a political myth. With a fluent content it was involved in fascism ideology. In mass perception some features of mythological thinking may be kept along with the elements of philosophical and scientific knowledge.
In order to understand social processes of the past historians often pay their attention to mythology as a basic process of social identity creation. Lately myths are considered to be part and parcel of the past, a part of historical memory, collective remembrance and oblivion that influence next generations' future. Myths should be addressed to the past, but give a hope for the future.

Disclaimer: This is just a free sample of the research paper, or part of the research paper on the given topic you have found at ProfEssays.com. If you feel you need professional writing assistance contact us! We will help you to create perfect research paper on any topic. ProfEssays.com – Leading custom essay and dissertation writing company and we are 24/7 open to serve you writing needs!
Don't hesitate! ORDER NOW!
Looking for an exceptional company to do some custom writing for you? Look no further than ProfEssays.com! You simply place an order with the writing instructions you have been given, and before you know it, your essay or term paper, completely finished and unique, will be completed and sent back to you. At ProfEssays.com, we have over 500 highly educated, professional writers standing by waiting to help you with any writing needs you may have! We understand students have plenty on their plates, which is why we love to help them out. Let us do the work for you, so you have time to do what you want to do!