Essay Paper on Mirabai
Mirabai was a Hindu poetess, whose dates of birth and death are not known exactly, but the researchers assume they are 1498 and 1547 respectively. What is absolutely interesting about her is that her compositions remain popular in India even now.
Mirabai took her inspiration in Shi Krishna, maybe the reason was that in early childhood she was given a doll of Krishna, presented by a wandering sadhu. In the future, she referred to the figure of Krishna as to her friend, her father and her husband, stumbling upon of wall lack of understanding from her friends and family.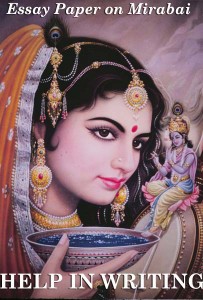 Little is known about her biographical data. Her father arranged her marriage with Prince Bhoj Raj. She didn't love him but according to one sources, she was an obedient wife, however according to the folklore, she refused to accept him as a husband. She was said to sing bhajans very often while being alone and while doing it, she entered the state of ecstasy and trance. Mira had also a conflict with her family on the ground of religious differences, and frequently faced jealousy and misunderstanding for being so pure and devoted to Krishna. Her family members also tried to restrict her life after her husband's death, making her commit sati, but she wouldn't do it claiming that Shi Krishna, her real husband, hadn't died.
The path Mirabai followed in her life is directly reflected in her poetry, where the only theme is her immense devotion to her husband, her lord, her lover and her friend is Shi Krishna. The poems are characterized by absolute surrender to her feelings to Krishna:
If he say so, I'll color my sari red,
If he say so, I'd wear the godly yellow garb,
If he say so, I'll drape the part in my hair with pearls,
If he say so, I'll let my hair grow wild.
The form of the poem, written by Mirabai, is traditionally called a pada, which is a simply constructed verse. However, their content is not simple at all, it's deeply emotional, sincere and filled with hope and love, passionate, unconditional, self-sacrificing deep love. The person of the reader is also constantly present in her poems since she frequently addresses her words to "Sisters", "Companions" etc. Thus we have an opportunity to feel all the passion and the range of emotions she felt towards her spiritual leader.
Mirabai became a very significant person in the history and culture of India not only due to her poetry but also to the strength of her spirit and the freedom she embodied. She refused to do many things which were almost obligatory to the women of her time, like sati, but she overcame these difficulties and survived the obstacles in her way. She was and still remains the image of courageous and brave woman, therefore it's possible to make a conclusion that the popularity of her poetry today is conditioned by such behavior and selfless love. Sri Chinmoy once said: "Mirabai was a devotee of the high, higher, highest order. Among the saints of India, she is absolutely unparalleled". These words truly define the place that Mirabai ranks in the culture of India…

Disclaimer: This is just a free sample of the research paper, or part of the research paper on the given topic you have found at ProfEssays.com. If you feel you need professional writing assistance contact us! We will help you to create perfect research paper on any topic. ProfEssays.com – Leading custom essay and dissertation writing company and we are 24/7 open to serve you writing needs!
Don't hesitate! ORDER NOW!
Looking for an exceptional company to do some custom writing for you? Look no further than ProfEssays.com! You simply place an order with the writing instructions you have been given, and before you know it, your essay or term paper, completely finished and unique, will be completed and sent back to you. At ProfEssays.com, we have over 500 highly educated, professional writers standing by waiting to help you with any writing needs you may have! We understand students have plenty on their plates, which is why we love to help them out. Let us do the work for you, so you have time to do what you want to do!