Essay Paper on "A Doll's House" by Henrik Ibsen
Written in 1879, the play "A Doll's House" refers to the time when "new drama" appears in Europe, together with August Strindberg he is an author of "Scandinavian school". The play was highly controversial, as it criticizes sharply "Victorian marriage norms". Before that time there was a reign of romanticism in the theatre, when theatre depicted "unreal situations, involving royal characters in heroic tragedies, written in rhymed verse."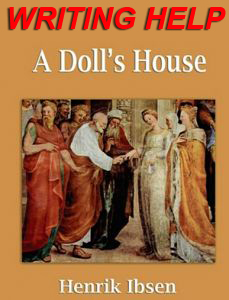 On the edge between 19th & 20th century a number of "new type" theatres appear, their favourite hero is a usual person, they need critical plays about present time & everyday life. These "independent theatres" proclaimed "the principle of art democratization", they intend to make a performance with few actors, less décor, just for a small audience of 300-500 people. New drama developed on the principles of French "naturalism", as we see it in Emile Zola novels, it was obligatory to show "the surrounding", where the characters existed, actors' costumes & make-up had to tell the audience about the biography & character of their personages. Typical themes of dramas are the conflict of generation, problems of marriage & the woman's status in the society.
Henrik Ibsen started as a druggist from the Norwegian provinces, but he made a real revolution in dramatic art. He put new meaning, new problems (social, philosophical, moral) into the old theatrical form & presented new means of expression: polemics, omission, counterpoint.
By the end of 1870 Ibsen came to a notion of "analytic drama", which shows "a modern conflict in modern conditions." He demanded that actors reproduce everyday life in its exact details: a spectator has to recognize his home, his neighbours, himself on the stage. Portraits & interiors must give maximum information about the hero & his surroundings, but also they should have symbolic meaning: four doors that define the stage space of "A Doll House" allude to the hidden side of the reality, make us think that there are lots of things we don't see under the seeming simplicity & loveliness. Also the doors are a sign of family's fragility, its exposure for the external intrusions.
Ibsen's language is common, the one we use every day. Freed from four centuries of Danish rule in 1814, Norway was just beginning to shake off the legacy of Danish domination. A Doll's House was written in a form of Norwegian that still bore heavy traces of Danish. The situation in the society & family also bore traces of the difficult times of Danish & later Swedish rule…

Disclaimer: This is just a free sample of the research paper, or part of the research paper on the given topic you have found at ProfEssays.com. If you feel you need professional writing assistance contact us! We will help you to create perfect research paper on any topic. ProfEssays.com – Leading custom essay and dissertation writing company and we are 24/7 open to serve you writing needs!
Don't hesitate! ORDER NOW!
Looking for an exceptional company to do some custom writing for you? Look no further than ProfEssays.com! You simply place an order with the writing instructions you have been given, and before you know it, your essay or term paper, completely finished and unique, will be completed and sent back to you. At ProfEssays.com, we have over 500 highly educated, professional writers standing by waiting to help you with any writing needs you may have! We understand students have plenty on their plates, which is why we love to help them out. Let us do the work for you, so you have time to do what you want to do!