Compare The Tale of Genji to Po Chu-i "Song of the Lute"
In their works, Murasaki and Po Chu-I (Bo Ju-Ji) bring up questions concerning the role of genders in society through themes of love, lust and longing. Murasaki and Po Chu-I represent different countries and epochs but both of them depict s imilar themes of lust and love. "The Tale of Genji" was written in 11th century in Japan and "Song of the Lute" represents Chinese tradition of 9th century (815 A.D.). For Murasaki and Po Chu-I lust and longing are the main things in human's life. Both writers examine deep personal feelings of their heroes and their striving to love.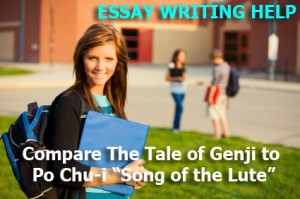 The characters of both authors have a strong emotional experience. For instance, Genji lusts after a princess being amazed of her beauty and playing. For Genji love and affection is pure and free from cupidity and social statuses; love is desirable and physically achievable. The spiritual experience, emotions and psychological states are strong, and mirrored in the text. Po-Chui idealizes romance and love. Love is eternal value which can lead to sufferings, but it does not influence the essence. Po-Chui admires beauty of women and their inner strength. This work depicts emotional changes so typical for women.
In contrast to "Genji", "The Song of the Lute" does not include deep emotional sufferings of the heroes. For Po Chu-I longing implies pure relations with a lover, free form social prejudices. Nevertheless, he describes the feeling of despair which grips him when he thinks about life with a lovely girl. It seems that he is satisfied with this, because, according to Chinese worldview, he could do nothing but "go with a flow". Genji shows that it is important for a man to be strong, handsome and attractive. Genji is depicted as a loving, sympathetic fellow who easily falls in love. Physical relations are the essence of his life. The burning desire to new sexual relations creates the feeling of physical dissatisfaction and necessity for new emotional feelings.
When Genji understands that the princess has not returned his affection he becomes frustrated and alienated. Also, he feels guilty after affair with Fujitsubo. In order to overcome depression, Genji goes into affairs with other women. Genji feels as a victim of life realities which he cannot change. It is possible to say that his sufferings are real, and help him to mature physically and emotionally. In contrast, in spite adultery and infidelity which were common for most men, Po Chu-I pays a special attention to virtues of conciseness, strong, clear imagery, symbolism, understatement, humor, and irony. For Po Chu-I physical experience of the heroes is seemed unessential, unimportant. For instance, love to the girl is depicted as eternal value. It is possible to say that Po Chu-I is "sorry for love", but it is more sadness and melancholy than sufferings.
"The Tale of Genji" is more about physical love depicting longing and lust. "Genji" emphasize that role of affection and its impact on gender relations from the male's point of view. This work portrays human intimate sexual relations and their consequences. "The song of Lute" concentrates on love and gender relations, but it is more platonic feelings than sexual intimacy. "The Tale of Genji" describes numerous love affairs of Genji speaking about longing desire and the result of it.

Disclaimer: This is just a free sample of the research paper, or part of the research paper on the given topic you have found at ProfEssays.com. If you feel you need professional writing assistance contact us! We will help you to create perfect research paper on any topic. ProfEssays.com – Leading custom essay and dissertation writing company and we are 24/7 open to serve you writing needs!
Don't hesitate! ORDER NOW!
Looking for an exceptional company to do some custom writing for you? Look no further than ProfEssays.com! You simply place an order with the writing instructions you have been given, and before you know it, your essay or term paper, completely finished and unique, will be completed and sent back to you. At ProfEssays.com, we have over 500 highly educated, professional writers standing by waiting to help you with any writing needs you may have! We understand students have plenty on their plates, which is why we love to help them out. Let us do the work for you, so you have time to do what you want to do!