BOOK REVIEW. TO KILL A MOCKINGBIRD
In XXI century the humanity can be proud of its numerous achievements in various fields, but unfortunately there is still another side of the medal…The humanity haven't learned to be HUMAN, compassionate, kind, fair, unselfish, tolerant. We still haven't done away with such vestiges of the past as racial injustice, xenophobia and many other negative phenomena. Every day we trace reflections of these problems in movies, news, over the radio, finally in the books.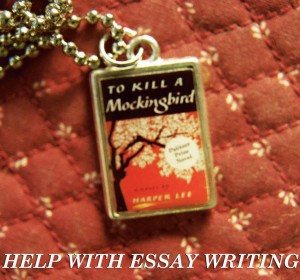 These problems are being widely discussed nowadays and have been raised long ago by many writers, one of them – Nelle Harper Lee with her novel To Kill a Mockingbird. "The Timeless Classic of Growing up and the Human Dignity that Unites Us All" as one of the book edition characterizes it.
Harper Lee wrote her slightly autobiographic novel (as several characters, including her father became prototypes of the main characters, the writer herself was witness of the similar legal case, etc) in times of racially charged society in 60-ies of the previous century with the setting of the story in the time of Great Depression.
The narrator of the story is a 6-year-old girl Scout, this new literary innovation some critics did not accept, they found the narrative voice of a child unconvincing but thanks to this method the novel is notable for its warmth and humor, though it deals with serious issues.
In the first part of the book the reader gets acquainted with Scout and her brother Jem. The children befriend a boy Dill and since then their adventures resemble those of Mark Twain's Huckleberry Finn or Tom Sawyer. They fool around, choose a "spooky house" and a man named "Boo" Radley, who leads a very secluded life, as a target of their persecution, having belief that Mr. Radley is the embodiment of large ugly and evil man. The children grow fascinated with somebody leaving them small gifts in a tree outside the Radley place.
The second part of the book is connected with the trial. Atticus Finch – Scout and Jem's widowed father is appointed by the court to defend a black man named Tom Robinson, who has been accused of raping Mayella Ewell, a young white woman. Citizens of the town disapproving, Atticus agrees to defend Tom doing his best to struggle for justice. Other children mock at Jem and Scout for Atticus' actions, called him a "nigger-lover". Nevertheless Atticus establishes that the accusers—Mayella and her father, Bob Ewell, are lying. He also finds out that Mayella was the initiator of the sexual advances towards Tom and her father caught her in the act. Despite all efforts and significant evidence of Tom's innocence, the jury convicts him. Tom is shot while trying to escape from prison. Bob Ewell being still thirsty for revenge attacks defenseless Jem and Scout. Jem's arm is broken in the struggle and amidst the fight someone comes to the children's rescue. The mysterious hero kills the assailant and carries Jem home, where it becomes clear that he is the reclusive Boo Radley. In order to protect Boo the sheriff invents a story to save him. Now children begin to regret that they have treated Boo wrong and have never repaid him for the gifts he had given them.
The book is imbued not only by the main theme racial injustice, prejudice and superstition, the author touches upon the following not less important subthemes: family, growing up, upbringing, education, justice, bravery, courage, tolerance, compassion. Also one of the main questions the book investigates – coexistence of good and evil. Atticus Finch as the embodiment of the moral voice in the book, having experienced and understood evil without losing his faith in the human capacity for goodness, passes his belief to children, teaches them to love and understand people, to be tolerant…

Disclaimer: This is just a free sample of the research paper, or part of the research paper on the given topic you have found at ProfEssays.com. If you feel you need professional writing assistance contact us! We will help you to create perfect research paper on any topic. ProfEssays.com – Leading custom essay and dissertation writing company and we are 24/7 open to serve you writing needs!
Don't hesitate! ORDER NOW!
Looking for an exceptional company to do some custom writing for you? Look no further than ProfEssays.com! You simply place an order with the writing instructions you have been given, and before you know it, your essay or term paper, completely finished and unique, will be completed and sent back to you. At ProfEssays.com, we have over 500 highly educated, professional writers standing by waiting to help you with any writing needs you may have! We understand students have plenty on their plates, which is why we love to help them out. Let us do the work for you, so you have time to do what you want to do!