Book Report Sample
(review of "Snow Falling on Cedars" by David Guterson)
"Snow Falling on Cedars" by David Guterson is a great story that shows human feelings, such as love, hatred, desire and many others. We can see that the major theme of this novel is the detrimental effects of racial prejudice. As an example, both the government and the majority of the white citizens of San Piedro treated the Japanese islanders as second-class citizens that were worthy only of distrust. The reader can feel the strong injustice during the arrest of Kabuo for murder where racial prejudice takes place.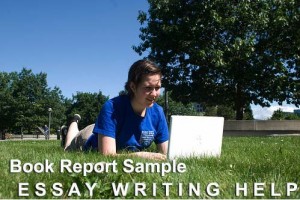 The second theme in this novel is the actual physical and emotional effects of war. The various atrocities of war leave the characters unable to communicate as easy and openly as they could. Moreover war made them feel themselves ineffective and guilty. However, we can see different love stories in this novel and in spite of the fact that characters lost their trust, they could love as much as always: "he decided he would love her forever no matter what came to pass."
Throughout the whole novel, the author shows how war creates emotional and physical obstacles to love, happiness, and understanding. All men in this novel are constantly reminded of the horrible war. For example, Carl is unable to communicate with his wife and, as a result, Horace Whaley feels he is ineffective because he couldn't save those in his care when he was at war. Kabuo always carries his guilt on his face, and life gets in the way of him just reminding him the young German boy he killed. And for Ishmael, the loss of his arm would be a strong reminder of the war till the end of his life. His war experiences created the distance between him and the others that's why he finds it hard to relate to other people. The darkness of war inhabits many of the characters. There was a good expression that defined feelings of the most characters towards the other people: "He loved humankind dearly and with all his heart, but he disliked most human beings"…

Disclaimer: This is just a free sample of the research paper, or part of the research paper on the given topic you have found at ProfEssays.com. If you feel you need professional writing assistance contact us! We will help you to create perfect research paper on any topic. ProfEssays.com – Leading custom essay and dissertation writing company and we are 24/7 open to serve you writing needs!
Don't hesitate! ORDER NOW!
Looking for an exceptional company to do some custom writing for you? Look no further than ProfEssays.com! You simply place an order with the writing instructions you have been given, and before you know it, your essay or term paper, completely finished and unique, will be completed and sent back to you. At ProfEssays.com, we have over 500 highly educated, professional writers standing by waiting to help you with any writing needs you may have! We understand students have plenty on their plates, which is why we love to help them out. Let us do the work for you, so you have time to do what you want to do!