Essay Paper on Probation and the Courts
Probation as a formal correctional sanction, which has become the primary sanction used in the United States and around the world. According to statistical data the number of people under adult correctional supervision at the end of 2001 was 6,594,000, and 71 % were on probation/parole.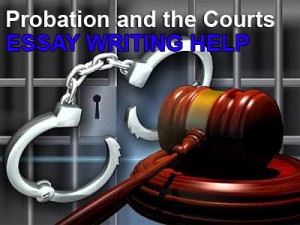 Probation officers documentation, including presentence investigation reports, are an important part of this process. The purpose of this document is to report to the court the main assessment to decide the method of intervention. Also this document gives an analysis of the offender's risk to re-offend. The purpose of oresentence investigation reports "is to assist the court in determining an appropriate sentence. However, the presentence report is also intended to assist the probation office in supervising defendants during any subsequent terms of probation, parole or supervised release". The main information included in the reports is found in district courts or National Crime Information Center records or based personal investigations.
Another document is a victim impact statement. It is considered as an effective method allowing victims to fight against crime. This document reflects the information about emotional impact in the victim, physical and financial damage caused by the crime. Usually, this document consists detailed information about medical treatment or repair warks required as a result of the crime. Also, a victim has a right to express his opinion as for punishment for the offender. "Although distinguished with a subheading, the victim impact assessment is actually part of the offense conduct for which the defendant is responsible, and includes the impact on all victims of an offense, regardless of whether the information affects guideline application".
The problems with this document is that a victim impact statement does not reflect a real state of the matter and overstate physical tresspass and psychological impact. So, the reimbursement of injured person, he/she requested, requires additional investigation. The same problems can occur with presentence investigation reports including identification of primary and secondary victims and harm by the officer. Some reports are not well-prepared because of lack of time or information.
It is possible to single out three types of probation: unsupervised, supervised, and State probation. Also, probation can be administered on a county or state level. Supervised probation is used for serious offenders. Its advantages include strict control and supervision.
The disadvantages are that it leaves offenders free to re-offend if they have possibility to commit he crime. Unsupervised probation is useful for minor crimes and can reduce re-offending in some cases. Nevertheless, when offenders return to their negative environment, they are left on their own. Unsupervised probation allows the offender to remain at liberty.
The disadvantages of receiving information from the state level are: the records received from the state level is not detailed in comparison with the county reports; on the other hand, the county may not report the criminal record in a timely manner or provide updates, for this reason additional research is needed…

This is just a free sample of the research paper, or part of the research paper on the given topic you have found at ProfEssays.com. If you feel you need professional writing assistance contact us! We will help you to create perfect research paper on any topic. ProfEssays.com – Leading custom essay and dissertation writing company and we are 24/7 open to serve you writing needs!
Don't hesitate! ORDER NOW!
Looking for an exceptional company to do some custom writing for you? Look no further than ProfEssays.com! You simply place an order with the writing instructions you have been given, and before you know it, your essay or term paper, completely finished and unique, will be completed and sent back to you. At ProfEssays.com, we have over 500 highly educated, professional writers standing by waiting to help you with any writing needs you may have! We understand students have plenty on their plates, which is why we love to help them out. Let us do the work for you, so you have time to do what you want to do!