Essay Paper on Personal Statement for MBA Program
I stand in front of skyscraper of famous international trade center and I see people entering and leaving the building. One man is talking on the phone while making his way through the crowd to his car. He shares his plans with someone, obviously. Ok, let's see: today – flying to London, the day after tomorrow – flying back, but there is no time to relax, because there is also a business trip to Chicago planned for the same day. And then to Bangkok. And then to Moscow. And he will make a little break to visit some training in Pace University. Office work goes without saying.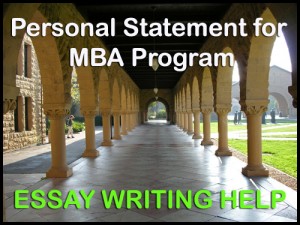 And I see success written in his entire image, together with confidence and stability. This businessman personifies dreams of thousands of students seeking MBA degree, and recently I've found myself in their ranks.
Is this only a prestigious work and standard, stereotype image of successful rich career-builder that makes us, and particularly me, want to obtain an MBA degree? Is this a new fashionable tendency among graduates that makes them apply for MBA just in order to follow the custom? I guess, there is much more than above-mentioned cliché's that attracts me personally. First of all, obtaining MBA degree means a successful, dynamic, swift business career, which you love, and to which you are ready to devote your professional life, a career which brings moral pleasure and satisfaction and what is not less important – financial stability. I think that this is the main driver for me.
Secondly, apart from studying financial formulas and laws of Macroeconomics, apart from solving standard cases, you inevitably study business culture of the country, peculiarities of legislation, tax system, and provide yourself with necessary acquaintances in business circles. And this gives an extraordinary valuable competitive advantage on the labor-market.
An incredible experience which MBA gives to every student is in fact being the part of MBA "world" if you wish, where people which went through "cold calls", case solutions, strategy projects etc. become new category of business society and look at this world with MBA eyes, talk on MBA language, and look forward for new MBA achievements.
For me, the best and the most valuable experience which I expect to obtain through MBA program is without any doubt, communication with people. Traditionally, MBA course unites people of different previous occupations, professional, interests, ages etc., besides, many MBA activities are built so that the students could get knowledge and new information not only form professors, but from each other as well. The practice of team work is also extremely important, just as the decision-making process improvement. I believe that each student is unique and is able to introduce something as unique and valuable as he is into studying process which unquestionably will improve my knowledge and help to see my own mistakes and give me inspiration to correct them.
Talking about future plans, MBA, being an internationally known program, introduced in all six continents of the world, gives an opportunity of work abroad. The MBA degree and experience that it understands makes it possible to work on international market, which apparently not only broadens outlook but also gives an opportunity of one's company promotion and plays the role of "springboard" for any future company's activities.
Undoubtedly, further career of anyone applying for MBA, depends on the student. Business school creates favorable conditions, life gives opportunities, and the student decides what to do next. Fortunately, I'm confident in my capacities and believe firmly that one can reach anything he wants if he is persistent enough. And I believe that one day I will enter that skyscraper of famous trade center, and see the man whom I've seen before, talking on the phone about his plans, and he will stop to greet me as his equal colleague and wish me luck in my business trips planned for the next week…

This is just a free sample of the research paper, or part of the research paper on the given topic you have found at ProfEssays.com. If you feel you need professional writing assistance contact us! We will help you to create perfect research paper on any topic. ProfEssays.com – Leading custom essay and dissertation writing company and we are 24/7 open to serve you writing needs!
Don't hesitate! ORDER NOW!
Looking for an exceptional company to do some custom writing for you? Look no further than ProfEssays.com! You simply place an order with the writing instructions you have been given, and before you know it, your essay or term paper, completely finished and unique, will be completed and sent back to you. At ProfEssays.com, we have over 500 highly educated, professional writers standing by waiting to help you with any writing needs you may have! We understand students have plenty on their plates, which is why we love to help them out. Let us do the work for you, so you have time to do what you want to do!