Theories On Reflection Of The Global Economy
There are many theories on reflection of the global economy. The most popular of them are interest rate parity, purchasing power parity, fisher effect, international fisher effect and unbiased theory.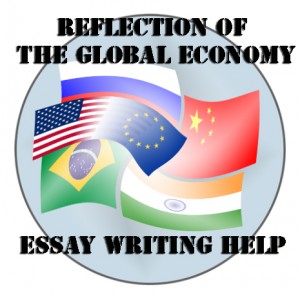 Interest rate parity states that the foreign exchange market has the condition of equilibrium when deposits of all currencies bring the same expected rate of return. This theory doesn't appear to be true, as it does not take into consideration that different currencies have different risk levels, and because of economic changes in one country interest rate parity may be broken. To prove unreliability of this theory let us look at dollars and euro. As I know many countries have the same interest rates on these two currencies, although exchange rate between them is not equal. Therefore they bring different rate of return.
Purchasing power parity calculates alternative exchange rate between the currencies of two countries. This new exchange rate is based on the value of the same basket of goods in different countries. So if certain good costs $5 in the US and £4 in England, then the exchange rate would be $5 for £4. This theory also has problems: it does not take into consideration difference in production costs, difference in quality of products, difference in preference of people, which leads to different prices of these goods.
Fisher effect claims that the real interest rate is independent of monetary measures and relies only on inflation and nominal interest rate. In other words if inflation in the country rises, interest rate will equally rise in the long run. This theory appears to be true, and, if we do not consider government intervention in interest rates, we can see that countries with higher inflation have higher interest rates.
International Fisher Effect claims that interest rate differential should serve as a predictor of a future change in the exchange rate. A research was conducted by Lulea University of Technology, and 5 country pairs were investigated in a period of 7 years. Research showed no evidence for existence of International Fisher Effect.
Unbiased theory is a theory that spot prices at some future date will be equal to today's forward rates. However a lot of biases exist to forecast future spot prices: forecast errors, risks in appreciation and depreciation of currencies. So this theory can not be considered true.

This is just a free sample of the research paper, or part of the research paper on the given topic you have found at ProfEssays.com. If you feel you need professional writing assistance contact us! We will help you to create perfect research paper on any topic. ProfEssays.com – Leading custom essay and dissertation writing company and we are 24/7 open to serve you writing needs!
Don't hesitate! ORDER NOW!
Looking for an exceptional company to do some custom writing for you? Look no further than ProfEssays.com! You simply place an order with the writing instructions you have been given, and before you know it, your essay or term paper, completely finished and unique, will be completed and sent back to you. At ProfEssays.com, we have over 500 highly educated, professional writers standing by waiting to help you with any writing needs you may have! We understand students have plenty on their plates, which is why we love to help them out. Let us do the work for you, so you have time to do what you want to do!