Essay Paper on Responsibility of Business
Business has to start giving back to the people who supported and allowed them to grow as an institution in the first place. To restrict concepts of corporate responsibility would not be in the best interest for the company, company stockholders or the public. According to Robert J. Mockler in Business and Society, businesses role in society has changed dramatically. It now involves not only being an honest and ethical member of society, but it also has to make attempts at trying to find a solution for the many pressing problems that are present in society. Many people feel that companies should be more responsible because a lot of the problems that society is facing are directly related to business operations. And since companies have contributed significantly to many of them, business is in the best position to solve the problems.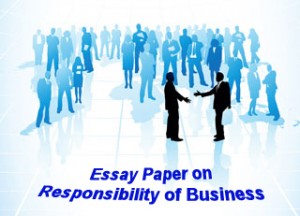 Edward N. Cole, the president of General Motors Corporation agrees with this and has set guidelines for his company to follow. The way he sees it is that companies must alter their own objectives and goals to meet the new demands of the society they serve, while it still remains economically and technologically feasible. According to William Harris the reason companies need to be more responsible is due to the fact that the needs and goals of a business and the needs and goals of a human being are incompatible. Businesses are run in such a way that they need maximum return, and must grow as a company or die. While on the other hand humans want a wholesome environment to raise kids, justice and to feel safe. He feels that since businesses generally don't have these basic needs that they should adopt them and use them to their own and societies benefit.
There is a great need for businesses to be required to make contributions to society because there are many problems and it seems companies are the only place left who can help. The first ethical theory that will be explained is the Social Contract theory. Many famous philosophers have argued on this topic including Thomas Hobbes, J.J. Rousseau and John Locke. According to James Rachels in The Elements of Moral Philosophy, the Social Contract theory is where in order to escape a "state of nature" everyone in society must agree to a set of rules to which they must abide by in order to live alongside one another. In order for these rules to be enforced there must be a power- the state- that controls society. Therefor there is an agreement that every person living in the society must agree with and follow. The idea of morality is also explained in the Social Contract theory. The state is there to make sure the rules of the contract are abided by while morality is present in the whole range of rules (Rachels, 146) . This theory allows humans to care about others through the conditions created by the Contract. By eliminating the "state of nature" it releases humans from the fear of violence and allows them to take heed of others in society. This is the goal of the theory and it creates a civic culture where individuals no longer perceive anyone as a threat or potential enemies. The Social Contract requires every person to have the "voice of duty", which is where everyone must put aside his/her private, self-centred intentions in order to promote the well-being of everybody else involved in the Contract…

This is just a free sample of the research paper, or part of the research paper on the given topic you have found at ProfEssays.com. If you feel you need professional writing assistance contact us! We will help you to create perfect research paper on any topic. ProfEssays.com – Leading custom essay and dissertation writing company and we are 24/7 open to serve you writing needs!
Don't hesitate! ORDER NOW!
Looking for an exceptional company to do some custom writing for you? Look no further than ProfEssays.com! You simply place an order with the writing instructions you have been given, and before you know it, your essay or term paper, completely finished and unique, will be completed and sent back to you. At ProfEssays.com, we have over 500 highly educated, professional writers standing by waiting to help you with any writing needs you may have! We understand students have plenty on their plates, which is why we love to help them out. Let us do the work for you, so you have time to do what you want to do!