Essay Paper on E-Commerce and its Business and Technology
Electronic Commerce is the sale and procurement of supplies and services using information systems technology.
Best Practices Examples
Business model – B2C, portal Revenue model – advertising, subscription fees, transaction fees. Description – site offers an integrated package of content, services and content-search, news, e-mail, chat, music downloads, video-streaming, calendars, etc. It seeks to be a user's home base. The high volume makes advertising profitable and permits further diversification of site services.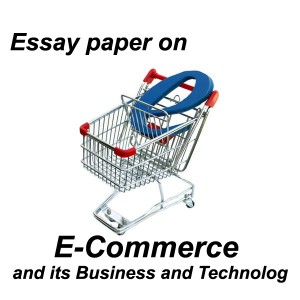 Yahoo! partners with hundreds of premier content providers in products such as Yahoo! Sports, Yahoo! Finance, Yahoo! Music, Yahoo! Movies,Yahoo! News, Yahoo! Answers and Yahoo! Games to provide media contents and news. Yahoo! also provides a personalization service, My Yahoo!, which enables users to collect their favorite Yahoo! features, content feeds, and information into a single page. Working with comScore the The New York Times found that Yahoo! is able to collect far more data about Web users than its competitors from its Web sites and its advertising network. It is the second most visited website in the U.S., and the most visited website in the world.
Business model – B2C, e-tailor + market creator. Revenue model – sales of goods.
Description – it is an on-line version of retail store, where customers can shop at any hour of the day or night without leaving their home or office. Also it is web based businesses that use internet technology to create markets that brings buyers and sellers together.
One of the best practices of this site is that they pay so much attention to every product page, where purchasing decisions are ultimately made. Most e-commerce websites don't focus attention to product pages. Another good practice is that Amazon uses other neat Web 2.0 features like user reviews to help (or reassure) other people make a purchasing decision. It also helps create unique content which search engines crave. Worst Practices examples
Business model – B2C, transaction broker Revenue model – transaction fees Description – the site provides travel online services and increase customers' productivity by helping them get things done faster and more cheaply.
Disadvantages:
poor design;
lack of some background information;
poor feedback mechanisms.
Recommendations:
include some subtle animation on homepage to 'bring it to life';
include an FAQs section – gives visitors another method of overcoming any queries that may be preventing them from ordering;
insert a caption into the image tags for each image which will appear on rollover;
consider inserting small movies of the holidays to give visitors a visually appealing; summary of what each holiday entails;
include a map on each holiday to add perspective;
include a customer questionnaire in contact section;
consider using podcasts to distribute information about the holidays virally which should help to stay in touch with customers.
Business model – B2C, Content provider Revenue model – advertising, subscription fees, affiliate referral fees Description – information and entertainment provider, offers customers up-to-date news and special interest how to guidance and tips and/or information sales.
Disadvantages:
Awful web design – very cluttered homepage and there are too much and too many colors;
Information is presented in chaotic manner, difficult to find something quickly;
No obvious navigation links (ex. tabs and alpha bar)
Not at all obvious what is alphabetized in the alpha bar
MMN: hand-cursor over pictures, even when placeholder: have to read URL to know where this will go, still not clear why it takes you to Youtube.
Narrow-column text display
Too many advertising banners
No readily discernable divisions/categories in display; even just some more bordering would be better than this and so on.
Recommendations: The first and main recommendation is to change the web design completely:
rearrange structure to make look less cluttered
reduce the number and amount of colour used in the site
make horizontal menu items more prominent
reduce the advertising banners and so on.
Business model – B2C, service provider Revenue model – sale of services Description – makes money by selling customers architecture servicers.
Disadvantages:
Poor web design;
No harmony of the colors;
Pages load too long;
Poor content;
No feedback;
Poor navigation: the buttons are all over the place and not labeled;
It is difficult to find quickly necessary information.
Recommendations:
Improve web design;
Reduce the time of loading the pictures;
Make the content more structured and horizontal: it is more convenient in usage;
Add feedback services;
Add contact information and so on…

This is just a free sample of the research paper, or part of the research paper on the given topic you have found at ProfEssays.com. If you feel you need professional writing assistance contact us! We will help you to create perfect research paper on any topic. ProfEssays.com – Leading custom essay and dissertation writing company and we are 24/7 open to serve you writing needs!
Don't hesitate! ORDER NOW!
Looking for an exceptional company to do some custom writing for you? Look no further than ProfEssays.com! You simply place an order with the writing instructions you have been given, and before you know it, your essay or term paper, completely finished and unique, will be completed and sent back to you. At ProfEssays.com, we have over 500 highly educated, professional writers standing by waiting to help you with any writing needs you may have! We understand students have plenty on their plates, which is why we love to help them out. Let us do the work for you, so you have time to do what you want to do!